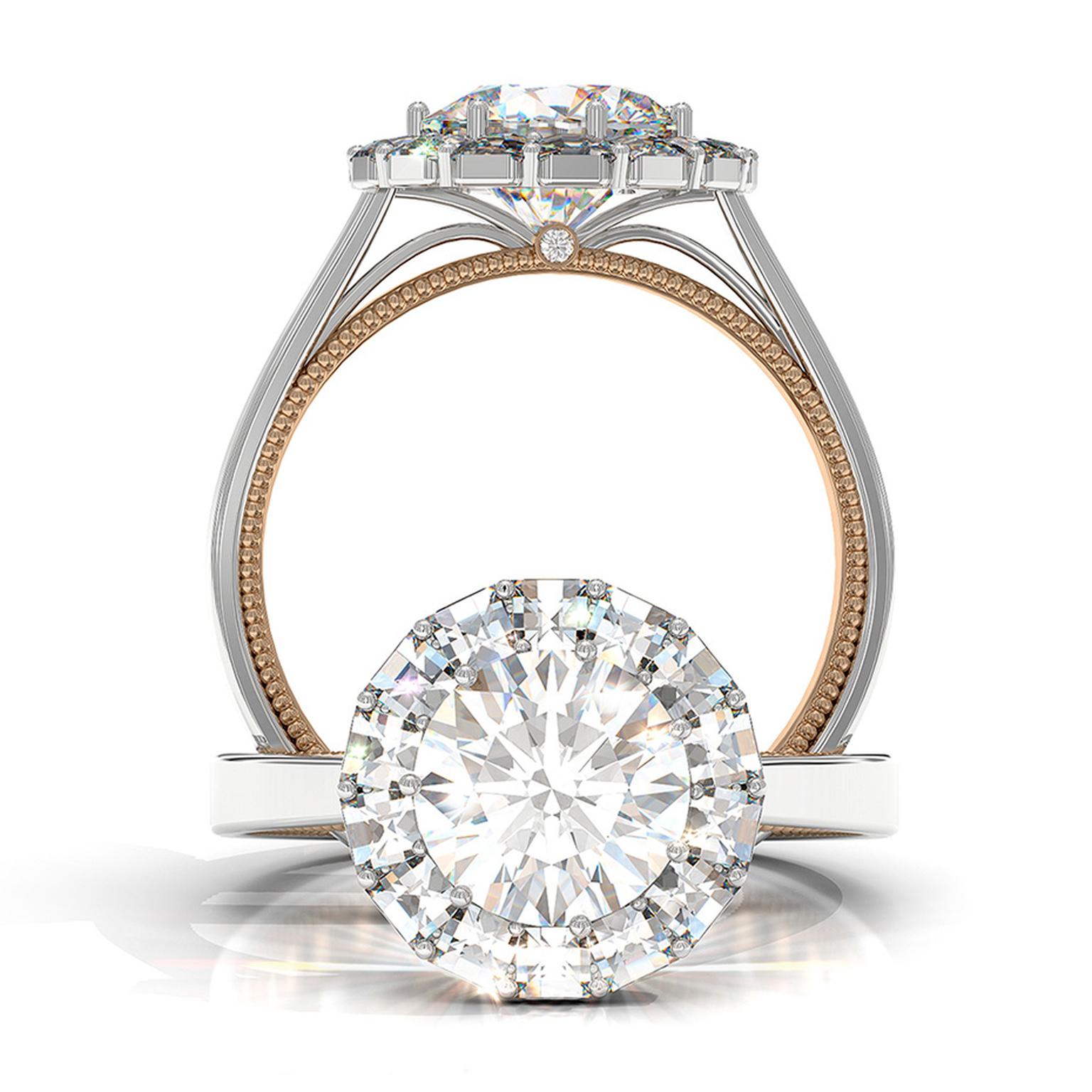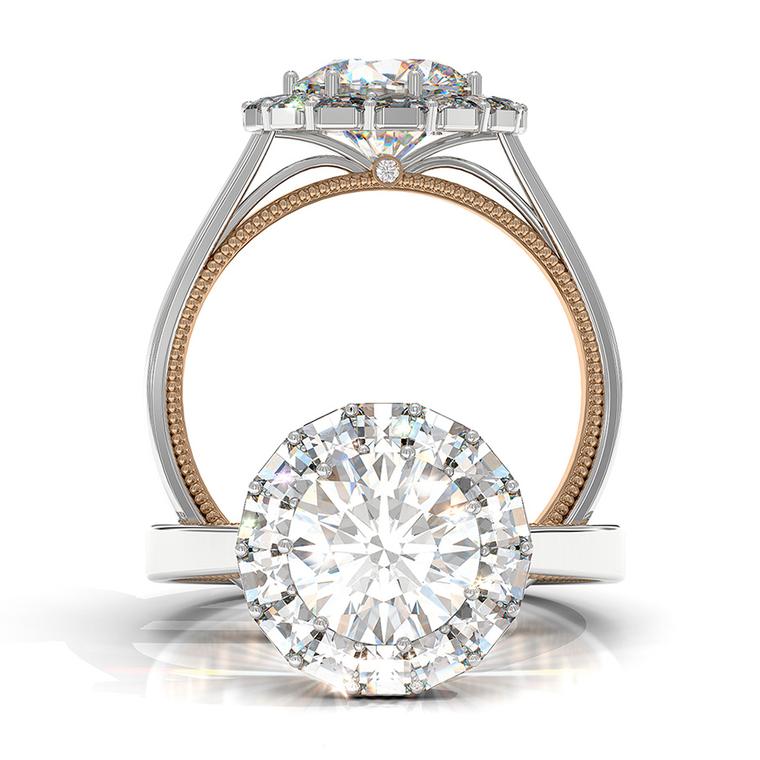 When it comes to diamonds, cut is arguably the most important C in the famous 4Cs (cut, colour, clarity and carat weight) as its precision determines the stone's brilliance. In a fiercely competitive market, it's hardly surprising that jewellers are increasingly looking to stand out from the rest with branded cuts that are exclusive to them.
These cuts often take years to develop and perfect, so to protect their distinctive designs from copycats, it is common for jewellers to secure patents in order to prohibit other companies from using the same techniques.
Tiffany & Co. Novo diamond engagement ring.

Tiffany & Co. Lucida diamond engagement ring.

David Yurman Signature Cut engagement ring featuring a band with or without pave diamonds and the DY signature cabling on the inside of the band.

The DY Crossover® was created by David Yurman for his wife, Sybil, as a symbol of their love and life of collaboration and design.

Calleija 1.50ct 'Glacier' diamond engagement ring, flanked by pink diamonds.

Louis Vuitton Eternite´ wedding band in white gold and diamonds and Les Ardentes solitaire engagement ring in white gold and diamonds, set with a Louis Vuitton Flower Cut diamond.

Garrard Eternal Cut diamond engagement ring.

Asprey Cut diamond engagement rings with a micro-set diamond surround and pavé diamond V setting.

Backes & Strauss Four Heart ring featuring interlocking hearts set with 429 ideal cut round brilliant diamonds.

Bez Ambar Ring of Fire engagement ring in white and rose gold, set with a 1.50ct round brilliant diamond encircled by a halo of Blaze diamonds, which add fire and gives the appearance of a bigger central stone.
Despite the cost involved - often running into hundreds of thousands of dollars for protection in the US, Europe and the main diamond-cutting nations of Israel and India - the number of patented or proprietary diamond cuts has soared in recent years.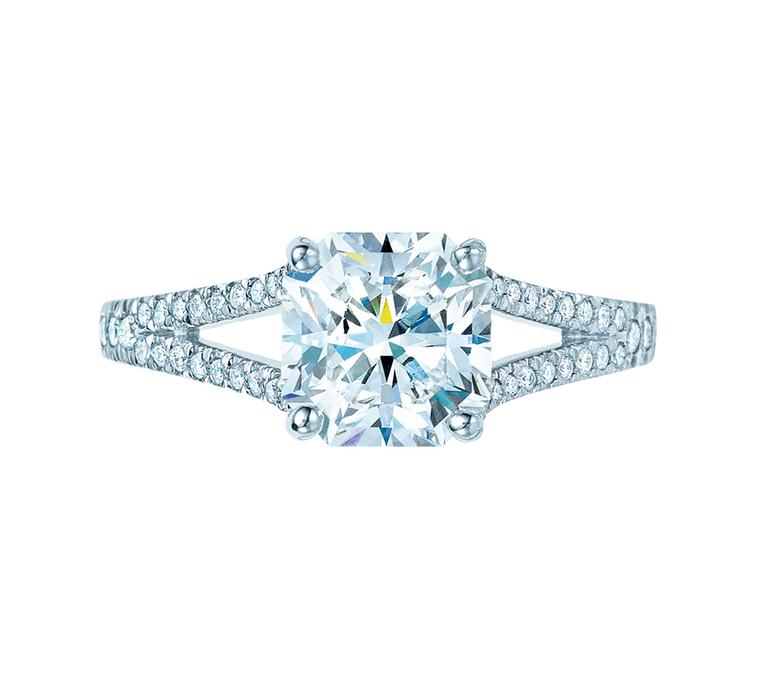 Created in 1999, Tiffany & Co's Lucida is often considered the gold standard in patented diamond cuts. Named after the brightest star in a constellation, the Lucida is a square cut with wide corners and a high-step crown and has a total of 50 facets. It has also been developed into a rectangular cut that features a dramatic elongated profile.
The famous New York jeweller has also patented the Tiffany Novo, a cushion-cut diamond inspired by the famous 128.54ct Tiffany Diamond. To maximise its brilliance, the Novo has the same number of facets as a round brilliant cut.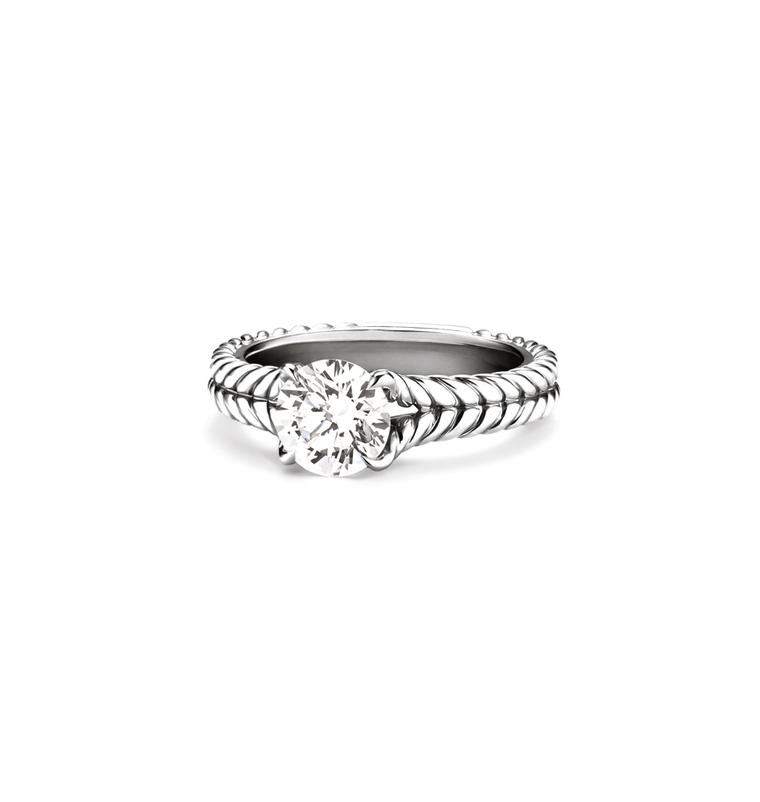 If it is a cushion-cut diamond you're after, the David Yurman Signature Cut sets the benchmark with the highest refractory brilliance of any cushion-cut diamond in the world. Two years in the making, David Yurman has used advance technology, combined with traditional cutting expertise, to create a perfectly proportioned 'hearts and arrows' diamond that maximises the light.
Another original interpretation of the cushion cut is Calleija's Glacier cut. Created by renowned designer John Calleija, it took two years to perfect under the expert guidance of a maestro stonecutter. The result is a beautifully feminine diamond that allows maximum brilliance to radiate from the stone and softens the dimensions of the traditionally angular cushion cut.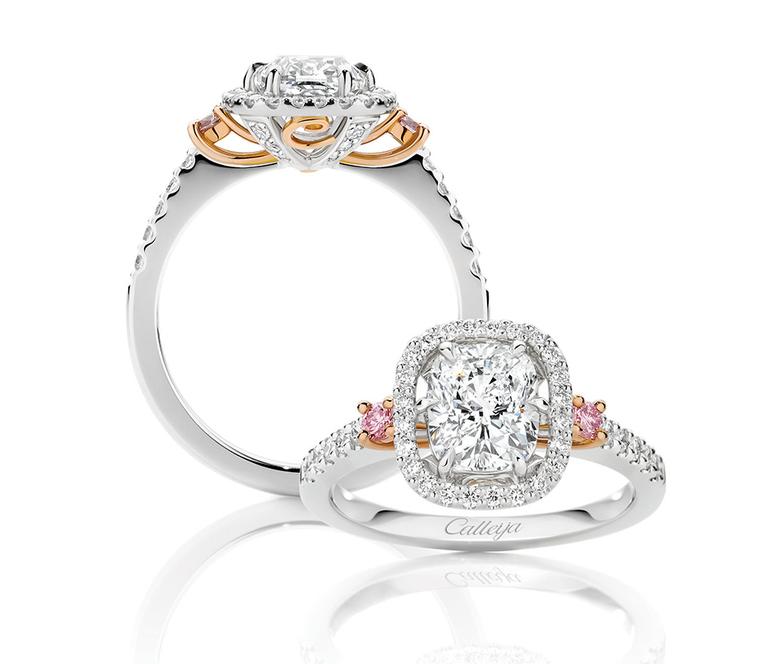 Boodles is the only jeweller in Britain to offer Ashoka cut diamonds, which have 62 facets compared to 57 in the regular round brilliant cut. It was created by US jeweller William Goldberg and patented in 2000. Based on a famous Indian 3rd century diamond, the rectangular shape and rounded corners lend this unusually dazzling cut a vintage feel.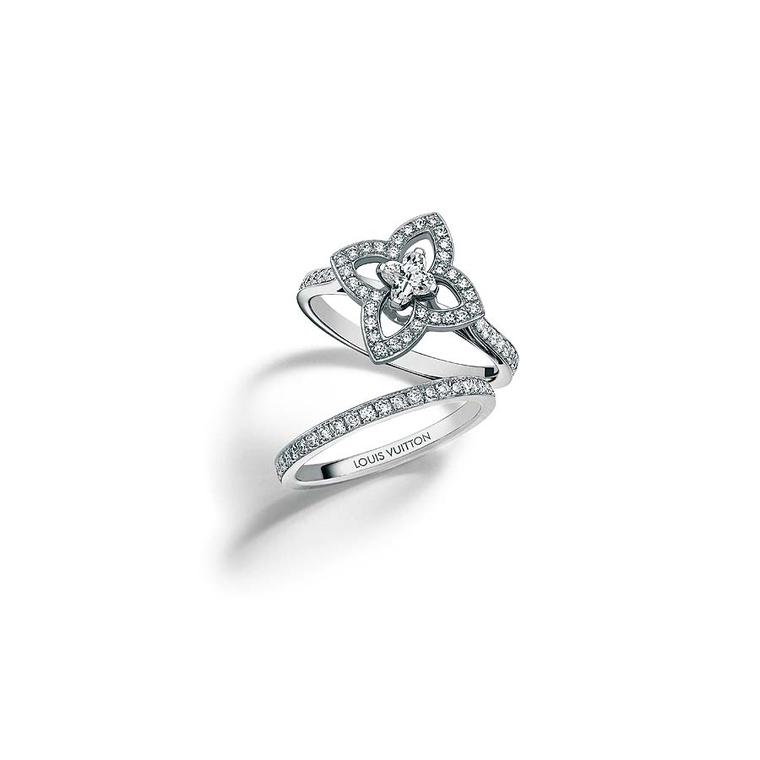 Label aficionados can now get their designer fix from precious stones as well as handbags, thanks to the patented Louis Vuitton diamond cuts. Based on the luxury brand's iconic monogram, which appears on its bags and trunks, the two flower shaped cuts come with rounded or pointed petals. The instantly recognisable diamond logos were cut at Lili Diamonds in Tel Aviv, Israel, and have between 61 and 77 facets.
Patented cuts offer a way for established jewellers to set themselves apart and provide their customers with a unique envy-inducing stone. Described as "a diamond for the millennium and beyond", the Eternal Cut was designed for Garrard by master cutter Gabi Tolkowsky. With 81 facets and available from 0.40ct to 50ct, it has a unique petal design that appears in its centre and intensifies the quality of light reflected from the stone. Its diffused brilliance is described by the jeweller as the opening of a flower or sunlight oscillating on soft waves.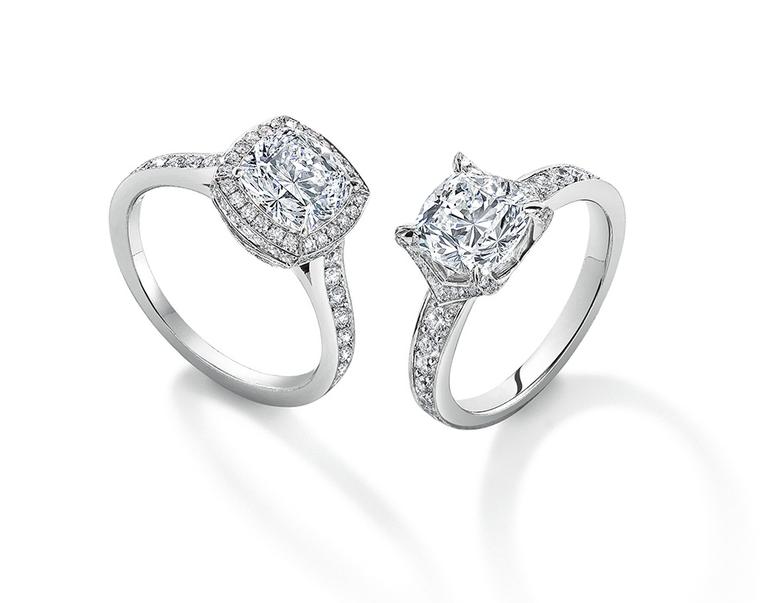 Asprey also has its own unique diamond, cut with the help of Tolkowsky. A contemporary interpretation of the cushion-cut, the Asprey cut played a pivotal role in the relaunch of the British luxury house in 2004. A modern take on traditional diamond cut, the unique - soft but not quite square - shape of the Asprey cut means it can only be cut by hand. With 61 facets, the design subtly incorporates the letter A on the crown.
With over 200 years of experience in diamond cutting, Backes & Strauss claims to have perfected the art of the 'ideal cut'. Almost 50% of the rough diamond is lost in the process of achieving a perfectly symmetrical stone with 57 facets, creating what is known as the 'hearts and arrows' effect. When viewed with a special instrument called the 'Hearts and Arrows viewer' a pattern of eight arrowheads can be seen from above the crown with one eye and eight heart shapes from below.
New diamond cutting techniques are being developed all the time, and the Blaze cut, patented by US based jeweller Bez Ambar, is a relative newcomer on the scene.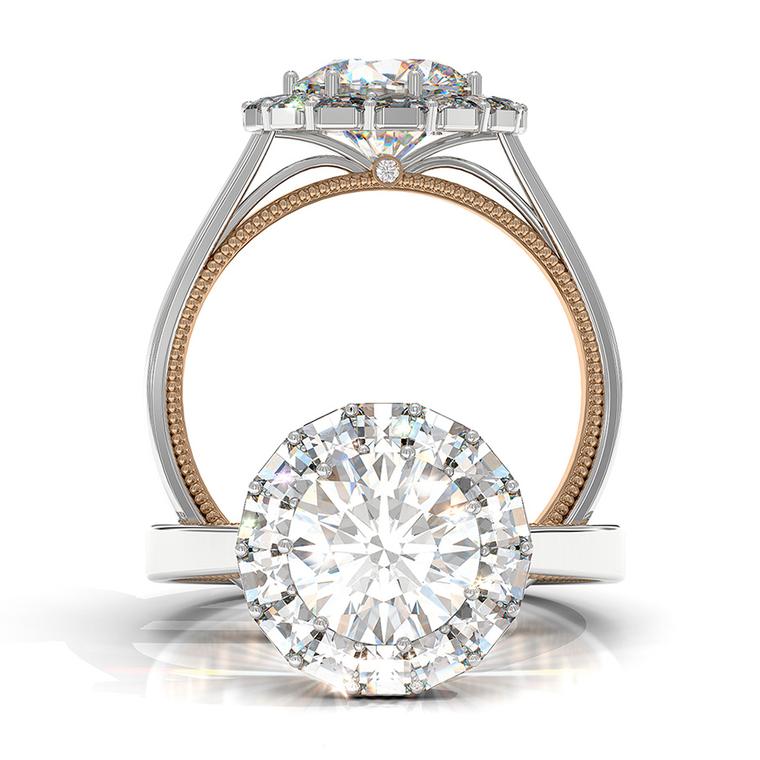 After decades of pondering the world's most valuable stones, Bez concluded that the most unique quality of a diamond is how it breaks the light. This realisation led to a drastic departure from traditional diamond cutting. To highlight a diamond's ability to bend and refract light, Bez designed a cut with only 13 main facets to maximize the bursts of vivid colours (also known as fire) emanating from the stone.
Details are still scant about his latest innovation, the Devine cut - a round, brilliant cut diamond. However, the brand's retailer in New York reports that it is so beautiful that 80% of customers prefer it to traditional round cuts.