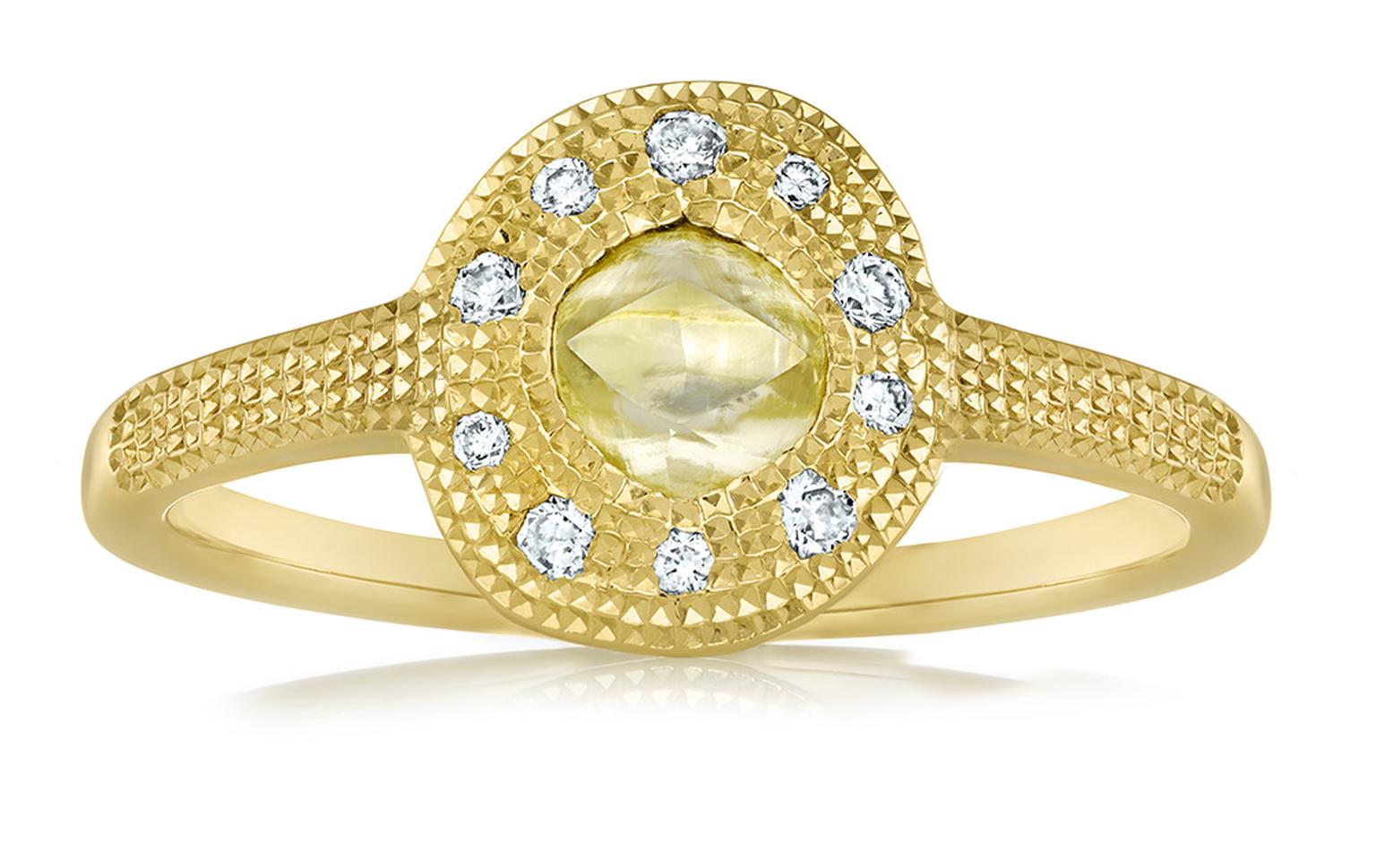 By Claire Roberts
The phrase "diamond in the rough" is most often used metaphorically to refer to something that, with a little spit and polish, has the potential to become bigger, better or more beautiful. Used literally, however, it describes a diamond's appearance when it is first plucked from the earth: organic, asymmetric, pebble-like. A diamond in its raw, uncut state doesn't refract the light in a million different directions. In fact, it doesn't look like a diamond at all. So what is the allure?
US jewellery designer Todd Reed is a trailblazer of the raw elegance movement. Back in 1992, he launched a collection of fine jewellery that broke the mould, featuring only rough, uncut diamonds and recycled metals. Reed sees beyond the material value of each stone: "Diamonds have always had an undeniable association with wealth and status. It seems they have become more about commerce and less about the jeweller's craft or their beauty in their natural form. I believe that the most perfect cut is still an uncut," he says.
Reed's designs are earthy and imperfect. Rather than glittering, they give off a mellow glow. Yet there is something infinitely fascinating about them. The raw octahedron diamond set in his 18ct yellow gold engagement ring (US$17,600) came out of the ground in that distinctive shape - a mini pyramid for your finger. Another ring, also in 18ct yellow gold, contrasts a pink rose-cut diamond - an antique diamond cut - with a grey rough diamond, following the exact contours of both stones (US$11,660).
Prized for their natural beauty and innate character, rough diamonds have been the exclusive privilege of kings and queens since Egyptian times. A symbol of luck and prosperity, they were set in jewellery right up to the 20th century, when the round brilliant began its dazzling ascent to become the most popular diamond cut in history.
Leading diamond experts De Beers have been pivotal in the revival of the trend for rough gems. Their Talisman Collection features both rough and polished diamonds in designs that look purposely handcrafted and whose historic influences are clear to see. The Talisman Aurora Solitaire ring in 18ct yellow gold (£2,050), set with a 0.4ct fancy yellow rough diamond, and the Talisman Half-Band in 18ct white gold (£2,600) are elegant homages to jewellery makers of centuries past.
New York-based Diamond in the Rough has built an entire, thriving business on raw diamond jewellery. Launched in 2002, its bridal range features rough diamonds that range in colour from deep amber to ice white. The Nouveau range (from $US2,750) - which plays with the classic, modern six-prong engagement ring design, adding texture and form - is one of the brand's most recent launches. Its most iconic engagement ring, however, is the Embrace (from US$7,500). Featuring a central rough diamond, delicately enclosed in a criss-cross of micro pave diamonds, there is absolutely nothing raw about it. It's a beautifully refined piece of jewellery design.   
Back in Britain, former Chloe designer, Pippa Small, applies her trademark silver foil to the reverse of rough diamonds, reflecting light deep within the stone. In one ring, set with a single rough diamond, the gemstone's inclusions - tiny internal flaws - come alive, resembling mysterious smoke swirls. Each of Small's rough diamond rings, made from 24ct Fairtrade and Fairmined gold, is unique and made to order (POA).
Jason French, one of the founders of Brighton-based fine jewellery showroom Baroque Bespoke, also has a soft spot for rough diamonds. After 25 years working for Bond Street jeweller Graff Diamonds, he set up shop in the Lanes, Brighton's cobbled shopping district. French recognises that rough diamonds are not the most popular choice for an engagement ring, but they offer an extremely personal alternative.
"In a rough diamond, the notorious light and sparkle becomes a more subtle beauty," points out French. "Untouched by man, the uncut diamond hasn't been polished, cut or shaped by the human hand. It forces you to abandon all notions of the 'ideal' proportion. Whilst inclusions and blemishes in polished diamonds decrease their desirability, the same apparent imperfections become part of a rough diamond's character. While it is true to say that one diamond is never the same as the next, this is so much more apparent in its natural state," he explains. French's original designs for Baroque include a stunning 18ct yellow gold engagement ring, set with a mighty 7ct rough white (£11,099) - a true diamond in the rough among the millions of homogenous engagement rings on sale today. 
Todd Reed 18ct gold ring set with a 7.6ct raw diamond octahedron central stone and white brilliant cut diamonds (US$17,600)

Todd Reed ring in 18ct yellow gold set with a 3.19ct rose cut diamond, 8.81ct raw diamond and 0.148ct of white brilliant cut diamonds (US$11,660)

Pippa Small rough diamond ring in 24ct Fairtrade and Fairmined gold (POA)

Pippa Small rough diamond ring in 24ct Fairtrade and Fairmined gold (POA)

Baroque Bespoke Jewellery engagement ring in 18ct yellow gold, set with a 7ct rough white diamond i with pave set white diamond shoulders (£11,099)

De Beers Talisman Slim Band in 18ct white gold, set with 0.48ct rough and polished white and fancy coloured diamonds (£2,600)

Diamond in the Rough Embrace engagement ring in 18ct white gold (from US$7,500)

Diamond in the Rough Nouveau engagement rings in 18ct white gold, each set with a unique raw diamond (from US$2,750)

Diamond in the Rough Nouveau 18ct white gold engagement rings (from US$2,750)

De Beers Talisman Aurora Ring in 18ct yellow gold, set with a single rough diamond surrounded by round-brilliant white diamonds totalling 0.43ct (£2,050).