New York designer Monique Péan's latest campaign is the elegantly simple result of a collaboration with artist photographer Collier Schorr. Hands and bodies entwine to form the backdrop to Monique's Minéraux collection, engagement rings that are exceptional both in beauty and ethical approach.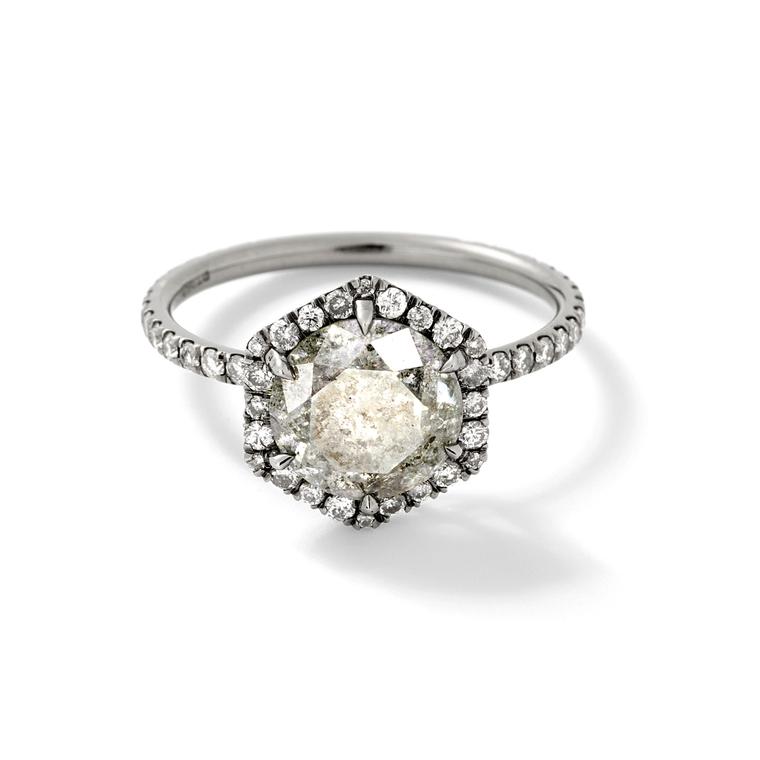 And according to the wedding gurus at The Knot, 'tis the season to propose to your beloved. Their latest survey reports that 38 per cent of couples get engaged between Thanksgiving and Valentine's Day. 
Joanne Teichmann of Dallas' Ylang23, whose Ring Bar attracts hopeful males from far and wide with its endless selection of alternative engagement rings, says the reason for such timing is simple. "It is a romantic time of year when thoughts are turning to next year and the future, and therefore, is a natural time to propose," she says.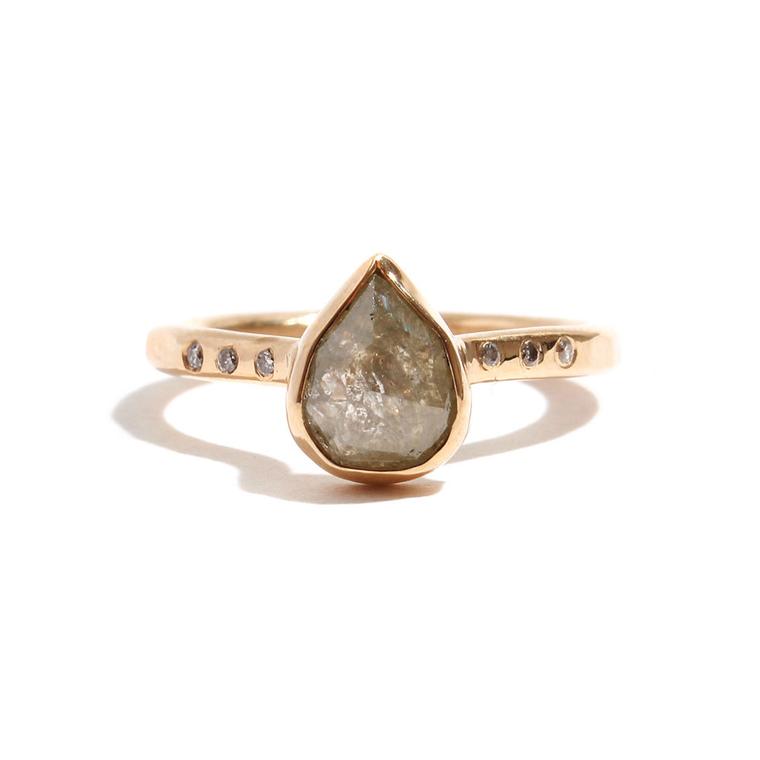 Whatever the time of year, it is not an easy decision choosing the engagement ring of your or your partner's dreams, one that you (or they) will want to wear everyday for the rest of your life, and which will probably be one of your most expensive purchases to date.
To help you on your way, we have selected seven of our favorite American female designers who have helped many a happy couple find their perfect ring. These women understand the unique combination of style and romance, comfort and timelessness that an engagement ring must succeed in delivering.
The stunning pictures taken by photographer Collier Schorr are the result of a collaboration with designer Monique Péan - clearly a match made in heaven. The minimalist images of anonymous, naked women are the ideal backdrop for Monique's Minéraux collection. First created in 2014, the designer's bridal collection features her signature mix of a pared-down, elegant aesthetic with dedication to ethical concerns. Every piece uses repurposed diamonds and recycled gold, and for every one sold, Monique will provide clean drinking water to 20 people for 20 years in partnership with charity: water.
A favorite among New York fashionistas, designer Eva Zuckerman launched Eva Fehren White in 2014. The bridal jewelry collection comprises engagement rings and wedding bands that stay true to the brand's core aesthetic. One of this year's nominees for the CFDA Swarovski Award for Accessory Design, Eva mixes grey diamonds and blackened metals with geometric shapes for a sophisticated look that is both edgy and timeless. 
Jennie Kwon's minimalist designs combine gracefulness and wearability. The former classical violinist has carried these qualities over to her new range of wedding jewelry. Delicate diamonds and milgrain detailing add intrigue to her quietly elegant designs, which are perfect for layering with a wedding band, or anniversary gifts and push presents in years to come.
Megan Thorne's Texas-based business has been dominated by orders for wedding jewelry in the last few years. It's not surprising given the timeless, feminine appeal of her designs. "If a woman feels excited by the freshness of a design, but can also imagine her grandmother wearing it years ago, I know we have the right balance of soulfulness and modernity," she says. The result is a distinctive line of unusual settings and captivating textures. Megan's natural warmth and charm makes her a popular choice for couples wanting a custom ring and she loves to tell their story in jewelry.
If you are motivated as much by ethics as by design when choosing your diamond jewelry, then look no further than Melissa Joy Manning. The designer has always been known for her socially and environmentally responsible ethos in creating her jewelry. Visit the bridal boutique at her incredible store in New York's SoHo district and take your pick from her one-of-a-kind designs for which all gold is recycled and all diamonds are certified conflict-free through the Kimberley process. 
Caitlin Mociun has built a cult following for her unique take on engagement rings. With her signature cluster rings, the self-taught designer throws out conventions such as perfectly symmetrical rings and puts together unexpected combinations of gemstones and colors. Based in Brooklyn, Caitlin works closely with couples to create custom rings using rare and antique diamonds and coloured stones, which are as unique as the couple getting engaged.
Anna Sheffield has become a go-to designer for couples looking for antique engagement rings with a difference. The designer, who hails from New Mexico and now calls New York home, trained as an artist and sculptor before turning to jewelry. She creates classic, romantic bridal jewelry with a twist, mixing emerald-cut silhouettes with unusual stones including rutilated quartz and pink tourmalines.
The round, rose-cut grey diamond in this one-of-a-kind Eva Fehren ring is surrounded by a hexagonal halo of grey diamond pavé, and would be perfectly accompanied by a wedding band in her iconic X design ($17,680).

Jennie Kwon's bridal collection includes this Echo ring, which contrasts a brilliant-cut champagne diamond with geometrically-set white diamonds. ($2,200).

A lifetime of romance is guaranteed with Megan Thorne's Pear Diamond Leaf Prong ring. A rose-cut pear diamond is set in a double band of yellow gold and white diamonds ($22,865).

For the environmentally conscious, Melissa Joy Manning found a rare, pale green and clear rose-cut teardrop diamond for this one-of-a-kind engagement ring, with white diamonds and recycled gold ($4,900).

One-of-a-kind, custom-designed Mociun engagement ring and wedding band set with natural-colored, old mine-cut diamond and Sri Lankan, pink, and color-change sapphires ($POA).

Anna Sheffield one-of-a-kind Theda ring with rose-cut pink tourmaline, rubies and pink tourmaline trillions set in white gold ($6,925).