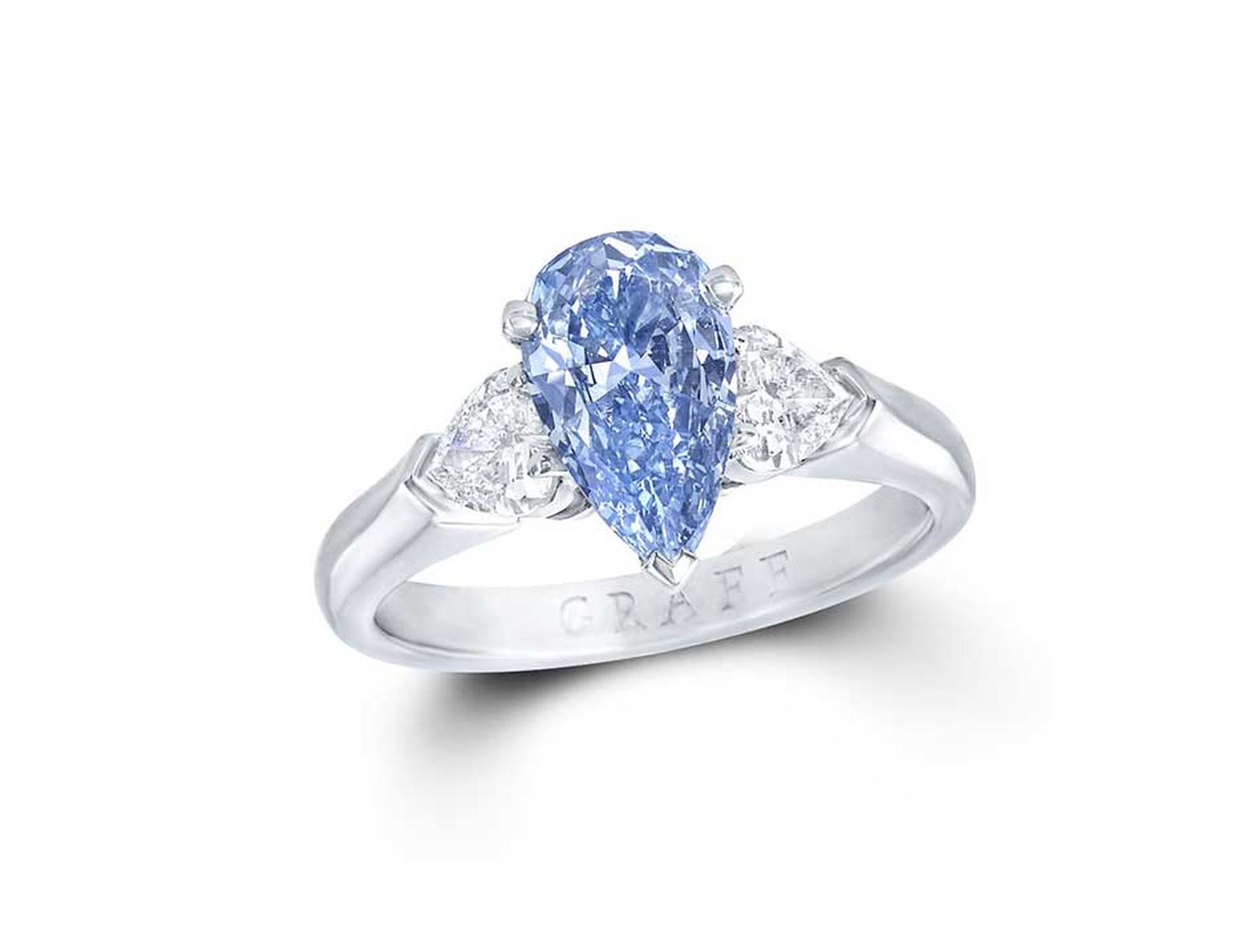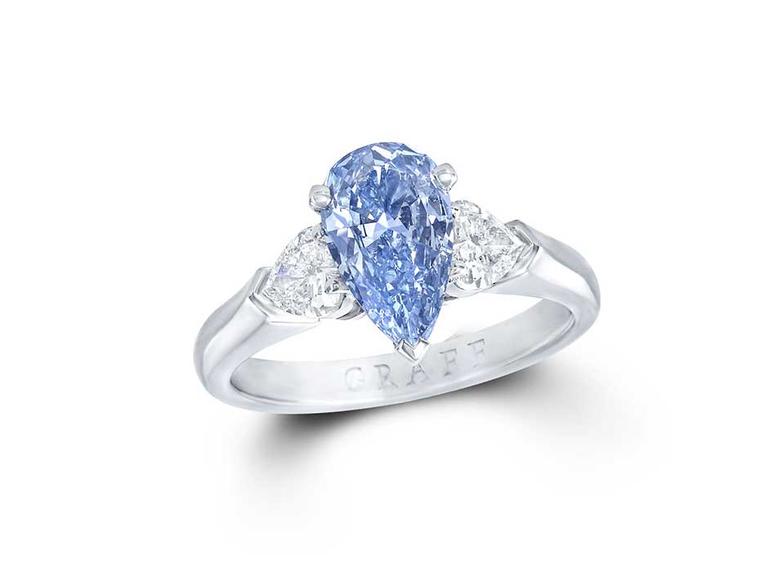 By Åse Anderson in London
Calm and serene, blue is the colour of the ocean and the sky. It is also associated with harmony and faithfulness, making it the perfect hue for a diamond engagement ring.
Natural blue diamonds are extremely rare, accounting for less than 0.1 per cent of the world's diamonds. As a result, blue diamond engagement rings carry astronomical price tags, placing them at the very pinnacle of luxury. 
The Hope diamond, which is on display at the Smithsonian Institution in Washington D.C., is the most famous blue diamond in the world and the largest at 45.52 carats. The thwarted Millennium Dome Diamond Raid in November 2000 was an attempt to steal 11 rare blue and one white diamond - the Millennium Star - valued at a total of £200 million. 
Blue diamond engagement rings can vary in colour from intense dark blue to more greeny aquatic shades. The remarkable blue colour is formed from minute traces of boron or large amounts of hydrogen in the gemstone's composition. The Cullinan Diamond Mine in South Africa is the only significant source of blue diamonds in the world. Owned by Petra Diamonds, the mine produced the collection of rare blues on display at the Millennium Dome as well as the famous vivid blue 26.60ct Star of Josephine diamond.
Although they are not easy to find, there are some remarkable blue engagement rings out there. One Graff Fancy Deep Blue diamond engagement ring features an intense pear-cut blue diamond. A De Beers blue diamond engagement ring offers a similar style, with a large light blue diamond flanked by two clear pear-cut diamonds on the shoulders. 
The blue colour of the diamond really comes to the fore in a Tiffany engagement ring featuring a rectangular 1.59ct blue diamond framed by 26 curved baguette white diamonds.
Given their rarity and cost, you may be wondering why anyone would opt for a blue diamond when sapphires of the same colour are much more readily available. The answer is that even the very best sapphires cannot replicate the sparkle that blue diamonds possess, nor are they as hard and durable.
Arguably the most luxurious gem in the world, if you are lucky enough to get your hands on a blue diamond engagement ring we promise you will never want to let it go.
Read more on blue diamonds
Tiffany & Co. double Halo blue diamond engagement ring encircled by pavé diamonds.

De Beers marquise-shaped blue diamond engagement ring flanked by white diamonds.

Graff 1.04ct Internally Flawless blue diamond engagement ring flanked by two pear-shaped white diamonds.

Graff 3.15ct Fancy Dark Greyish Blue diamond engagement ring with a white diamond band.

A unique David Morris blue diamond engagement ring featuring a rose gold and melée diamond band that separates to meet two pear-shaped white diamonds and one pear-shaped blue diamond.

Graff 1.04ct Internally Flawless blue diamond engagement ring flanked by two pear-shaped white diamonds.