Over the course of 12 months we don't try on nearly as many new engagement rings as we do new jewels. But this very fact makes the discoveries we do make even more special. I love the breadth of styles and stones on display in my 10 favourite rings from 2016, with coloured diamonds, cool designs and classic rubies just some of the highlights of the year. Many of them will be worn by only a privileged few, but we hope they will leave you feeling inspired to find your own perfect engagement ring.
The year got off to a beautiful start with the launch of Andrew Geoghegan's Clair de Lune collection, which took home the prize for Collection of the Year in the Luxury Jewellery category at Professional Jeweller's annual awards ceremony in the UK. A worthy follow-up to the lovely Cannelé design, Geoghegan has a real knack for creating timeless engagement rings with the prettiest of personalities. Inspired by visits to his rural French retreat, the all-diamond Clair de Lune ring is gorgeous, but the use of different-coloured gemstones in the ruby version, which is accompanied by pink sapphires and diamonds, really accentuates the swirls that, when viewed from above, create the crescent shapes after which the ring is named.
Chaumet has been making jewellery in Paris since 1780, and its history is integral to its identity. From classic motifs like the intertwined X, which has been present in the designs of the Maison since 1907, to the Hortensia flower, an ode to the Queen Hortense Eugénie Cécile Bonaparte, daughter or Chaumet's famous muse, the Empress Joséphine de Beauharnais, the brand's heritage inspires each and every jewel.
This Joséphine Aigrette Imperiale ring is one of many pieces in the Joséphine collection, which is showcased in a video from Chaumet called L'Amour à Paris, which launched last summer. Watch it here and be transported to the French capital, where a dashing groom and his très chic bride flit around Paris wearing Joséphine jewels, including the diamond tiara that inspired this very regal ring.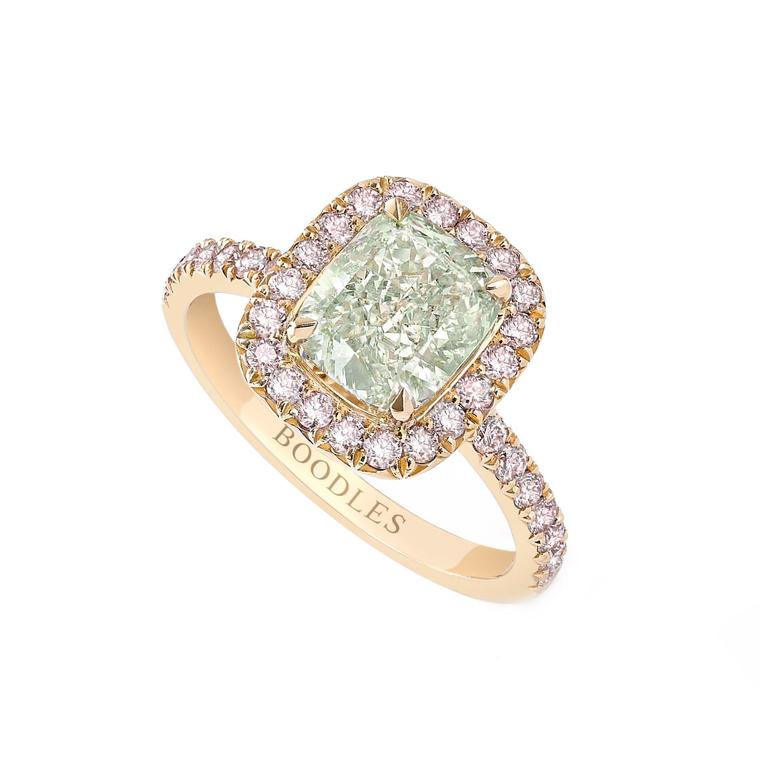 In May, Boodles launched its Finely Coloured collection of 40 unique jewels set with coloured diamonds in every hue. The Jewellery Editor was there for the launch at Harrods - a golden opportunity to marvel at the rare pinks, yellows, blues and greens that it took this most British of jewellers years to gather.  
Amongst the pastel pinks and Vivid yellows were some very special green diamonds, a gem so rarely seen in jewellery it gives you a good indication of how scarce they are. As you can see, the pairing of pink and green diamonds is magical, a combination that won us over once again just a few days later when the Aurora Green became one of the most valuable diamonds of 2016, selling for more than $16 million at Christie's Hong Kong. 
In the same month, Jessica McCormack launched a collection of couture engagement rings consisting of six very individual designs, each of which features a diamond solitaire at its heart. That is the only similarity, however, because the rings couldn't be more different, from the wonderful Little Mermaid ring, complete with tiny gold scallop shells and waves of diamonds, to my favourite, the Space Odyssey ring, inspired by Stanley Kubrick's 1961 sci-fi epic.
Whilst this is a couture piece, with a price tag comparable to that of a couture dress, McCormack can adapt each ring in the collection to suit a client's requirements. So no need to despair if that huge hexagonal diamond is (way) out of your price range.
Also in May, we published a great article about the US designers you need to know if you are looking for an antique-style engagement ring. The author, Beth Bernstein, has impeccable taste when it comes to period jewellery, and it goes without saying that her recommendations were of the highest calibre. This ring by Erika Winters, in particular, encapsulates what this new breed of designers does so well: create distinctive antique-style engagement that combine the old - in Winters' case, old-cut diamonds - with new designs that are very current without losing that period feel altogether.
In June, I boarded a plane to Las Vegas, home to the annual Couture Show. A great chance to catch up with all the US designers we feature from across the pond, it is also the perfect opportunity to hunt out budding new jewellers and meet familiar faces from closer to home. 
One of my favourite meetings was with Fabergé, where I was allowed to try on some spectacular pieces, as well as enjoy a preview of the brand's new engagement collection.
Unsurprisingly, there wasn't a white diamond in sight. Instead, the historic house famous for its use of colour homed in on the big three gemstones, rubies, emeralds and sapphires, setting them in white or - my favourite - rose gold and adding delicate fluting for a look that is uniquely feminine. I particularly like the ring with rubies set all the way round the band, which gives a completely different look to diamonds. 
Between appointments, I was fortunate enough to stumble upon Kataoka, a jeweller from Japan with a fairytale aesthetic. Mesmerised by the intricacy of founder Yoshinobu Kataoka's designs, which have a deep-rooted artisanal quality to them, right down to the milgrain detailing, I got in touch on my return to find out more. View our gallery of Kataoka engagement rings, and read our Q&A with Yoshinobu, here.  
In the height of summer I took the Eurostar to Paris for Haute Couture week, where all the big Maison's launched new high jewellery collections alongside the fashion shows. Among the many spectacular high jewels I saw in a whirlwind 48 hours were some unique engagement rings that messed with my mind in the best possible way. 
On display at De Beers were some very large rocks that, at first glance, looked like pale yellow diamonds. It came as a big surprise to discover that they were in fact white diamonds, but at the lower end of the colour scale - almost at the bottom (Z) in some cases - so as to appear yellow.
De Beers has been building up a stock of large, top-quality diamonds in grades of M and below since 2005, and Haute Couture week provided the perfect opportunity to show them to the world for the first time. Challenging the convention that you should aim for the best quality your budget will stretch to on the colour scale when shopping for a diamond engagement ring, De Beers' revelation prompted us to publish an article on how beautiful yellow-tinged gems at the bottom of the scale can offer great value for money compared with yellow diamonds. 
Finishing the year on a high, and my favourite ring of the year, was Tomasz Donocik, who added to his new, award-winning Stellar collection with this engagement ring, below, which condenses everything that is great about the new collection into a little piece of perfection. Shining bright like a star in the centre is a 0.8 carat step-cut princess diamond, its graphic facets aligning perfectly with the angular design, flanked on either side by fancy baguette diamonds set in rose gold, adding warmth to this edgy, futuristic design. The price - from £7,000 - depends on your choice of centre stone,  but you will have to wait until Donocik's new website launches in early February before you can place your order.
Boodles vintage 2.01ct cushion shape green diamond framed by pink round brilliant-cut diamonds ring with rose gold band (POA).

Fabergé launched a colourful collection of fluted engagement rings set with rubies, sapphires and emeralds in autumn (£7,330 for ring with ruby-set band).