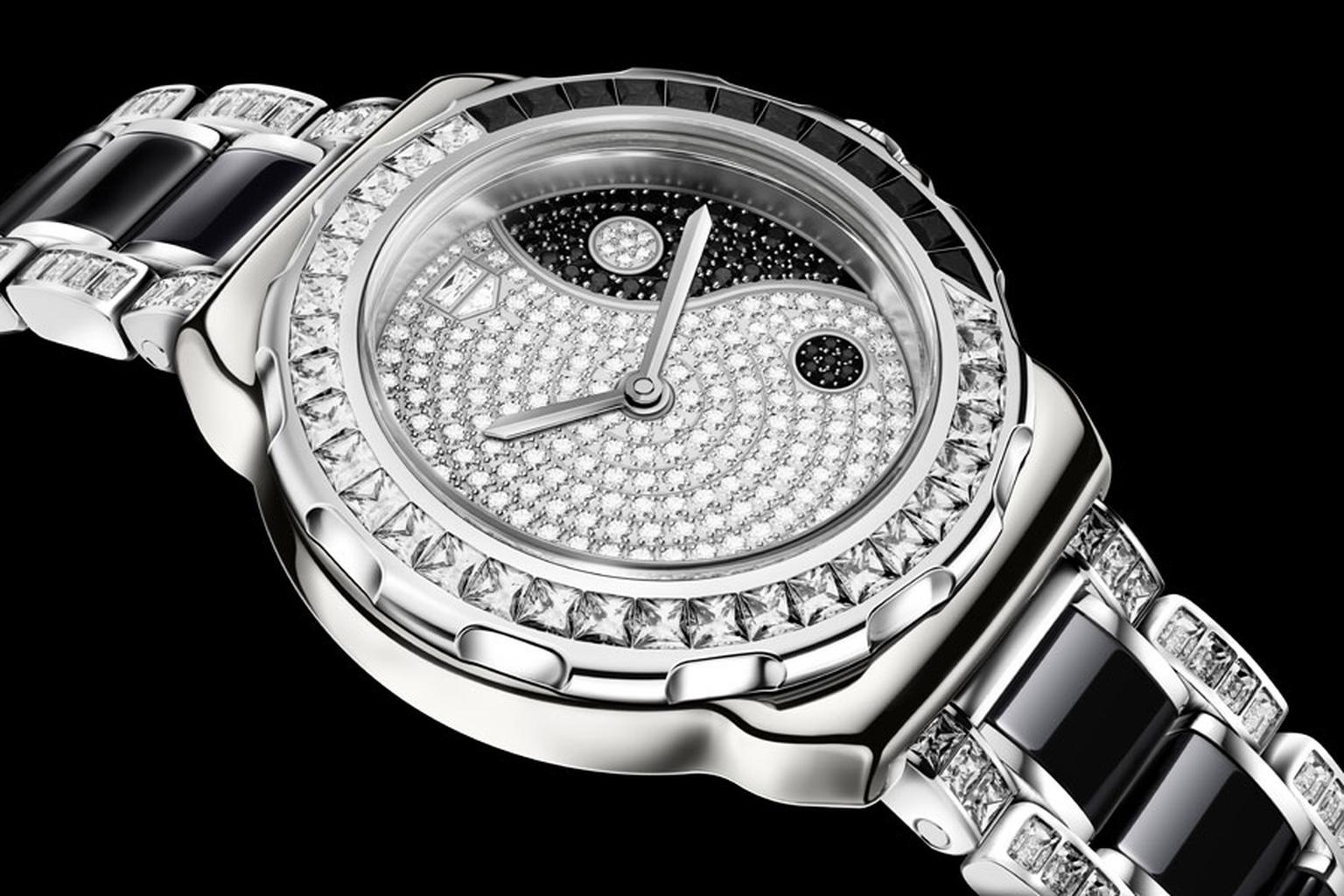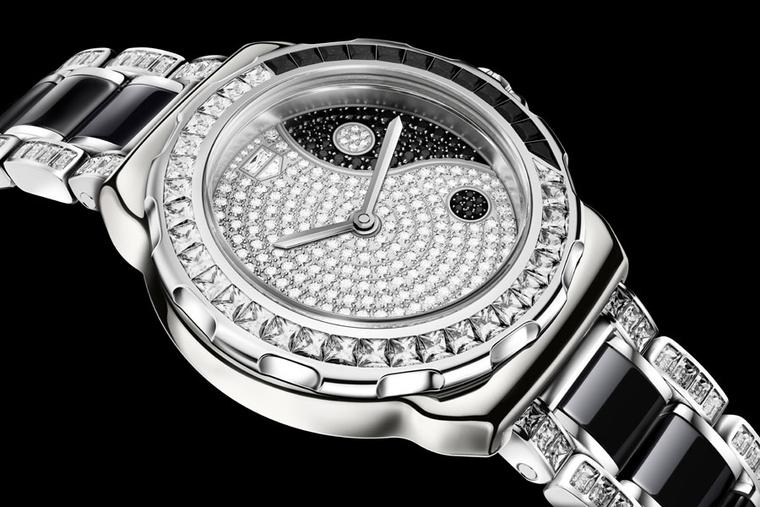 The Asian idea of Yin and Yang and complimentary opposites are very much at the center of TAG Heuer's latest incarnation of their Formula 1 Collection, not just with the choice of Lewis Hamilton and Maria Sharipova as the face of the watches, but very much in the design too, with the classic masculinity of the men's watches sitting comfortably beside the stern femininity of the women's. The idea behind the collection is that both Lewis and Maria represent the watch's 'rebellious' yet determined nature: the Tennis star both a gutsy competitor yet also one who relaxes in style; the F1 champion another steadfast sportsman who is an aggressive yet graceful driver, proudly declaring "Each driver has his limit, mine is a little bit further than other's", which is something coming from someone walking in the brand footsteps of Ayrton Senna and Steve McQueen.
When you look at these watches it's easy to see that they have taken this idea to heart, the TAG Heuer Formula 1 Lady Yin Yang is their flagship watch of the women's collection, and as a piece of TAG haute-joaillerie it is made from 136 grams of 18ct white gold with a bold yin-yang dial set in a round of shimmering diamonds. In total, it contains 234 baguette diamonds and 245 brilliant cut diamonds. Other pieces in the women's Formula 1 collection include the Lady Steel and Ceramic editions either the Automatic or the diamond dial with a diamond and black bezel. The Automatic contains TAG Heuer's Calibre 5 movement, not to mention the 49 Wesselton diamonds; the Dimaond dial edition's bracelet is made of steel and black ceramic once again signifying the darker, more rebellious nature prevalent throughout the collection.
The collection isn't called the Formula 1 for no reason, for many it is the classic TAG Heuer sports watch, casual yet tough in both it's design and also brand aura, the original collection launched in 1986 has seen the wrists of Ayrton Senna, Alain Prost, David Coulthard, Kimi Räikkönen and Fernando Alonso. The men's collection comes in three movements (chronograph, alarm, and watch), and sports some eye-catching colour use such as the 42mm Chronograph with black and red bezel as well as the sleek masculinity of the men's steel and brushed ceramic Formula 1 Chronograph.
From a brand that is so synonymous with competitive edge and the legends that have worn them, this 'rebellious' new assemblage of Formula 1 watches has earned it's right to sit proudly next to the others from this formidable collection.
TAG Heuer Formula 1 Lady Steel & Ceramic (37mm, white) Automatic

TAG Heuer Formula 1 Lady Steel & Ceramic (37mm, white) with Diamond Dial

TAG Heuer Formula 1 Lady Steel & Ceramic (37mm, white) with Diamond Dial & bezel

Movement of the TAG Heuer Formula 1 Lady Steel & Ceramic Automatic

TAG Heuer Formula 1 Lady Steel & Ceramic (37mm, Black) with Diamond Dial

Lewis Hamilton for TAG Heuer's Rebel Formula One watches

Maria Sharipova for TAG Heuer's Rebel Formula One watches

TAG Heuer Formula 1 Alarm Steel Bezel (42mm)

TAG Heuer Formula 1 Alarm Steel Bezel (42mm)

TAG Heuer Formula 1 Chronograph Black & Red Bezel (42mm)

TAG Heuer Formula 1 Chronograph Black Bezel with Red Flange (42mm)

TAG Heuer Formula 1 Chronograph Steel & Brushed Ceramic (42mm)