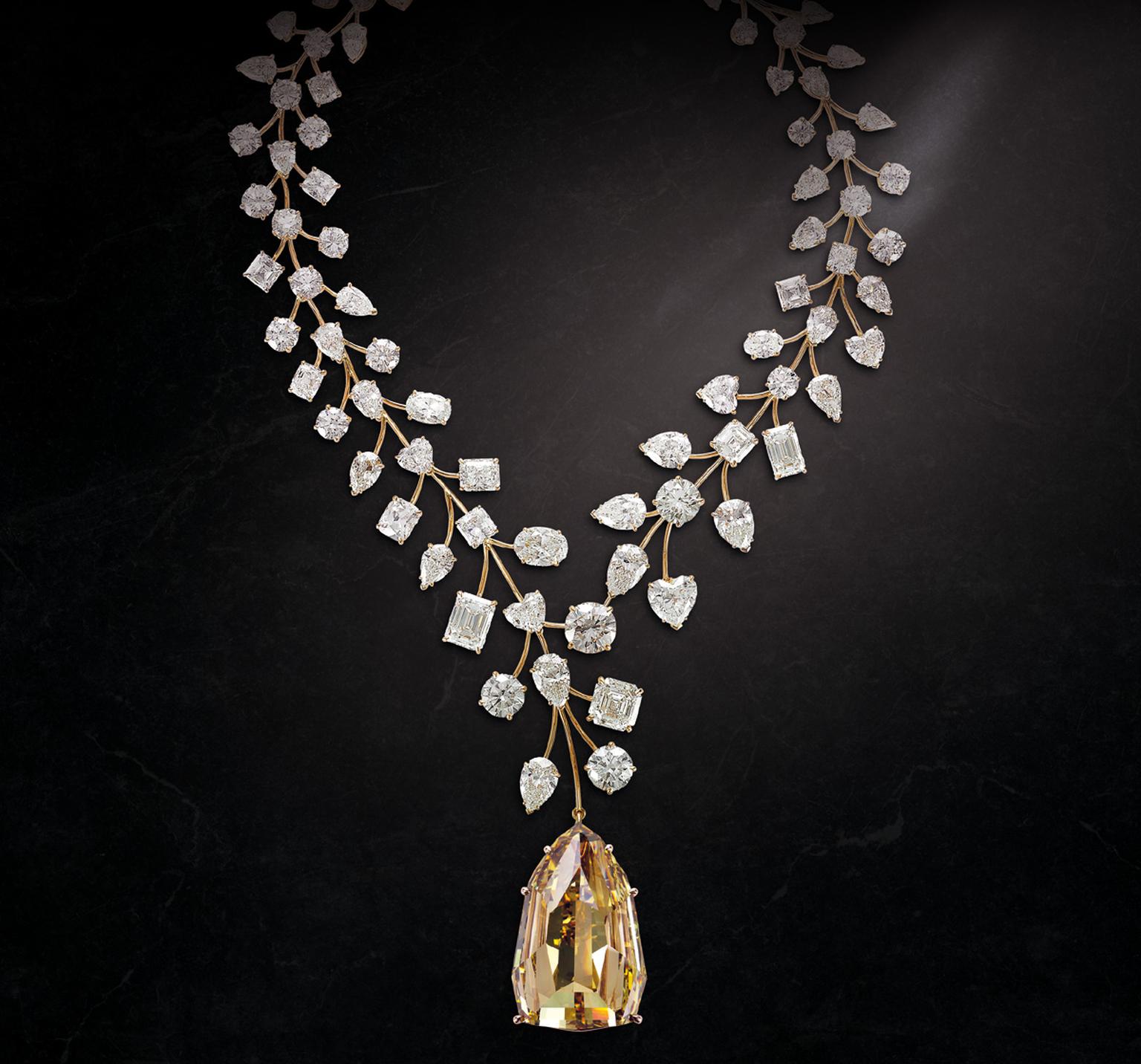 A record-breaking jewel with a record-breaking price tag, Mouawad's L'Incomparable diamond necklace has gone straight into the Guinness World Records. Priced at US$55 million - £36,361,323 - it is the most valuable necklace on the planet. The reason? That majestic centerpiece: a one-of-a-kind deep yellow diamond.
Weighing a mighty 407.48ct, the discovery of this modified shield step-cut IF natural fancy deep yellow diamond was a fluke. In the African Congo, more than 30 years ago, a young girl plucked it from a discarded pile of kimberlite - an igneous byproduct of diamond mining in which diamonds are lodged - that was considered too bulky to contain diamonds. After it was cut into its distinctive 'triolette' shape and classified by the Gemological Institute of America as the world's largest internally flawless coloured diamond, it earned itself the title of the "Incomparable Diamond".
In the past this world-famous gemstone has been displayed in museums, including the Smithsonian Institute in Washington DC, but in the hands of luxury jeweller Mouawad it has been given the majestic setting it deserves. Set with diamonds totaling 637ct diamonds, including 90 exceptional white diamonds in a variety of cuts and carat weights, this magnificent golden diamond couldn't be in better company.
This incredible jewel comes hot on the heels of Graff's US$100 million 'Peacock' brooch, which was unveiled at the TEFAF exhibition in Maastricht earlier this month. Read more about this other record-breaking jewel here, with a 20tt fancy deep blue diamond at its centre. 
The L'Incomparable Diamond Necklace was first unveiled at the Doha Jewellery and Watch Exhibition in February and is on display at the Mouawad boutique in the Dubai Mall until 6 April.