In autumn 2015, Asian jeweller Wallace Chan pulled off an incredible feat when he revealed a $200 million dollar diamond jewel that instantly became the most expensive diamond necklace ever made.  The extraordinary necklace, named A Heritage in Bloom, is set with 383.40ct of diamonds, including a spectacular 104ct diamond at its centre, which, together with a further 23 internally flawless diamonds, were cut from the 507.55ct Cullinan Heritage rough diamond.
The Cullinan Heritage was bought by Chow Tai Fook for $35 million in 2010, after which Wallace Chan was given the daunting task of transforming it into a jewel unlike any other. The only Asian jeweller ever to be invited to exhibit at the prestigious Biennale des Antiquaires in Paris, Chan succeeded in spectacular fashion, creating one of the most memorable jewels of 2015.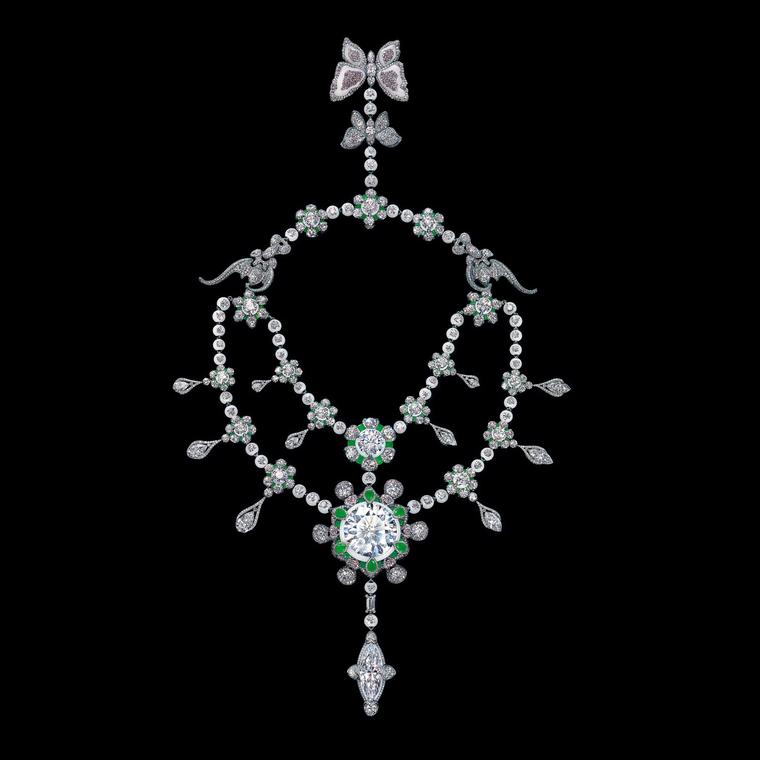 Inspired by Chinese culture and history, the design is imbued with symbolism and includes figures of a bat, which represent good luck, and butterflies, said to signify eternal love. Over a period of 11 months, the masterpiece took a team of 22 people 47,000 hours to make. The diamond necklace also lends a whole new meaning to the term transformable jewel as it can be worn in an astonishing 27 different ways. At the unveiling, Wallace Chan said: "This is my very first collaboration with Chow Tai Fook. We have a shared dream - to realise a creation that can be passed on from generation to generation with this once-in-a-lifetime encounter."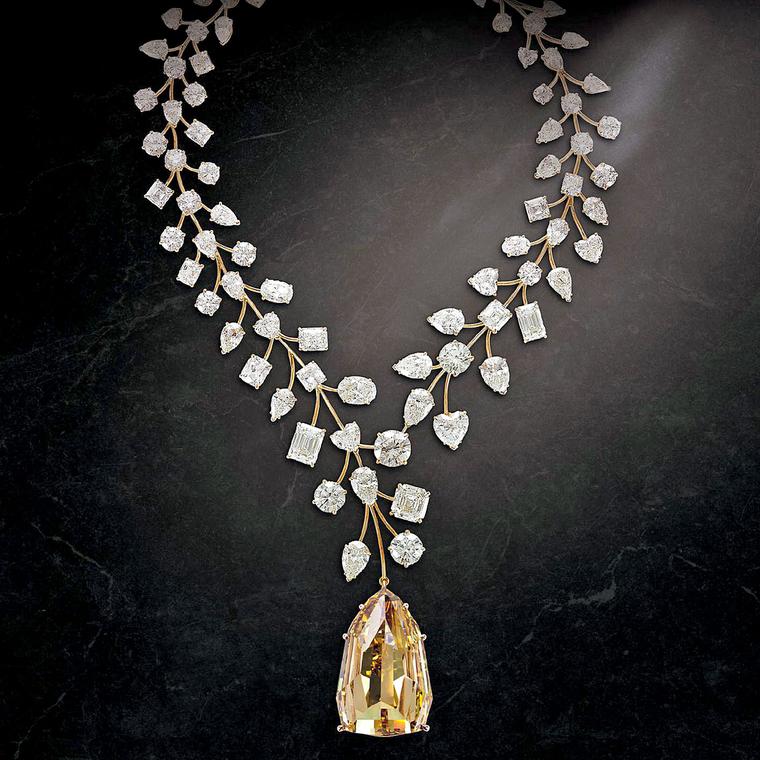 The Wallace Chan necklace has knocked the aptly named Incomparable necklace, right, from the number one spot, which it previously occupied in the list of most expensive diamond necklaces. With a total weight of 637 carats, the Incomparable, created by Lebanese jeweller Mouawad in 2013, features a 407.48ct internally flawless brownish-yellow diamond pendant and is valued at $55 million. The step-cut diamond hangs from a gold chain set with 91 white diamonds in an asymmetrical design resembling a vine. Legend has it that the centre stone, which also entered the history books as the largest internally flawless diamond ever graded by the GIA, was found by a girl from Congo, Africa more than 30 years ago.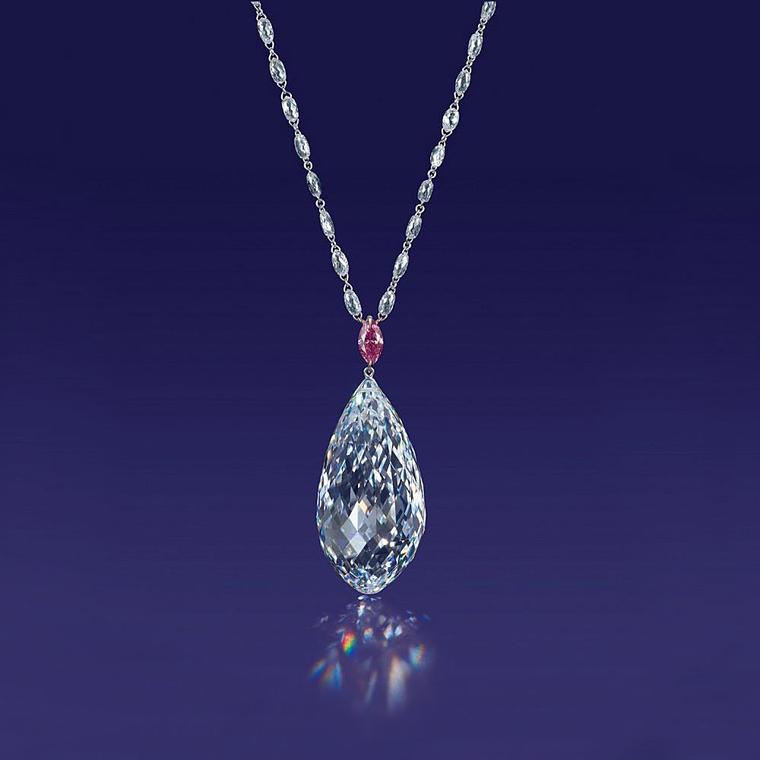 The third most expensive diamond necklace in the world is the 75.36ct briolette diamond necklace, left, known as The Star of China, which sold for $11.1 million at Christie's Hong Kong in 2013. Master craftsman William Goldberg spent six months cutting a 160.5ct rough diamond into the largest and most perfect briolette diamond ever seen at auction. A purple-pink marquise-cut diamond further emphasises its shape and clarity, while the white gold chain is set with smaller-sized briolette white diamonds.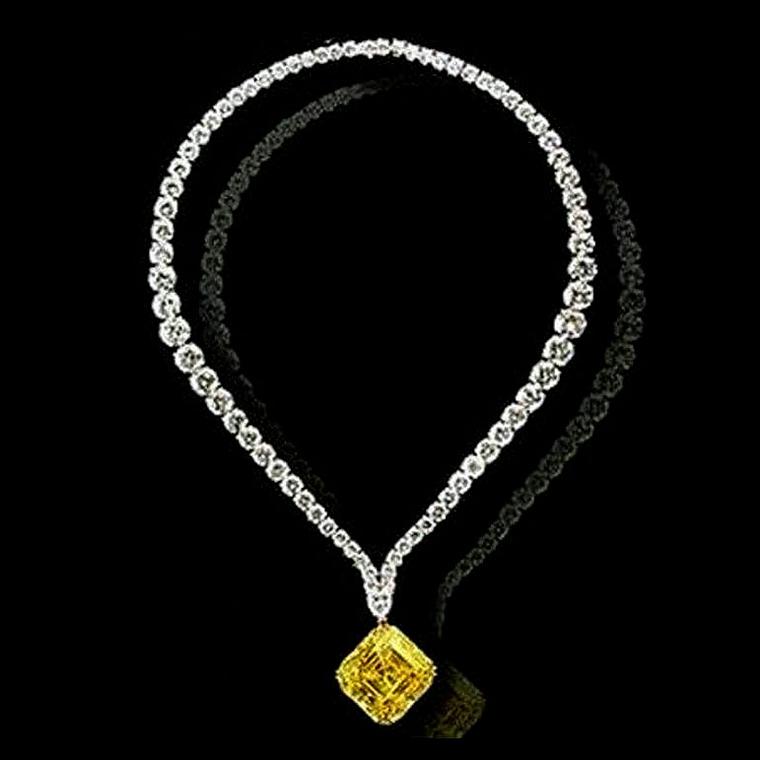 Just outside the top three most expensive diamond necklaces is a jewel set with a 77.12ct vivid yellow diamond. Israeli diamond tycoon Lev Leviev found the stone in one of his own mines and, now attached to a diamond-studded chain, has an asking price of $10 million.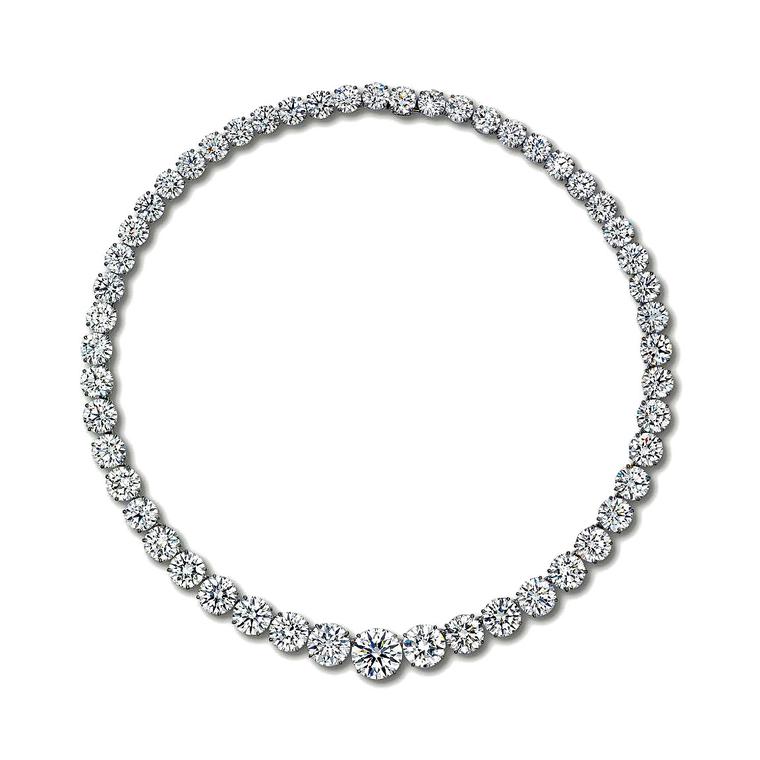 At number five on the list is a diamond necklace that was sold at auction in November 2013. The outstanding sparkle of this elegant jewel, set with 104.84ct flawless circular-cut diamonds, saw it achieve an impressive $8.4 million when it went under the hammer at Christie's Hong Kong.