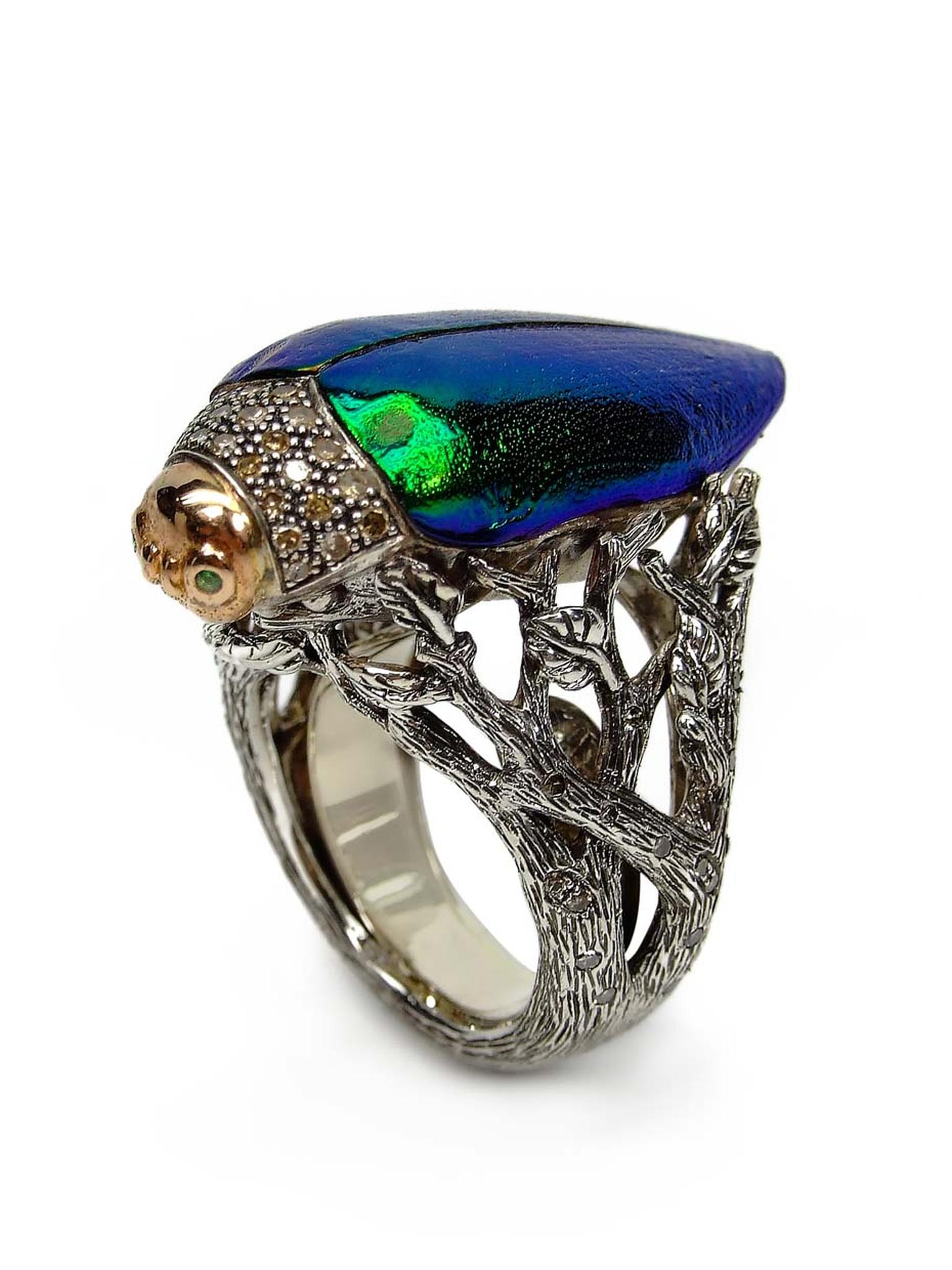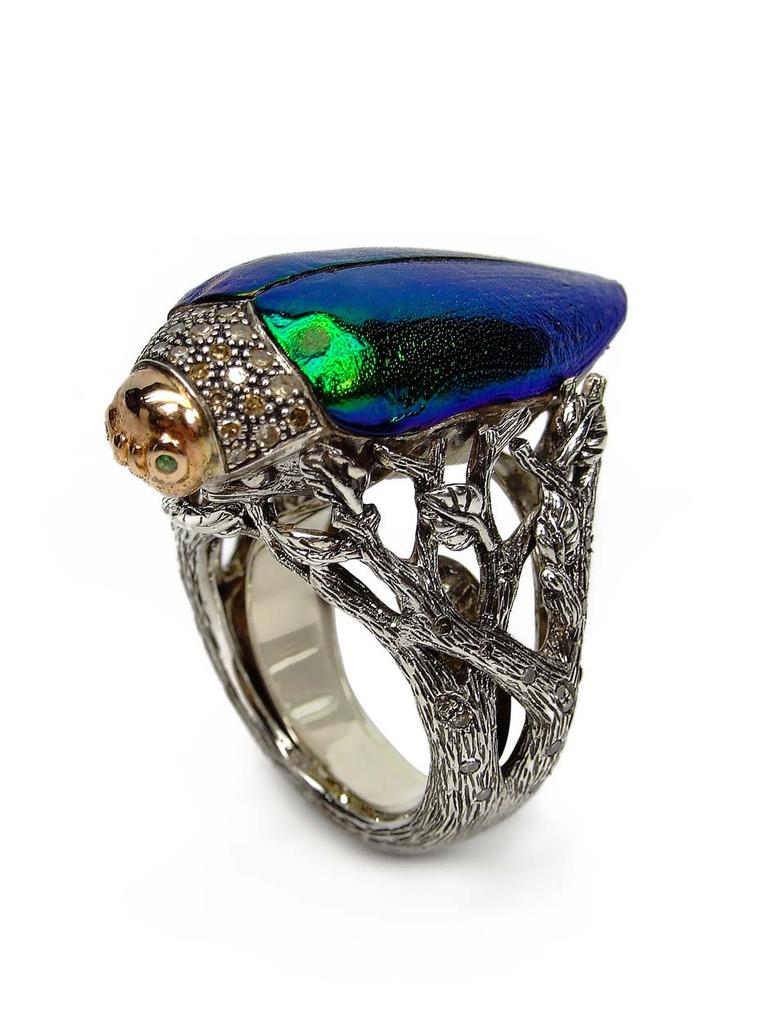 By Ase Anderson in London
Beetles and other insects have long been used as motifs in fine jewellery, but two designers are taking the idea one step further and incorporating the wings of scarab beetles in their collections.
Thailand-based Lotus Arts de Vivre has just launched the Scarab Collection exclusively at Katharine Pooley in London's Walton Street. As the name suggests, the jewels are made from the winged beetle that in ancient Egypt was seen as a holy symbol of birth and regeneration.
Turning concepts about art and nature on their heads, Lotus Art de Vivre has created a stunning collection of jewels that includes a necklace made from scarab shells. The iridescent bright green colour, which shifts into blue when the light changes, is enhanced by white rose-cut and iced diamonds.
Making the jewels - which include a pair of earrings featuring scarab wings - is a painstaking and highly skilled process.  Each scarab piece is carefully selected according to colour, then cut or shaved to the right size and thickness before being applied individually. The von Bueren family ,which set up Lotus Art de Vivre 30 years ago, is renowned for its attention to detail: some handcrafted pieces can take up to six months to complete.
Another designer using shimmering scarab wings to create mesmerising works of art is Bibi van der Velden. The Dutch jeweller is famed for her sculptural statement pieces and counts celebrities such as Sienna Miller, Zaha Hadid and Kanye West among her fans.
Her Scarab collection includes a pair of drop earrings where the scarab wings are offset by green and blue sapphires on the reverse. The Scarab ring is a a bejewelled interpretation of the insect, with deep blue-green beetle wings and sparkling green tsavorites for eyes.
Looking at these fantastical creations, the question going through my mind is: how on earth can a fragile-looking beetle wing be transformed into a jewel that, despite its delicate appearance, needs to be sturdy enough to withstand daily wear?
Bibi explains that, while she was initially drawn to the scarab wings because of their intense colour, they are in fact quite hard and sturdy.  She says: "For my collection I use the wings as they are found in nature. I do not treat them with anything. Combining them with gold, silver and semi-precious stones gives them a new life for one-a-kind fine jewellery pieces."
Bibi continues: "Over the years I have always tried to challenge myself to work with unusual materials. When I first saw these scarabs they gave me a lot of inspiration; the colours of the wings are exceptional and are impossible to recreate in an artificial way."  
Bibi van der Velden Scarab Wing earrings in silver, with scarab wings, woolly mammoth and green and blue sapphires (£2,856).

The reverse of Bibi van der Velden's Scarab Wing earrings in silver, which are decorated with green and blue sapphires (£2,856).

Lotus Arts de Vivre for Katharine Pooley Scarab necklace with diamonds set in silver, black rhodium and gold (£15,060).

Lotus Arts de Vivre for Katharine Pooley Scarab earrings with rose-cut and iced diamonds set in black rhodium, sterling silver and gold (£6,970).

Lotus Arts de Vivre for Katharine Pooley Flexible Scarab ring in flexible silver and gold, with five rows of tsavorites (£2,790).

Bibi van der Velden Scarab ring in silver and gold, featuring a scarab wing, green tsavorites and brown diamonds (£1,996).