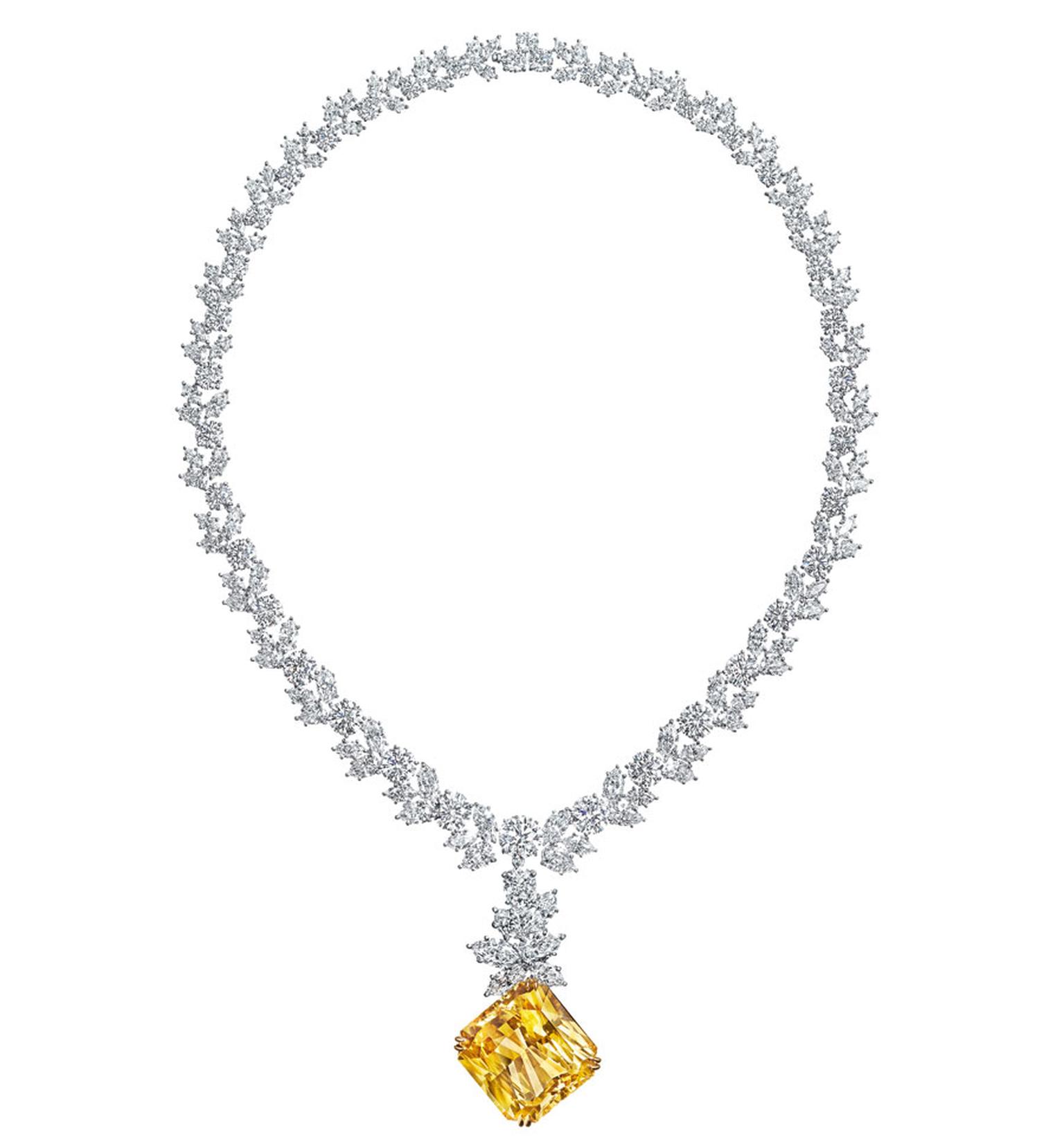 The Victoria and Albert Museum brings the world of cinema to London with the "Hollywood Costume" exhibition that opened its doors to the public this weekend. Lead sponsor of the exhibition is Harry Winston Inc who has long been associated with the glamour of the world of film.
The exhibition gathers more than 130 of the most iconic and instantly recognisable costumes from 100 years of film making and explores the art of costume design and its importance in building character and storytelling. Professor Deborah Nadoolman Landis, Senior Guest Curator for the exhibition stressed in her opening speech that costume design "is not about the clothes but creating authentic individuals" and hopes that this exhibition that cleverly uses digital technology to bring Hollywood alive, will blow your mind. Jewels, she believes are vital to creating character and play an important role in costume design.
Frédéric de Narp, CEO and President of Harry Winston reminded us that Harry Winston was the first jeweller to lend jewels to stars for red carpet appearances way back in 1943 (read more here)  and has since been associated with the leading ladies of the day, both on screen and on the red carpet.
You can see Dorothy's Ruby Slippers that she wore in 'The Wizard of Oz' as she followed the Yellow Brick Road which are considered one of America's most cherished artefacts. It is the first time they have the United States and have been reunited with the blue and white pinafore gingham dress Judy Garland wore in the film.  Also on display is Marilyn Monroe's famous white dress that so alluringly billowed as she failed to keep it under control in "The Seven Year Itch" as well as her revealing figure-hugging gown from "Some Like it Hot". You will immediately recognise Tony Manero's white suit that John Travolta strutted across the "Saturday Night Fever" dance floor in " and Uma Thurman's yellow "Kill Bill" tracksuit. My favourite dress is the silver beaded gown worn by Carole Lombard in "My Man Godfrey" that just drips glamour and panache.
Highlighting Harry Winston's involvement in Hollywood and the importance of jewels creating a character, on show is the "Isadora" necklace, a replica of the one that Kate Hudson wore in "How to Lose a Guy in Ten Days." A 51.94 carat yellow diamond is suspended from a necklace set with different cuts of diamonds in the house's classic 'Wreath' pattern. The diamonds are set at different angles to capture the sparkle of the stones and a rich play of light and form.
The original necklace was made in 2003 and long since sold, so Harry Winston recreated the piece to be displayed alongside the yellow dress worn by Kate Hudson. Professor Deborah Nadoolman Landis, Senior Guest Curator for the exhibition said: "We're pleased to include Harry Winston's yellow sapphire necklace alongside the satin yellow dress to complete the stunning ensemble by costume designer Karen Patch." I  was interested to learn that when Karen Patch created the costume, she started with the necklace and made the dress to flatter the necklace rather than the other way round.
Do not miss this exhibition that brings you so close to Hollywood like never before that you feel you are on the set of a blockbuster or chatting to Martin Sorcese in the studio offices. The exhibition runs from 20th October to 27th January and you can book tickets online by clicking here.
One of the more revealing dresses Marilyn Monroe famously wore in Billy Wilder's Some Like It Hot.

Dorothy's (Judy Garland) unforgettable red shoes from The Wizard of Oz.

Kim Novak's costume from Hitchcock's terrifying The Birds.

A wide variety of period costume can be seen at the V&A's Hollywood Costume exhibition.

Dorothy's iconic dress from The Wizard of Oz, 1939. Costume Designer Adrian. Courtesy of Mrs H Porter, Private Collection and replica Ruby Slippers courtesy of Western Costume Design.

A dazzling costume once worn by Marlene Dietrich in Angel, 1937. Costume Designer Travis Banton. The Collection of Motion Picture Costume Design/Larry McQueen

Worn by none other than Elizabeth Taylor herself in Cleopatra, 1934. Costume Designer Travis Banton. The Collection of Motion Picture Costume Design/Larry McQueen

Milena Canonero's incredible costume for Kirsten Dunst in Marie Antoinette, 2006. Costume designer Milena Canonero. Courtesy of Norman Tipton Collection.

A revealing piece from Lady In The Dark, 1944. Costume Designer Edith Head. Courtesy of BFI National Archive.

A dazzling costume seductively laid out from My Man Godfrey, 1930. Costume designer Travis Banton. The Collection of Motion Picture Costume Design/Larry McQueen.

Gothic director Tim Burton on the red carpet, a variety of costumes from his films can be seen throughout the exhibition.

Helena Bonham Carter on the red carpet. The exhibition features a number of costumes worn by her.