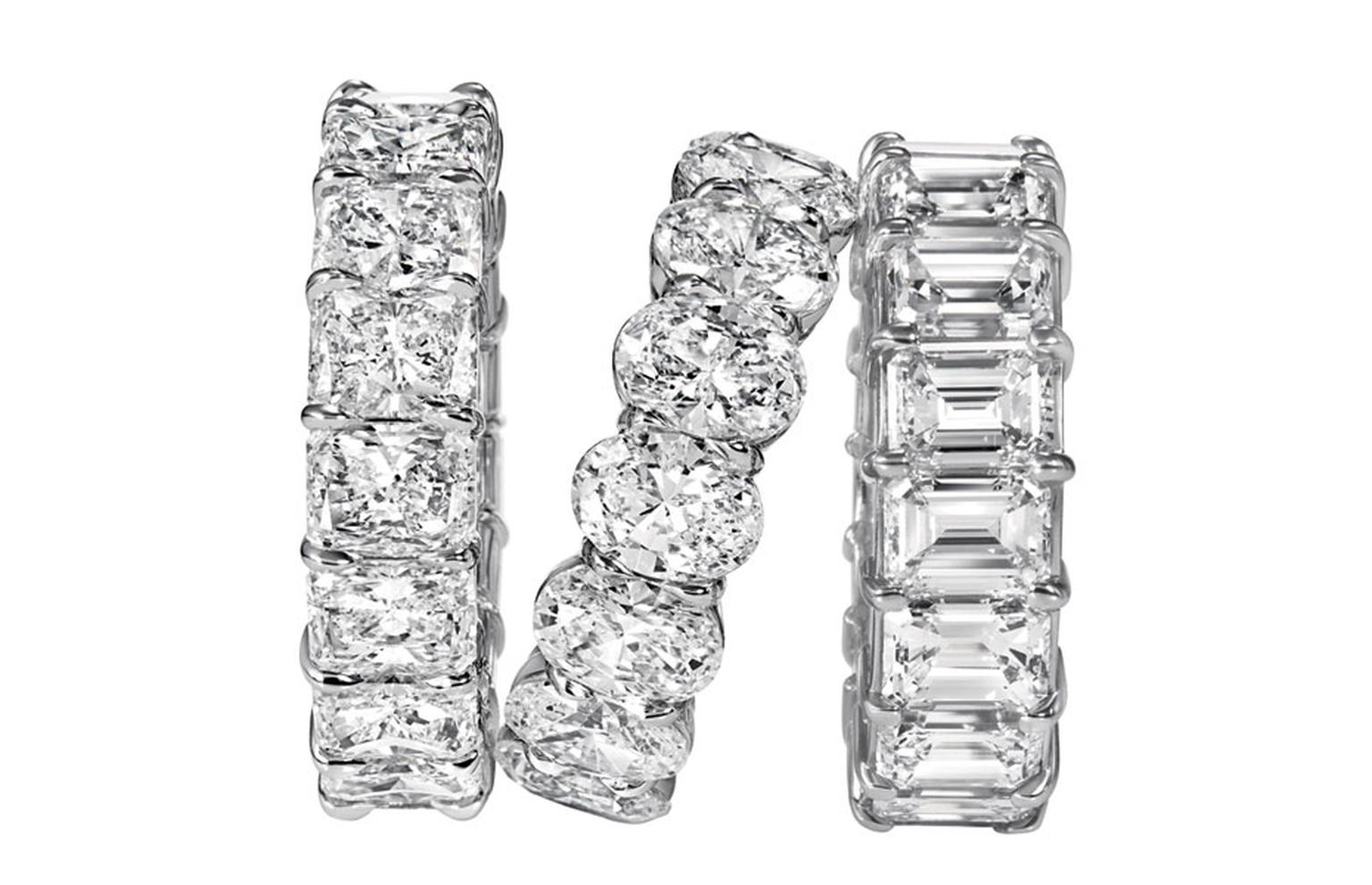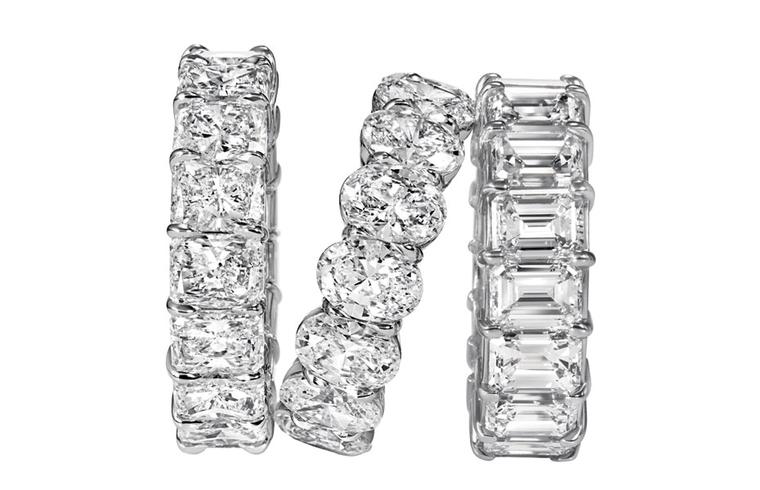 Harry Winston's philosophy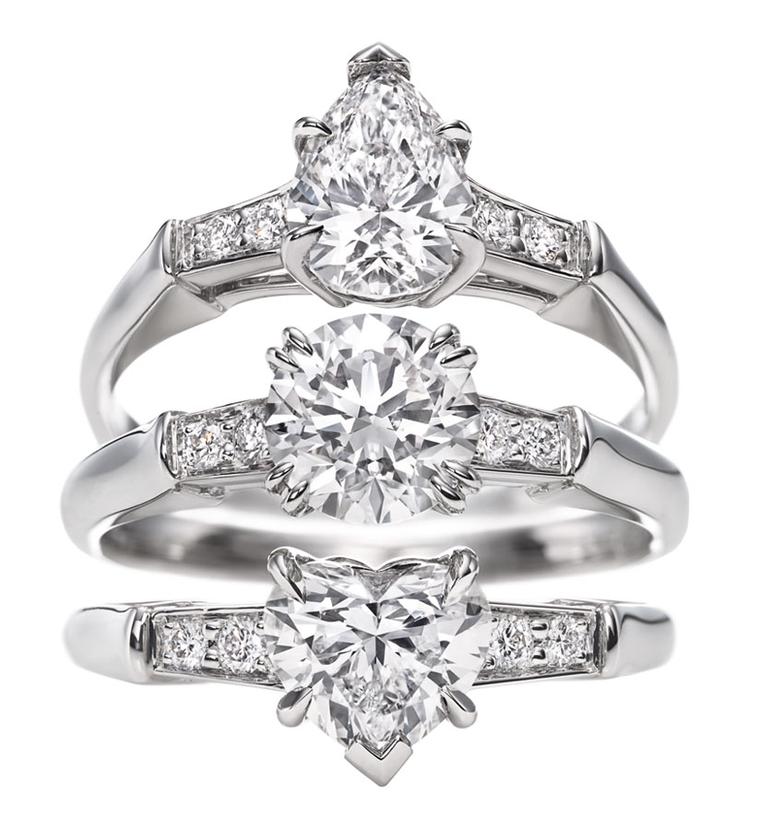 "A good diamond, however small, is a possession to be prized for many generations," said Harry Winston himself. And even more so if the diamond in question is sitting centre stage of your engagement ring. So it is worth taking your time and finding that one ring that is just right for you.
Making your choice
With so many choices facing a couple, choosing an engagement ring should be one of the most enjoyable decisions to make.  And a fine place to start is with the 'king of diamonds' Harry Winston who for over a century has been sharing the romance, mystique and beauty of great diamonds with its clients. Aristotle Onassis bought Jacqueline Kennedy's engagement ring from Harry Winston as have long lists of other Hollywood royalty. Big or small, diamonds are Harry Winston's speciality and one of the most famous diamonds in the world, the Hope, was donated by the house to the Smithsonian museum.
The origins of Harry Winston's style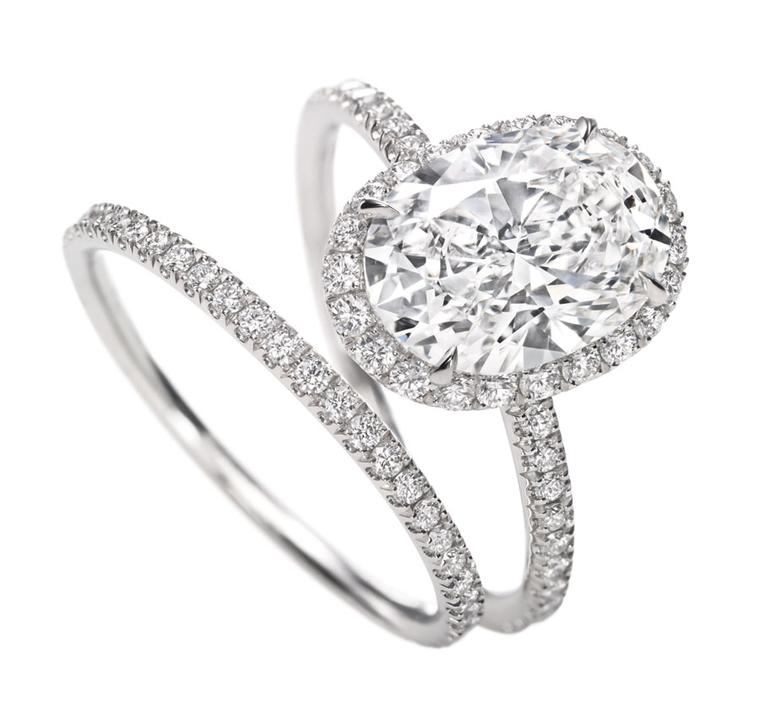 Just for a little background, it is interesting to know that the house style is influenced by the work of the late designer Ambaji Shinde (1917-2003) who mixed the richness of shapes and colours of the jewels of the Maharajas from his home land with the 1950's modernity of New York.  As well as appealing to the cocktail set with audaciously sexy "swimming pool" size diamond rings, Shinde is responsible for the more subtle 'cluster' style setting that combines a mix of pear, marquis and round cut diamonds.
Harry Winston's salons 
May I suggest that an enjoyable way to start your engagement ring experience would be to enter the cocooning atmosphere of one of Harry Winston's Salons. You will be surrounded by cool-grey silk padded walls, glossy black lacquer furniture with cream suede upholstery and maybe even be offered a glass of champagne. Kind, patient, knowledgeable staff will guide you through Harry Winston's well-polished repertoire of elegant diamond rings.
Here you will find the perfect example of each of the main diamond cuts: brilliant, emerald, pear, marquise or baguette set in enduringly elegant styles with a predominance of refined platinum settings. But more importantly, when in the capable hands of Harry Winston, you will be guided by experts who know their diamonds.
Every engagement ring is made in the firm's 5th Avenue workshops and unlike other jewellers you may have encountered that offer every variant of the "Four C's" of diamonds (carat, cut, colour and clarity) under the sun, Harry Winston is obsessively picky about what makes the cut.
Clarity and colour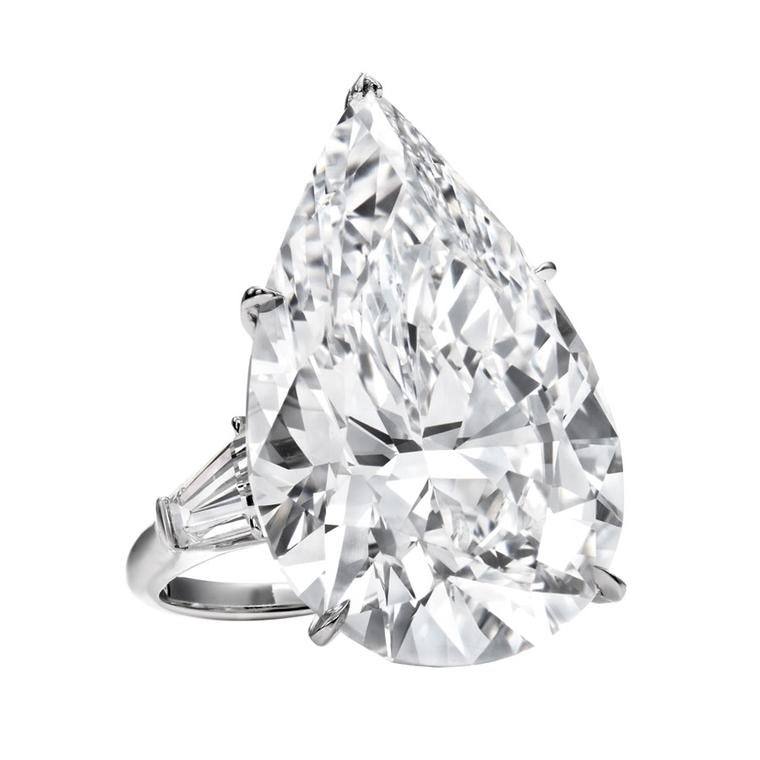 At Harry Winston you will only find the sparkliest of diamonds on your velvet tray as the diamond experts here are happy to sacrifice weight (carat) over brilliance (clarity and colour) to achieve the perfect result. And all the diamonds will be high on the clarity scale ranging from the top notch 'Flawless' a grading that speaks for itself, through to the more cryptic VS2, where no inclusions are visible to the naked eye.
While almost all diamonds are transparent, most do have a hint of colour which is why white diamonds are assessed on scale from D, being colourless, to Z. For engagement rings, Harry Winston only selects from the top three grades D, E and F, three little letters well worth remembering.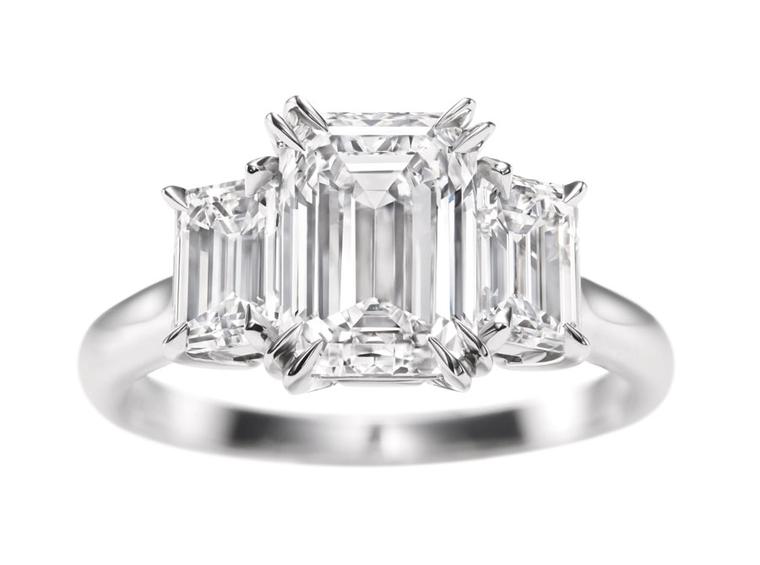 But don't get too caught up in all the technical side of diamonds, as Harry Winston has taken care of all of that for you. All you have to do is chose the one that most appeals to you, because in the words of Harry Winston: "No two diamonds are alike. Each diamond has a different nature. Each diamond must be handled the way you handle a person."
Harry Winston, diamond round cut three stone ring. Price from £6,900

Harry Winston, diamond pear shape solitaire ring with tapered baguettes. Price from £15,400

Harry Winston, diamond pear shape solitaire ring, price from £7,900. Diamond round cut solitaire ring, price from £7,050, Diamond heart shape solitaire ring, price from £7,900.

Harry Winston, diamond logo HW solitaire ring, price from £4,100

Harry Winston, diamond oval shape solitaire ring with tapered baguettes, price from £16,000

Harry Winston, diamond oval micropave solitaire ring, price from £21,000. Diamond oval micropave solitaire ring, price from £21,000.

Harry Winston, round brilliant diamond pendant, price from £4,350.

Harry Winston, diamond round cut three stone ring, price from £6,900

Harry Winston, diamond Radiant Cut Wedding Band, price from £24,400. Diamond oval cut wedding band, price from £12,300. Diamond emerald cut wedding band, price from £25,600