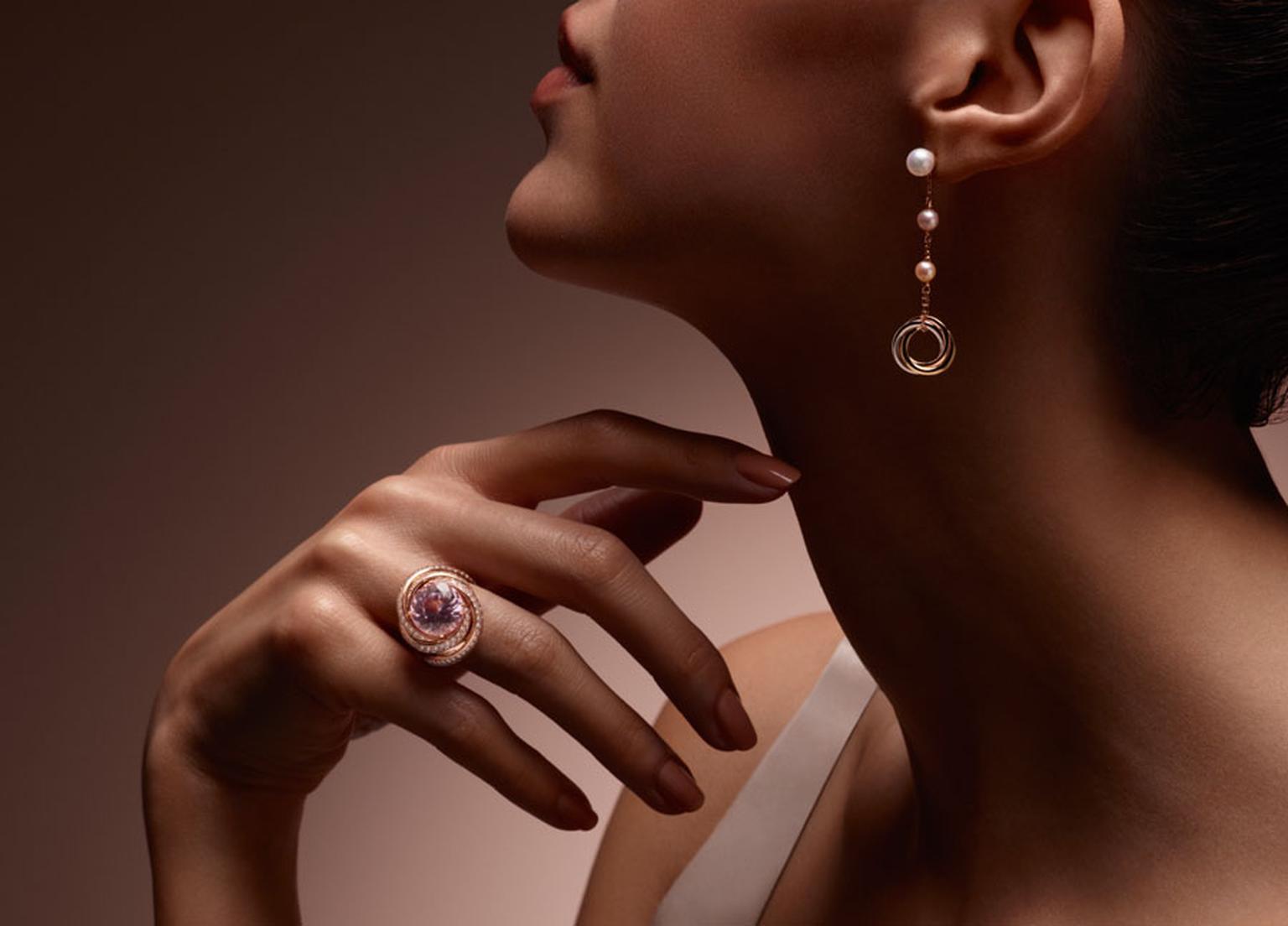 Cartier's famous Trinity collection gets a little twist with new models that show the diversity of this enduring design.  Made of three bands of gold symbolizing love, friendship and fidelity, this season Cartier opens an exciting new chapter of in the life of this perennial favourite with pearls, diamonds and precious coloured stones adorning the trio of golden rings.
The Trinity was designed by Louis Cartier in 1924 at the request of French artist, novelist, poet and filmmaker Jean Cocteau who wanted a 'three gold rolling ring'. His simple idea stuck and the three band design is one of Cartier's most emblematic jewels.
Today new versions of the Trinity include rings with each band set with different coloured  diamonds and stones or even drop earrings with pearls. Originally an all-gold ring, this new arrivals include rings set with large kunzites, pearls or aquamarines, proof of just how versatile and long-lived good design can be. 
Cartier Trinity scarf necklace. Three gold chains: Pink gold, yellow gold, white gold, diamonds. PHOTO: Vincent Wulveryck © Cartier

Cartier Trinity pearls ring. Yellow gold, pink gold, white gold, freshwater pearls, diamonds. PHOTO: Vincent Wulveryck © Cartier

Cartier Trinity pearls pendant earrings. Yellow gold, pink gold, white gold, freshwater pearls, diamonds. PHOTO: Vincent Wulveryck © Cartier

Cartier Trinity pearls ring. Yellow gold, pink gold, white gold, gold pearl, diamonds. PHOTO: Vincent Wulveryck © Cartier

Cartier Trinity XL ring . Platinum, white gold, diamonds, black ceramic. PHOTO: Vincent Wulveryck © Cartier

Cartier Trinity bracelet. Platinum, white gold, diamonds, black ceramic. PHOTO: Vincent Wulveryck © Cartier

A model wears Cartier's Trinity heart bracelet and Trinity pendant.

A model wears the Délices de Cartier XL watch and Trinity ring.

A model wears a Cartier Trinity ring.

A model wears Cartier's Trinity rings.

A model wears Cartier's Trinity pendant and Trinity ring.

Cartier Trinity ring in aquamarine, white gold, diamond paved. PHOTO: Vincent Wulveryck © Cartier