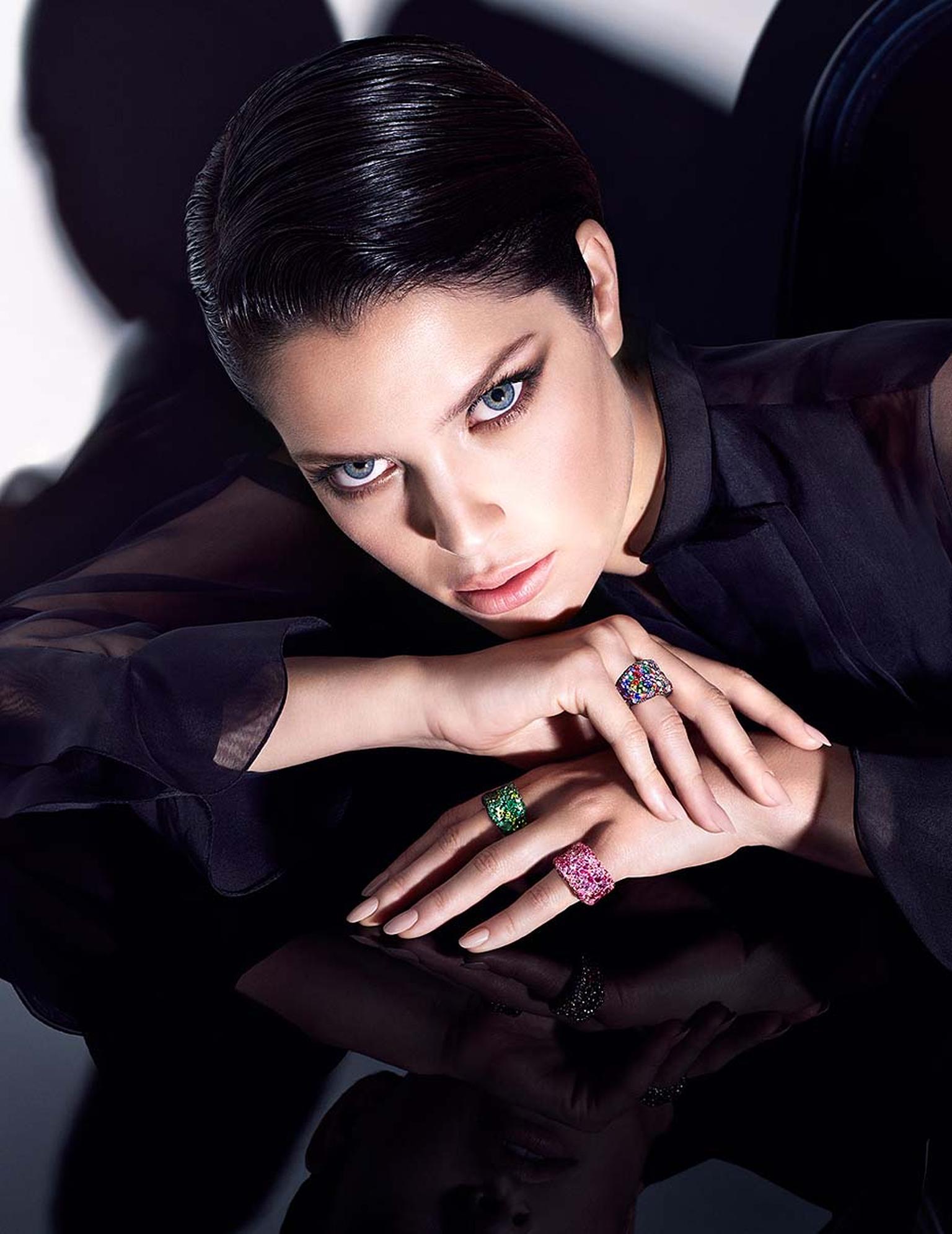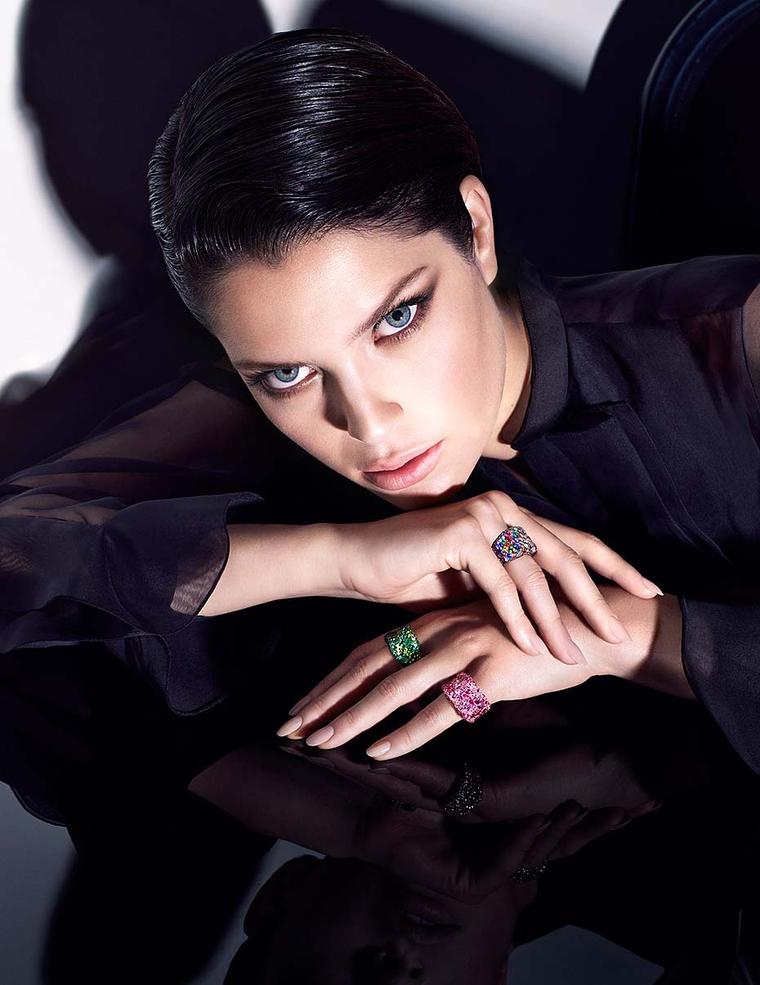 "Expensive things interest me little if their value is merely in so many diamonds or pearls," said Peter Carl Fabergé shortly after taking over the family goldsmith business, which was founded in 1842. His vision, to focus on the design aspect of jewellery using a variety of colourful gemstones, soon became, and remains, Fabergé's calling card.
More than 170 years later, Fabergé has decided to celebrate its signature use of colour with a new advertising campaign featuring a dazzling collection of new jewels. Incorporated into masterpieces that require the highly skilled talents of gem-setters, enamellers, embossers, engravers and finishers, these kaleidoscopic gems are every bit as precious as their predecessors, showcasing the house's historic creativity in colour, expertise in pavé-setting and legendary use of enamelling.  
Adorning a sleek-haired model, the jewels are completely at home in their 21st century setting while never veering far from the original Fabergé aesthetic created by Peter Carl and his talented team of craftsmen. One emerald and diamond necklace bears the unmistakable proportions of the iconic Fabergé egg, accompanied by a tassel of emerald beads. Another ring is decorated with the same Treillage quilting pattern that has appeared on hundreds of Fabergé eggs over the decades, inspired by the softness of furniture in Romanov palaces, the buttons replaced with colourful gems.
One image in particular from the new 'Art of Colour' advertising campaign captures Peter Carl's obsession with capturing the nuances of colour in gemstones and zeal for exquisite cuts. Emeralds, rubies and sapphires - the 'big three' precious stones - create a mosaic of vivid gems in a magnificent pair of earrings, set so that no two of the same stones appear side by side. The accompanying ring is pure Fabergé, showcasing the superior quality of its gemstone cutting and artistic settings, designed to show the majestic cushion-cut sapphire to its best advantage.
One of the most striking images sees the model wearing a trio of Emotion rings, each of which features over 300 gemstones. These colourful, organic designs, inspired by the Fauvist art movement, are a reminder of Fabergé's audacity with gemstones throughout its history. A cocktail of pavé emeralds, pink diamonds, purple sapphires and other multi-coloured gems, the stones have been set with such precision that not a hint of gold is visible between them.
To accompany the new advertising campaign, Fabergé has created a short film, which brings to life the drama of its designs and the ease with which they can be worn. Intended to capture the powerful visual appeal of the brand, these striking and contemporary jewels are proof that Fabergé has secured its place in modern-day history while remaining true to Peter Carl's original vision.
The new Collier Treillage necklace (£7,996), Bandeau Treillage ring (£3,258) and Fine Treillage ring (£2,888) in rose gold, set with blue sapphires, pink sapphires, rubies, amethysts, opals, tsavorites and white diamonds, all feature the iconic Fabergé quilted design.

Fabergé's new 'Art of Colour' campaign features an array of multi-coloured gems, including rubies, sapphires and emeralds in a pair of Devotion Variation earrings (£POA) and a cushion-cut blue sapphire in the Devotion Sapphire ring in platinum (£POA).

The model wears Fabergé's Impératrice Emerald Pompon white gold necklace (£POA), with white round diamonds, emeralds and emerald beads, and Devotion Emerald platinum ring with baguette and round white diamonds and a rectangle-cut emerald (£POA).

The trio of Fabergé Émotion rings in yellow gold featured in Faberge's new 'Art of Colour' ad campaign, set with, left to right, pavé emeralds and other green gemstones; pavé pink diamonds and purple sapphires; and a cocktail of pavé gemstones, including emeralds, rubies, tsavorites and multi-coloured sapphires (all £POA).