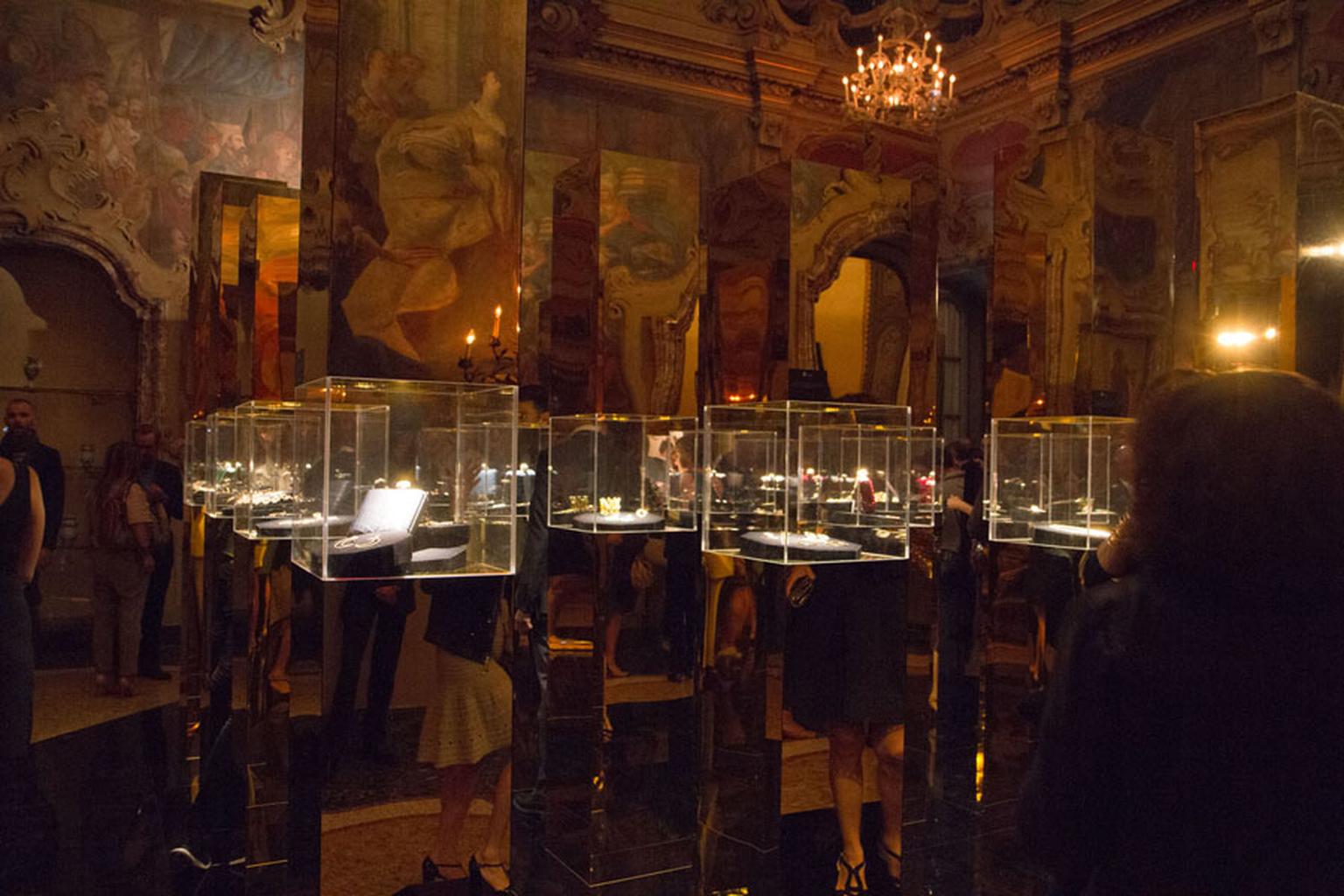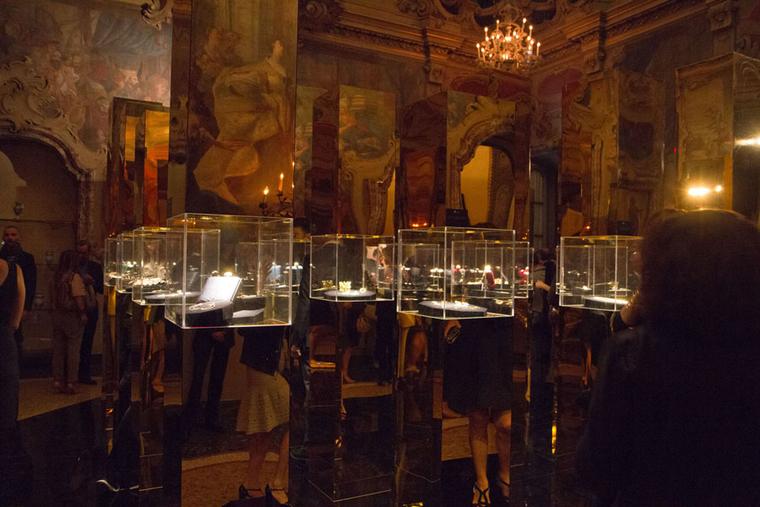 On the 17 September, just as Milan Fashion Week was poised to spring into action, all eyes were on Octium jewels, which were being shown for the first time in Europe.
"A Golden Era, a tribute to Heritage", a retrospective of the Kuwaiti firm's creations under the 'Octium Creates' name, was presented in conjunction with the respected publication 'Vogue Gioiello'. The jewels were displayed under the splendid 15th century baroque frescoes of the grand Palazzo Visconti, and the movers and shakers of the Milan fashion, industry, design and jewellery world came to have a look (read more about the jewels here).
Sixteen golden display cases containing the jewels reflected the opulence of the grand room, with its antique Murano chandeliers and richly decorated walls creating a surreal and intriguing panorama - the perfect synthesis of Old World grandeur and Eastern sensitivity. A side room was converted into a desert hideaway, with a traditional Middle Eastern décor of low sofas, Arab lanterns and oversized round brass trays resting on trestles. Another room was a surround projection that captured the spirit of Kuwaiti splendour and traditions, complete with dancing girls interposed with images of Octium jewels.
Most arresting were the bespoke emerald earrings and bracelet created in conjunction with Gemfields, which brought a strong flash of colour to the collections. Other spectacular creations included a fine mesh bib necklace and bracelet in gold with diamonds that sits on the skin like silk. Moorish influences are evident in the harmony of tessalated patterns of stars as well as serene crescent moons. 
The evolution of design is evident from the early Octium Creates Alpha collections of geometric designs that play on the simple octagon form interpreted in rose gold and diamonds. The theme is developed in Octium Creates Series II  with yellow gold, diamonds and subtle faceted details. Colour explodes onto the scene with Octium Creates Alandalus Lail (night in Arabic) for a more opulent look with precious gemstones and diamonds lighting up arabesque forms of crescent moons and stars. For day time wear, Octium Creates Alandalus Nahr paints with colour the ubiquitous octagonal shape.
Alanood Al Sabah and her husband Fahad Al Hajiri, who founded the firm in 2009, organised the event to kick-start their plans to grow the brand in the USA and Europe. But while the display cabinets showed the evolution and diversity of the house's designs, all based on the octagon, the evening held another surprise. Alanood Al Sabah entered holding a beige crocodile-skin clutch topped with the head of a golden falcon, complete with bejewelled eyes. The gold chain, made of octagonal links and highlighted with lacquer to match the leather, can be detached and worn as a necklace. The Octium Creates Augustine clutches feature the noble birds, traditionally used for hunting in the Gulf. 
The firm's first venture into lifestyle products beyond jewellery, this is but one in a series of eight one-off clutches, all made in Italy following traditional crafting techniques with a very Oriental touch. But why the birds? "We have always had birds as part of our identity and they also have significance in our culture," explains Alanood Al Sabah.
This step into the realm of lifestyle products hints at the possibilities this Middle Eastern brand will offer in the future.
Octium Creates Series II yellow gold and diamond ring from the Series II collection (US$7,180).

Three yellow gold Octium Creates Series II rings: one plain gold, one half pavéd with diamonds and one fully pavéd (US$1,775; US$5,890; US$8,960).

The Octium for Gemfields bespoke gold earrings, set with Gemfields Zambian emeralds and diamonds (£POA).

Octium Creates Couture rose gold and diamond ring.

Octium for Gemfields bespoke gold bracelet, featuring oval cabochon-cut Gemfields Zambian emeralds and white diamonds (£POA).

Octium Creates Series II rose gold and diamond ring from the Series I collection US$7,220).

A gold Octium cuff from the Octium Creates Alandalus Series III collection.

Ornate gold Octium earrings from the Octium Creates Alandalus Series III collection.

Octium reworks its signature octagonal motif into bangles, earrings, rings and pendants.

The Octium for Gemfields bespoke Zambian emerald bracelet and earrings were also on show at the event.

A striking pair of gold Octium earrings, from the Octium Creates Alandalus Series IV collection.

Many of Octium's jewels feature the eight-sided octagon, including this dramatic statement necklace from the Octium Creates Alandalus Series III collection.