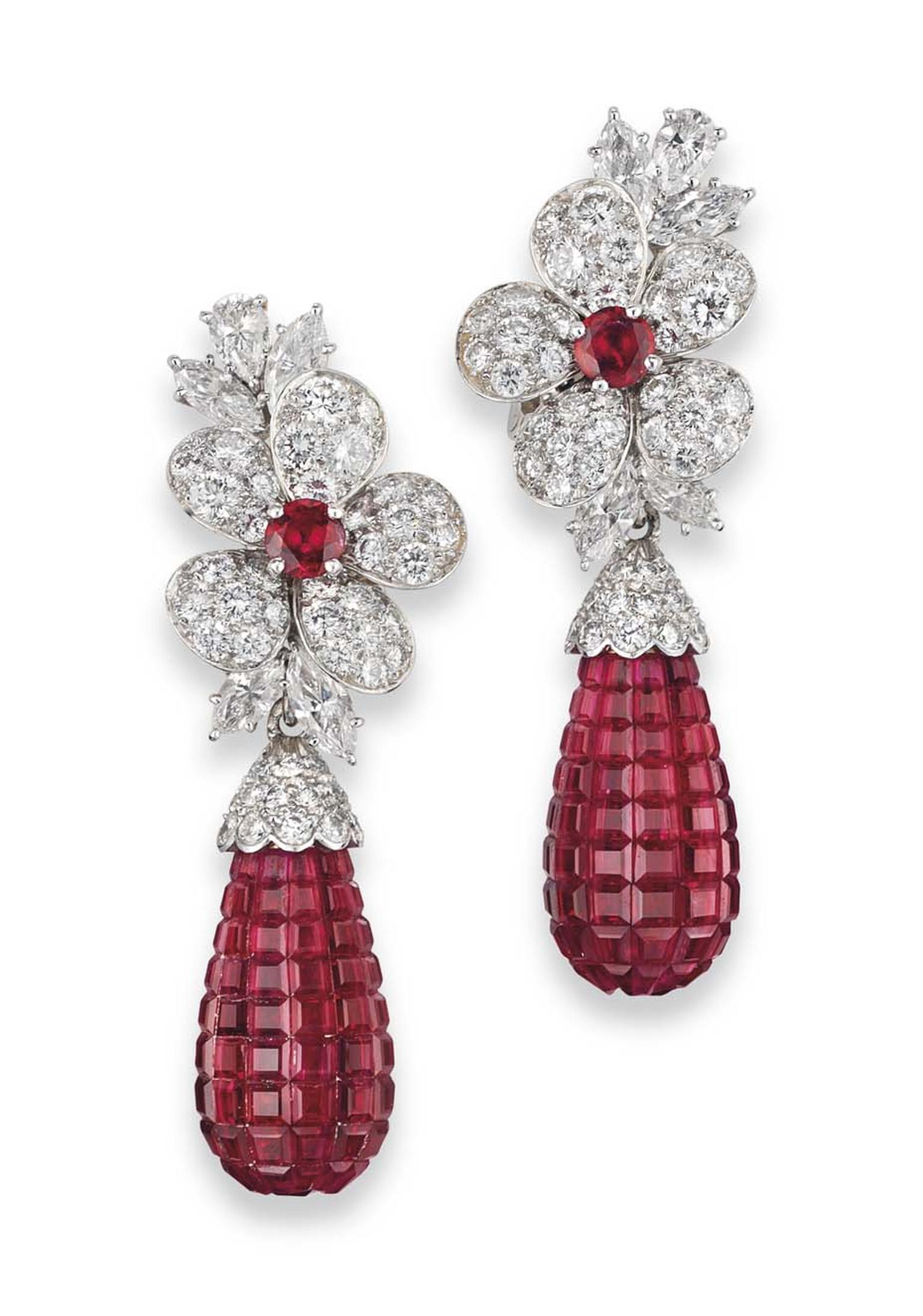 By Maria Doulton in London
I do have one of the nicest jobs in the world, a fact I was reminded of when, at 9am this morning, I found myself seated in front of tray after tray of magnificent jewels at Christie's jewellery department on King Street in London in anticipation for their Important Jewels auction on 26 November 2014. Forget coffee to perk you up. How about trying on a five-strand natural pearl necklace or a gazing into a Kashmir sapphire for your morning kicks.
I had a first look at the lots that make up one of the largest jewellery sales that Christie's has ever held at its headquarters in Mayfair. As luck would have it, the private collections of two ladies who loved jewellery were consigned to the London auctioneers, adding to an already impressive line-up. Having spent a happy morning in the company of some beautiful jewels, here is my pick of the highlights in the upcoming Important Jewels Sale to be held in London on the 26 November 2014.
As well as some magnificent gemstones, a rich assortment of natural pearls and a wide selection of Cartier jewels, blue seems to be the hue of the season, with sapphires, aquamarines, turquoise and lapis lazuli dominating the colour spectrum.
The top lot - Lot 444 - is a remarkable 14.66 carat Kashmir sapphire. According to the experts at the Gubelin Gem Lab in Basel: "The velvety blue colour of this sapphire, poetically also referred to as 'royal blue', is due to very fine and subtle inclusions and a combination of well-balanced trace elements in the gemstone, typical and characteristic of the finest sapphires of Kashmir."
I was able to hold it up to the light and see its soft, rich colour; a masterclass in appreciating top-quality sapphires, even on a grey autumn morning. The stone, formerly the property of Evelina Rothschild, is set in a Belle Epoque brooch surrounded by a cluster of old-cut diamonds and has an estimate of £400,000-£500,000.
Sapphires seem to be the stone of the moment, commanding high prices at auction, and there are two other sapphires, a 41.00 carat Burmese sapphire (Lot 252; estimate £200,000-300,000) and a 23.21 carat Ceylon sapphire (Lot 434; estimate £140,000-180,000) that make up a very special trio of blue gemstones.
For sheer technical prowess I have to include the 1990 ruby and diamond earrings by Van Cleef & Arpels (Lot 471; £80,000-100,000). The skill required to mystery-set rubies into drops translates into pure prettiness on the ear.
Natural pearls are achieving record prices at auction, so it is no surprise that there are a fair number in this sale. I tried on the five-strand natural pearl necklace with its lustruous central pearl (Lot 171; estimate £80,000-100,000), which felt so soft and supple on the skin. I also liked the late 19th century natural pearl and diamond ear pendants (lot 43; £30,000-40,000), whose delicacy and evocative style have the power to instantly give the wearer all the elegance of a duchess.
But one very unusual pearl necklace stands out for me. It is not the most expensive or even the most beautiful, but Lot 334 is intriguing. This late 19th century conch pearl necklace, with an estimate of £3,000-5,000, is a quirky mix of natural and nubby conch pearls. Lacking the finesse of a carefully matched and graduated strand, the variety and abundance of the conch pearls makes it a real connoisseurs' piece - which is probably what the original owner was.
As expected of a Christie's sale, Cartier jewellery is a strong presence, with some 70 lots. To celebrate the 100th birthday of the famous Cartier Panther there is a fine menagerie of 11 feline jewels on offer. The enormous Panthère ring (Lot 208; £2,500-3,500) is a true knuckleduster that was even loose on my thumb. I wonder who will be sporting that thunderball of a ring.
As always, Art Deco is a popular category, and Lot 234; estimate £25,000-35,000) is a warm, honey-hued citrine bracelet by Cartier that sums up the elegance of the era yet is still so very wearable. The Cartier lapis lazuli ring (Lot 203; estimate £8,000-10,000) could easily find a place in my jewellery box for its striking Art Deco simplicity. And the Cartier rock crystal, enamel, mother-of-pearl and diamond clock dating from circa 1925 (Lot 239; estimate £40,000-60,000) would add a distinguished touch to my messy desk.
I am always drawn to the lifelike perfection, lightness and colours of 19th century animal jewels. A dragonfly brooch dating from the late 19th century (Lot 4; estimate £5,000-7,000) looks real enough to flutter its wings and take off. But then again, the Cartier emerald and diamond Scarab brooch from the 1950s (Lot 220; £8,000-12,000) is another creepy crawly that I would welcome into my life.
I am interested to see what price is achieved for the cuff by contemporary Spanish artist jeweller Vicente Gracia from Valencia (Lot 99; estimate £18,000-25,000) as I think he is one to watch. As no sale would be complete without a tiara, I have fallen for a sapphire and diamond headpiece dating from 1890 (Lot 248; £30,000-40,000), which is regal yet just delicate enough to flatter rather than age - a danger tiara wearers should be aware of.
With so much to choose from, I am looking forward to the 26 November to see how my favourite lots perform and sharing the results with you.