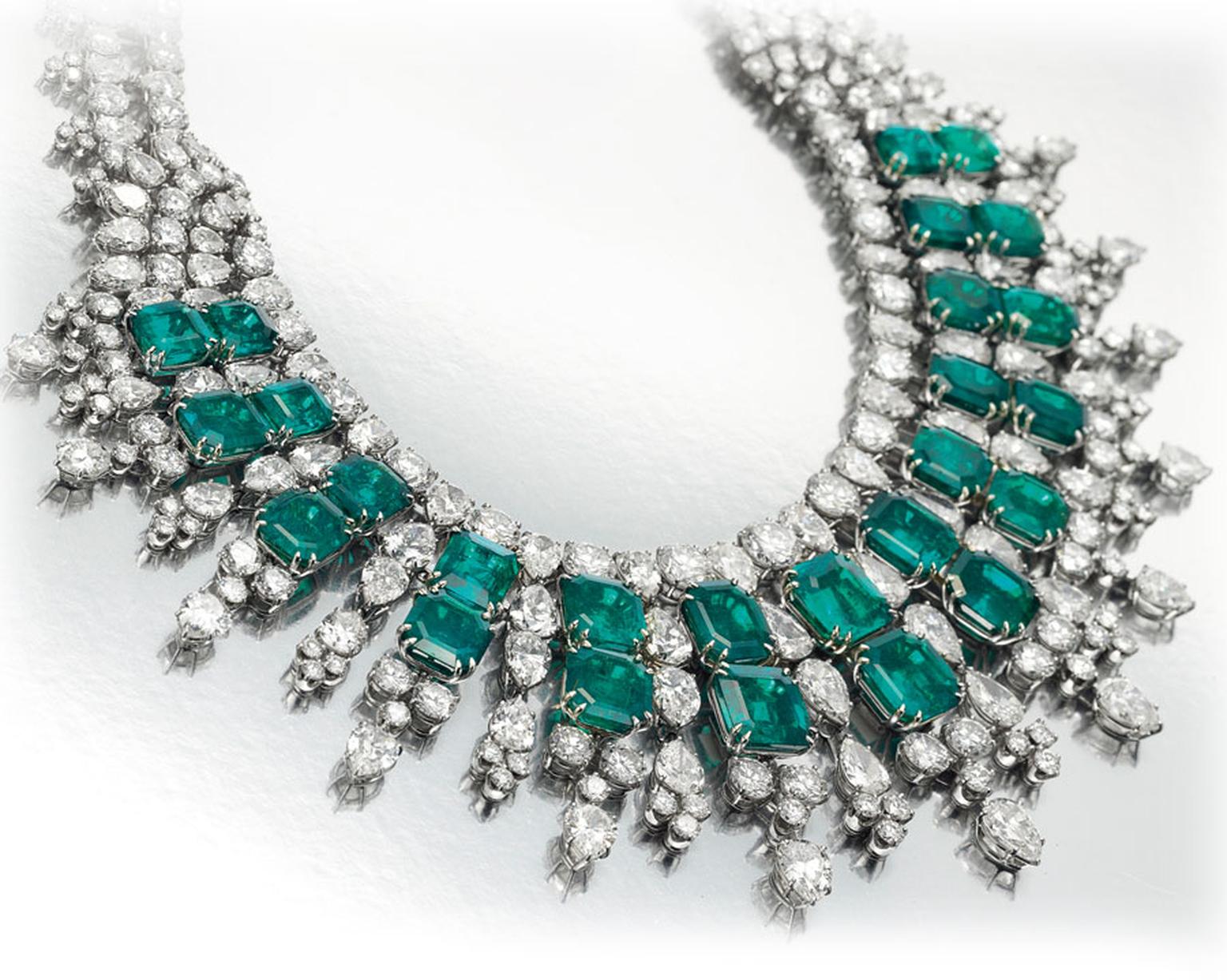 International jewellery expert and author Joanna Hardy has worked as an auctioneer, valued jewellery worldwide for one of the top auction houses and regularly appears on the BBC Antiques Roadshow. Here, she gives us her lots to look out for at Christie's upcoming sale of Magnificent Jewels and the Princie Diamond in New York on 16 April 2013:
Featuring almost 300 precious jewels, Christie's New York sale is expected to achieve in excess of US$40 million. That total value is all dependent on the final sale price of Christie's star lot: the "Princie" Diamond. The historic cushion-cut fancy intense polished pink diamond, Lot 295, is a type IIa and weighs 34.65ct. Unlike, for example, blue diamonds, which are created when the stone's carbon atoms interact with a trace element boron, pink diamonds are caused by stress in the crystal lattice as it rose up from the earth's mantel to the surface, which makes it a complete and utter freak of nature.
To get an idea of its rarity, if you excavated a weight of earth the same size as the Rockefeller Center in NYC, where the exhibition is taking place, you might find a 1.0ct pink diamond. There is a 23.6ct pink diamond set in the Queen's Williamson Diamond brooch - part of her private collection of jewels at Buckingham Palace - and Lawrence Graff bought a type IIa emerald-cut fancy intense pink weighing 24.78ct for US$46 million in 2010 - the most expensive single jewel ever sold at auction. The fabulous "Princie" diamond hasn't been up for sale for more than half a century, and I would hedge a guess it will sell for above the US$50 million mark. An estimate is available on request.
Emeralds are big news at the moment, and Lot 208, a Harry Winston emerald and diamond necklace (estimate: US$800,000-$1 million), is a very impressive piece. People forget that it is extremely difficult to find emeralds that match in hue - in this case, 26 of them, which descend in size and have only faint clarity enhancement. This piece is beautifully articulated at the front and looks like it would fit very comfortably around the neck.
Lot 290, a three-strand natural pearl necklace, has an estimate of an incredible US$1-1.5 million. With no natural pearls left in the world, their value has absolutely rocketed, doubling in the past 3-4 years. What is amazing about this necklace is the size of the pearls, which are between 4.95mm and 11.05mm - not a big size at all. So, despite being small, they must have an incredible lustre to warrant that price tag. I don't normally use the word investment when referring to jewellery, but this piece will definitely be bought with an investment in mind.
Among my favourite pieces are some fabulous lots that I have chosen for their beauty and uniqueness. It is very unusual to find an antique diamond collier de chien necklace like Lot 271 (estimate: US$30,000-$50,000) that hasn't been broken up. It is typical of the 1900s and in keeping with the fashion of the time, when women wore corsets below their low-cut, long-length tunics and their hair up, exposing lots of wonderful skin. To find one in its original case, which shows that the necklace hasn't been shortened, is incredibly rare.
I love boxes because they can tell you a lot about a piece, including who retailed it - as in the previous lot, whose box states the retailer was Collingwood of Conduit St Ltd. It adds great kudos to antique jewellery if it is still in its original case. Lot 22 is presented in a Georgian Moroccan tooled box, which is simply stunning. The parure of jewels inside comprises a sculpted gold necklace, two bracelets, a brooch, ear pendants and a tiara, dating from the 1830s and designed to be worn together (estimate: US$10,000-$15,000).
There is a selection of collectable Jean Schlumberger for Tiffany & Co pieces up for auction. Jean Schlumberger was born in France and moved to Berlin in the 1930s to pursue a career in banking. However, his love of the arts drew him to Paris, where he began designing costume jewellery and was discovered by Elsa Schiaparelli, one of the greatest figures in fashion between the World Wars. She hired him immediately to design buttons and jewellery for her boutique, and he soon had an impressive list of influential clients, including Daisy Fellows and the Duchess of Windsor. In 1947 he and his good friend Nicolas Bongard opened a small salon in New York and, in 1956, they were invited to join Tiffany & Co as vice presidents. It was here that Schlumberger had access to an unlimited supply of wonderful coloured stones, which he designed into some of his most outstanding jewels.
What immediately strikes me about Lot 87 - a Schlumberger for Tiffany tourmaline, sapphire and diamond starfish brooch circa 1945 (estimate: $US30,000-50,000) - is the fabulous suggestion of movement. It's as if the Star Fish is alive. At a time when rubies, sapphires and emeralds were extremely hard to get hold of, it is interesting to note that Schlumberger used tourmalines, a less- expensive stone, instead. Beautifully made and very typical of his style, it's got so much charisma and will, I predict, sell at the upper end of its estimate.
An art deco rock crystal, diamond and enamel pendant by Georges Fouquet, Lot 175, is so contemporary it could have been made today (estimate: US$10,000-$15,000). It shows the versatility of Fouquet, who was very ahead of his time and made the transition from the Art Nouveau to art deco style with ease. Lot 140 - a ruby and diamond ring by Cartier (estimate: US$700,000-$900,000) - is set with an exquisite Burmese ruby. Like natural pearls, Burmese rubies are a huge rarity. Although the ring setting is modern, that 11.02ct ruby is not.
Finally, another fancy coloured diamond, Lot 116. In the past, if it wasn't white, buyers weren't interested, but today, people are appreciating colour in diamonds a lot more. This round-cornered modified rectangular-cut fancy violet-grey diamond (estimate: US $550,000-$750,000) weighs approximately 5.64ct and is an extremely rare occurrence in nature. Bearing in mind that you would need at least 10ct of rough diamond to produce a cut diamond of 5ct, its size only increases this beautiful stone's rarity.
Mentioned in this article: