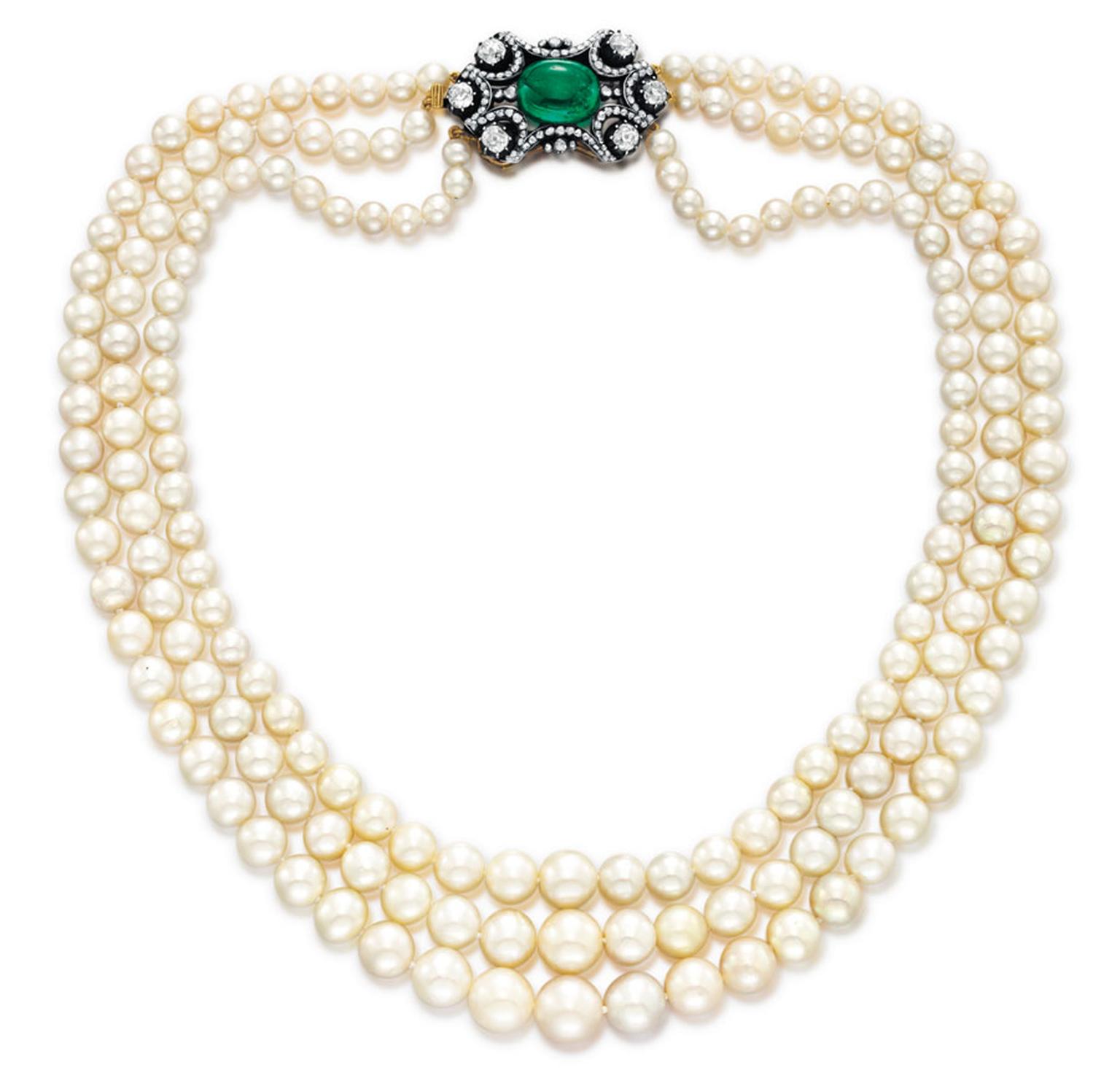 International jewellery expert and author Joanna Hardy has worked as an auctioneer, valued jewellery worldwide for one of the top auction houses and regularly appears on the BBC Antiques Roadshow. She gave us her lots to look out for at Christie's upcoming sale of Magnificent Jewels and the Princie Diamond in New York on 16 April 2013, and the results are in.
Featuring almost 300 precious jewels, Christie's New York sale was expected to achieve in excess of US$40 million, and it more than doubled that figure. The combined total realised was a staggering US$81,358,700 (£52,883,155 or €61,832,612) - the highest total ever for a various owner jewellery sale in the United States.
Hardy picked out Lot 208, a Harry Winston emerald and diamond necklace, for its spectacular diamonds. She pointed out that "it is extremely difficult to find emeralds that match in hue - in this case, 26 of them, which descend in size and have only faint clarity enhancement." Estimated to sell for US$80,000-$US1.2 million, the beautifully articulated necklace just beat its high estimate, realising US$1,203,750.
"What is amazing about Lot 290, a three-strand natural pearl necklace, is the size of the pearls, which are between 4.95mm and 11.05mm - not a big size at all," said Hardy. "Despite being small, they must have an incredible lustre to warrant that price tag. I don't normally use the word investment when referring to jewellery, but this piece will definitely be bought with an investment in mind." It had an estimate of US$1-1.5 million and sold for US$1,131,750.
Aside from the obvious high-achieving lots, some of Hardy's favourite pieces were chosen for their beauty and uniqueness. "It is very unusual to find an antique diamond collier de chien necklace like Lot 271 that hasn't been broken up," she said. "It is typical of the 1900s and in keeping with the fashion of the time. To find one in its original case, which shows that the necklace hasn't been shortened, is incredibly rare." It achieved US$37,500, towards the lower end of its estimate (US$30,000-$50,000).
"I love boxes because they can tell you a lot about a piece, including who retailed it" said Hardy. "It adds great kudos to antique jewellery if it is still in its original case." Presented in a Georgian Moroccan tooled box, Lot 22 contained a parure of jewels comprising a sculpted gold necklace, two bracelets, a brooch, ear pendants and a tiara, dating from the 1830s and designed to be worn together. It comfortably achieved its estimate (US$10,000-$15,000), selling for US$13,750.
Hardy was particularly impressed with the Jean Schlumberger for Tiffany & Co jewels up for auction at Christie's. "What immediately strikes me about Lot 87 - a Schlumberger for Tiffany tourmaline, sapphire and diamond starfish brooch circa 1945 (estimate: $US30,000-50,000) - is the fabulous suggestion of movement. It's as if the starfish is alive and has so much charisma." She predicted that it would sell at the upper end of its estimate, and it did: for US$50,000.
The art deco rock crystal, diamond and enamel pendant by Georges Fouquet, Lot 175, that "is so contemporary it could have been made today and shows the versatility of Fouquet, who was very ahead of his time", sold for US$37,500, more than double it's high estimate. Lot 140, meanwhile - a ring by Cartier (estimate: US$700,000-$900,000), set with diamonds and a rare Burmese ruby, also realised the higher end of its estimate, selling for US$843,750.
Mentioned in this article: