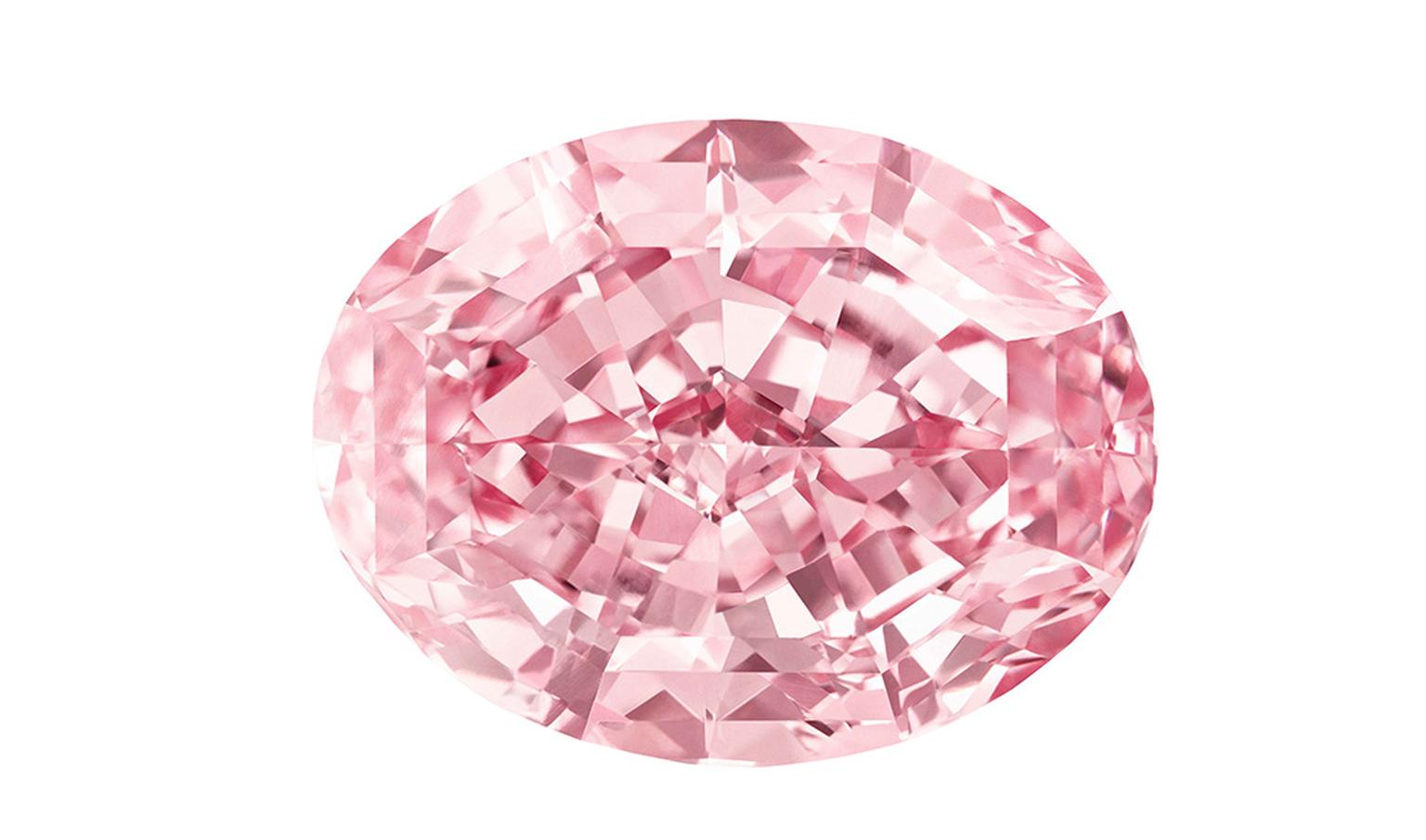 Sotheby's has already generated ripples of excitement within the auction world with the two extraordinary - and potentially record-breaking - diamonds that are set to be sold in Hong Kong this October (view our video of their visit to London here), but it has trumped that with today's announcement. Included in its sale of Magnificent Jewels in Geneva on 13 November 2013 is a pink diamond that, weighing nearly 60ct and expected to achieve in excess of US$60 million, is the most valuable diamond ever to be offered at auction.
Called The Pink Star, the one-of-a-kind 59.60ct oval-cut pink diamond is the largest internally flawless fancy vivid pink diamond every graded by the Gemological Institute of America (GIA). More than twice the size of the 24.78ct Graff Pink fancy intense pink diamond, which sold in Sotheby's Geneva in 2010 for US$46.2 million and currently holds the record for the most valuable gemstone or jewel sold at auction, it also exceeds in both size and richness of colour any pink diamond found in state, royal or private collections.
Remarkable in every way, The Pink Star is internally flawless and a beautifully saturated shade of pink known as Fancy Vivid - the highest possible colour grade for a pink diamond. It also falls into the rare Type IIa subgroup of diamonds, renowned for their flawless purity and exceptional optical transparency, which make up only 2% of all diamonds.
Unearthed by De Beers as a 132.5ct rough in 1999 in Africa, the stone was originally sold in 2007 under a different name, the Steinmetz Pink. Now renamed The Pink Star, this extraordinarily rare gemstone will be showcased on a worldwide tour of Sotheby's auction houses, including Hong Kong, New York, London, Zurich and Geneva.
"I have had the privilege of examining some of the greatest gemstones in the world over the past 35 years and I can say, without hesitation, that The Pink Star diamond is of immense importance," says David Bennett, Chairman of Sotheby's Jewellery Division in Europe and the Middle East and Chairman of Sotheby's Switzerland. "It is difficult to exaggerate the rarity of vivid pink diamonds weighing only 5ct, so this 59.60ct stone is simply off any scale and passes, I believe, into the ranks of the earth's greatest natural treasures."