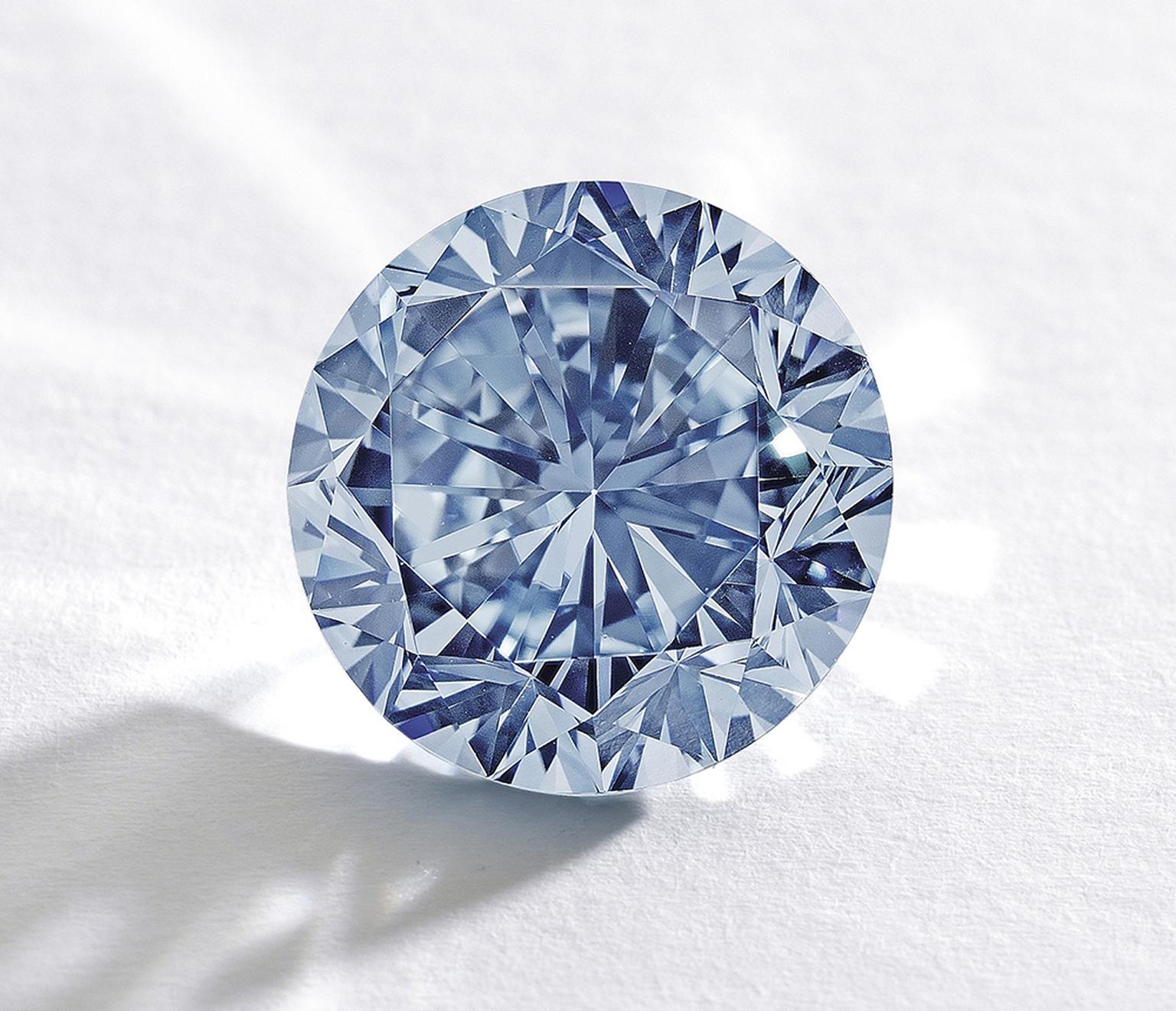 To celebrate its 40th anniversary in Asia, Sotheby's will be auctioning a one-of-a-kind blue diamond on 7 October 2013 as part of its Magnificent Jewels and Jadeite Autumn Sale in Hong Kong. Known as The Premier Blue, the 7.59ct Round Brilliant Cut Internally Flawless Fancy Vivid Blue diamond is the largest Round Fancy Vivid Blue diamond ever graded by the GIA (Gemological Institute of America).
Fancy Vivid is the highest grading for a coloured diamond. An even and saturated blue, The Premier Blue is internally flawless and cut to dazzle. The round brilliant is the most popular cut among colourless diamonds because it maximises their brilliance. However, due to the high levels of wastage, it is rare to see a significant coloured diamond cut in this way. So rare, in fact, that The Premier Blue is the first round brilliant-cut Fancy Vivid blue diamond of importance ever to appear at auction.
All blue diamonds owe their natural colour to the trace element boron, although very few display the pure blue hue of The Premier Blue. It is believed to be from the Cullinan Mine in South Africa, famous not just for the 3,106ct colourless Cullinan diamond unearthed there in 1905 - to this day, the largest gem-quality diamond ever discovered - but also the 7.03ct Star of Josephine and the 11 Millennium Blue Diamonds presented by De Beers in 2000 to celebrate the start of a new century.
"Sotheby's has been entrusted with many important blue diamonds and holds the current per-carat price record for Fancy Vivid blue diamond at auction [a 6.01ct Fancy Vivid Blue Diamond, which achieved US$1,686,505 per carat in Hong Kong in October 2011]," says Quek Chin Yeow, Deputy Chairman, Asia, and Chairman of International Jewellery, Asia. "A befitting celebration of Sotheby's 40th anniversary in Asia, the debut appearance of such a rare Fancy Vivid blue diamond as The Premier Blue at auction offers an unprecedented collecting opportunity for connoisseurs worldwide."
The Premier Blue will be previewed around Asia, Geneva, London, New York and Doha prior to the auction.
Mentioned in this article: