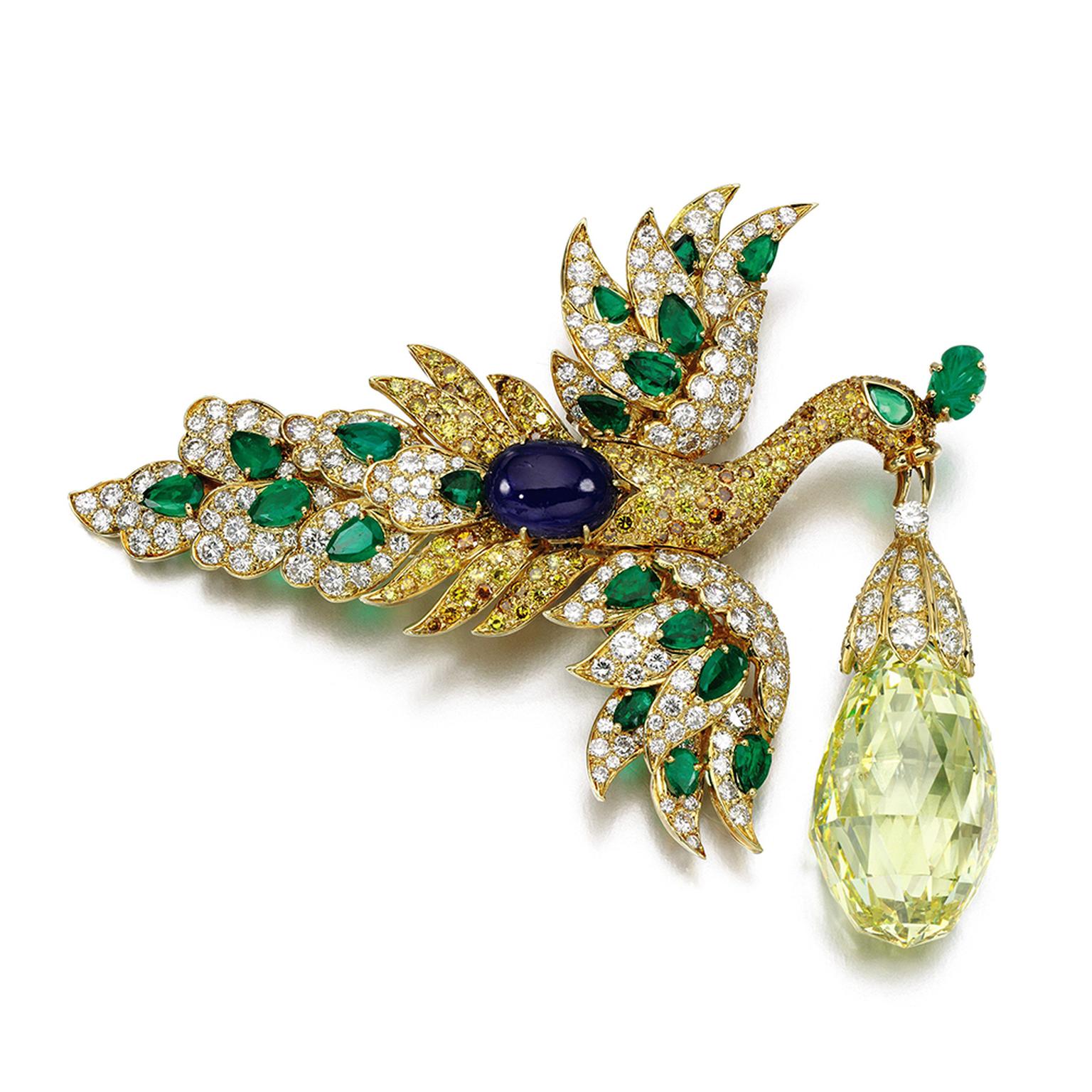 In September we announced that the world's most valuable diamond, the 60ct Pink Star, is set to be auctioned by Sotheby's Geneva next month, and the international auction house has just announced that it will be joined by the iconic "Walska Briolette Diamond" brooch, which is expected to achieve in excess of US$8 million.
Designed by Van Cleef & Arpels, the "Walska Briolette Diamond" brooch is an extravagant jewel that was created specifically to showcase the historic "Walska Briolette Diamond". Previously owned by opera singer Ganna Walska, who was a prolific collector of jewellery, the fancy vivid yellow 96.62ct briolette diamond was purchased by Van Cleef & Arpels at Sotheby's New York in 1971 and transformed into this incredible brooch shortly afterwards.
Sotheby's autumn auction of Magificent Jewels in Geneva on 13 November is the first time this unique jewel has been on the market in almost half a century. The brooch, which was most recently exhibited at the Van Cleef & Arpels' exhibition, "The Art of High Jewelry", at the Musée des Arts Décoratifs in Paris last year, not only features the incredible "Walska Diamond", but also white diamonds, emeralds and a cabochon sapphire, fashioned into a yellow gold Bird of Paradise. The 96.62ct diamond, suspended from the bird's beak, can be removed and worn as a pendant, while the bird's wings can be detached to form a pair of earrings and the tail transforms into a brooch.
Commenting on the forthcoming sale of the "Walska Briolette Diamond" brooch, David Bennett, Chairman of Sotheby's Jewellery Division in Europe and the Middle East and Chairman of Sotheby's Switzerland, says: "It is the perfect demonstration of how a great jeweller can emphasise the beauty of a spectacular stone by transforming it into a unique piece. This historic diamond, which is of an extraordinary size for an antique-cut briolette, comes back on the market after 42 years, in a fabulous bespoke piece of jewellery."
Mentioned in this article: