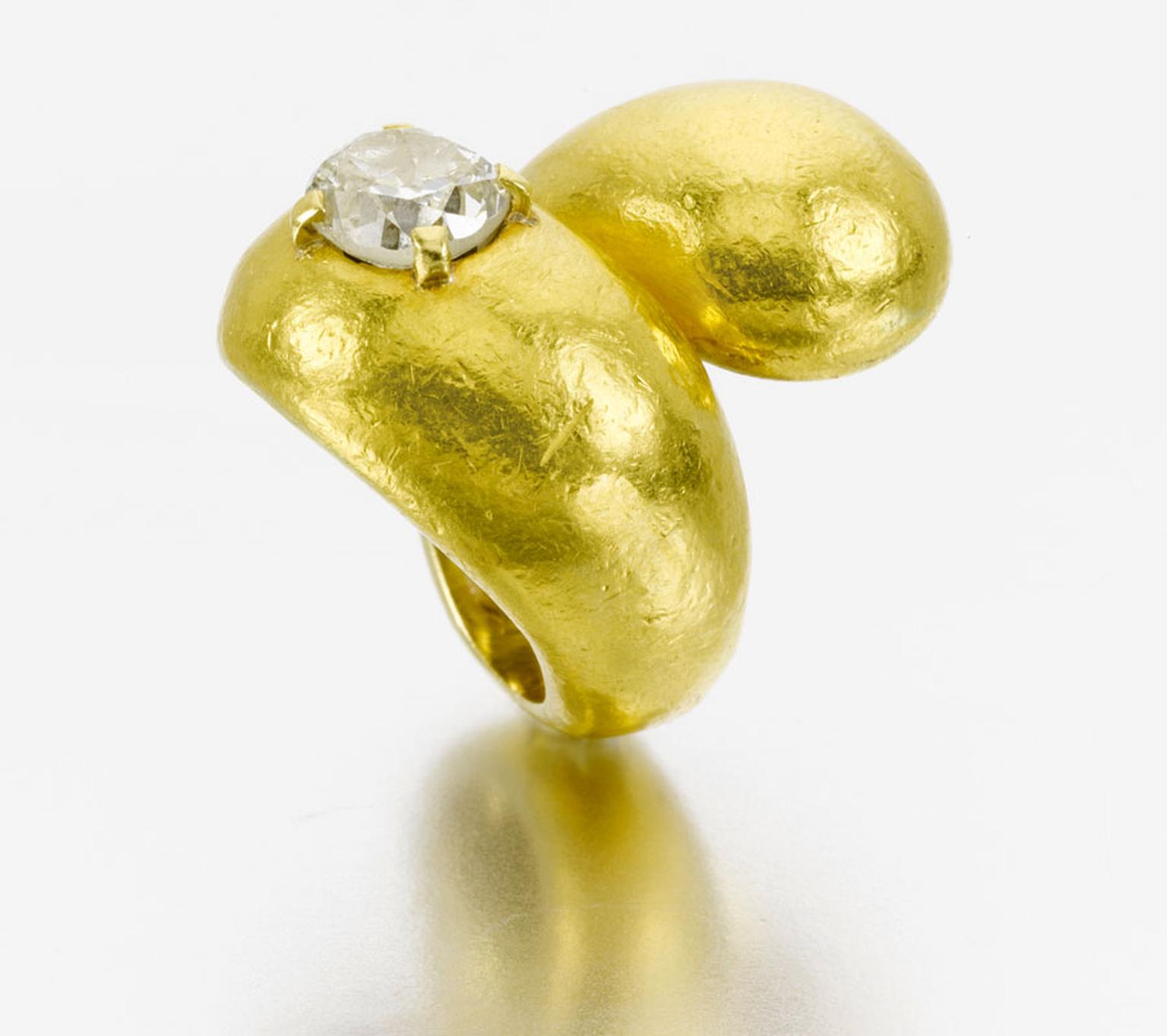 Sotheby's announce results of the Suzanne Belperron (1900-1983) sale in Geneva today with 100% sold by lot and value of the sixty jewels from the personal collection of the French jeweller. The total achieved at the sale was of CHF 3,224,950 ($3,459,307), more than tripling the pre-sale expectation of CHF 902,000-1,365,000, proving that demand for seminal pieces from Suzanne Belperron's work was intense with international bidding driving prices well above estimates. A sale that sells all lots at top prices is what is known as a 'white glove' sale. Traditionally the successful auctioneer is handed a white glove at the end of the sale as a mark of his achievement.
Speaking after the sale, David Bennett, Chairman of Sotheby's Jewellery Department in Europe and the Middle East and Co-Chairman of Sotheby's Switzerland, commented: "It has been a great pleasure to bring to sale the personal collection of Suzanne Belperron, who is in my view the most talented and influential female jeweller of the 20th century. This collection included some of Suzanne Belperron's most celebrated designs and very intimate items which illustrated her unique style and creative virtuosity. We hope that the success of today's sale will highlight the immense talent of this great artist and her unique contribution to jewellery".
Although it has been nearly three decades since her passing, Suzanne Belperron's jewellery designs continue to inspire and surprise, easily making her one of the most important jewellery designers of the twentieth century.
Belperron lived and breathed for beauty and her dedication to craftmanship, which she managed gracefully, through an era of hostility and harassment. Having left Rene Boivin in 1932 to become the chief designer at Bernard Herz she finally got to be the famous creator she was always going to become, entrusted with the whole of Bernard Herz's company when he was arrested and incarcerated in the Drancy camp and then later, to a German concentration camp in 1943. Suzanne, devastated by the loss of her great friend and business partner carried on his legacy and formed Herz-Belperron, the new trade name she would become so acknowledged for. Sotheby's Geneva sale is made up of sixty pieces which is an intriguing testament into Belperron's everyday taste. Her pieces appeared in Vogue and Harper's Bazaar and before the lenses of Cecil Beaton and George Hoyningen-Huene and many others; her admirers including Jean Cocteau, Nina Ricci, Jeanne Lanvin, Gary Cooper and even the Duke and Duchess of Windsor.
Yet what makes this sale so special is the nature of the pieces: many of these are intensely personal not only because some were worn regularly by Belperron herself, but also because of the meaning many of them held for her. One of the highlights of the sale is her own engagement ring given to her by Jean Belperron in 1923; a Yin and Yang ring hammered in 22ct yellow "virgin gold" (as she would have called it), it is a bold example of her fascination with African craftsmanship, and is estimated at $12,000 to $18,000. And there's more:
Lot 15 - A Chalcedony and Sapphire ring, Circa 1935
This carved blue translucent Chalcedony ring centered by an oval cabochon sapphire comfortably set in a rub-over setting is what made Belperron stand out from her piers, so simple and elegant and totally ahead of her time. This material Chalcedony, is a very inexpensive and abundant material but Belperron has made it into a chic and everlasting piece. Chalcedony of the same hue and tone was used to make the famous parure for the Duchess of Windsor in the 1930's which Sotheby's sold in their celebrated Geneva sale in 1987.
Lot 59 - A rock crystal and diamond Brooch, 1932-1955
Belperron often wore this brooch and is seen on her in many photographs. The brooch is mounted in white gold and platinum and has a festive feeling to it with swirls and curls of transparent rock crystal design enhanced by old-cut diamonds set in palm-like ferns to the centre and seven old-cut diamonds in bezel-settings to the outside. Belperron's use of material such as quartz in such a magnificent piece was very avant-garde. The brooch carries one of her trusted Manufacturer's maker's mark; Groene and Darde.
Lot 60 - A rock crystal and diamond ring Circa 1935
What becomes immediately obvious when looking at this ring is how very tiny Belperron's fingers were. The marquise-cut diamond is set no differently than the coloured stones she uses in other pieces, very simply set in a rub-over setting, no claws are used which makes this piece and others like it more about the design rather than setting the stone on a pedestal. Diamonds are normally set so that the most light can enter in and out of the stone to better enhance it but Belperron is using the diamond to fit in with the over all design which is magnificently bold but wonderfully understated due to the transparent crystal and the white diamond and setting.
These are just a handful of examples of both the lots included but also of the tremendous quality of Suzanne Belperron's artistry and work, with other pieces including pearls, platinum, white gold, and luscious diamonds. The auction took place in Geneva at Sotheby's on May 14th 2012.
Mentioned in this article: