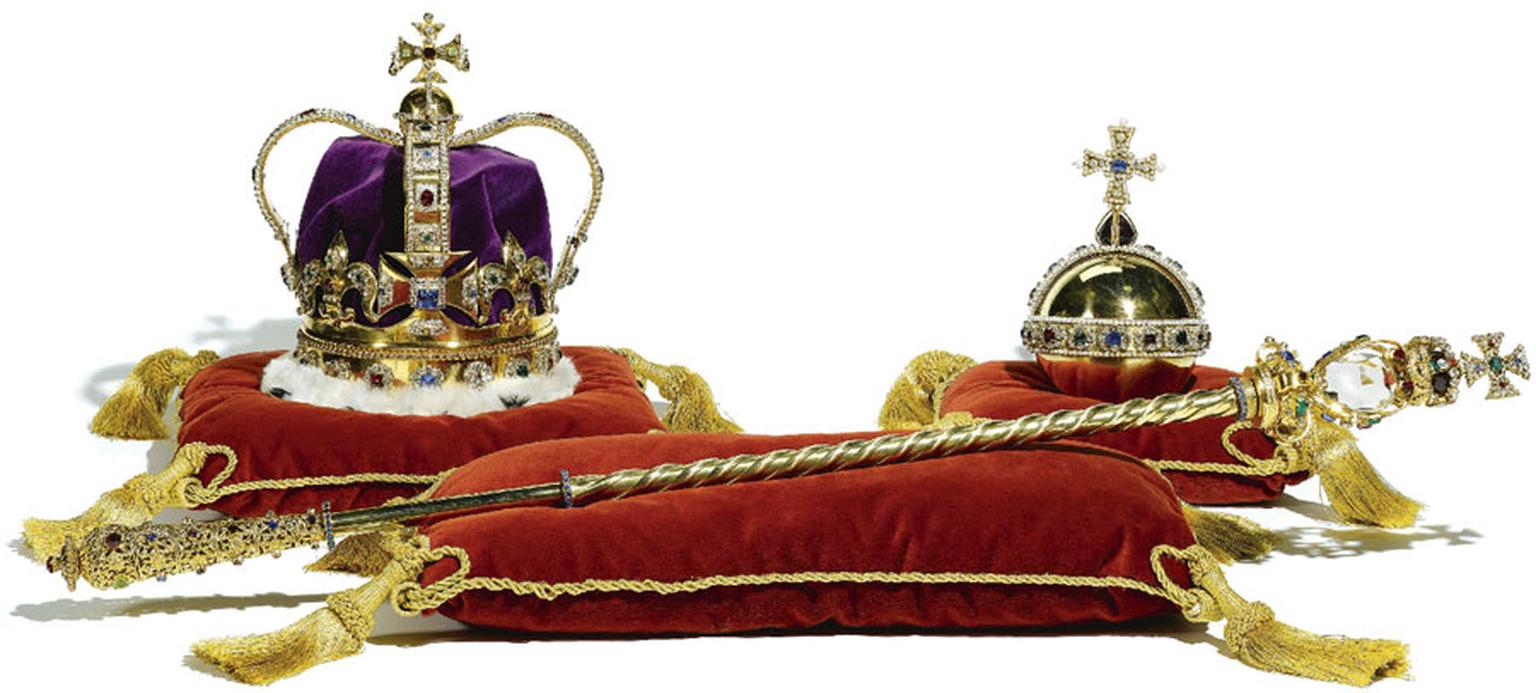 Sotheby's London has announced that it is to sell replicas of the Crown Jewels in their March 13th Jewels Sale, as well as fine pieces from the collection of Edith, Lady Londonderry and Lady Mairi Bury, her daughter.
Timed perfectly to coincide with the first steps of Her Majesty's Diamond Jubilee Tour, the royal reproductions will include the Coronation Crown, Orb and Sceptre (estimated at £3,000 to £5,000); the imposingly iconic St Edward's Crown is adorned with coloured pastes and the unmistakable purple and fur trim, with all pieces complete with the trademark velvet cushions. The replicas themselves were made at the time of the Queen's coronation so that they could travel the world and be displayed in Commonwealth countries for subjects to admire.
Yet this sale isn't just about the royal jewels, a wide variety of elegant pieces will be available such as a nineteenth century Gold and Citrine Parure in it's original hand-worked box, estimated at £20,000 - £30,000; it is made up of a brooch, a pair of bracelets, pendant earrings, and three hair adornments, all set with differing citrines amongst delightful floral and scroll repoussé work motifs. Another standout lot is the collection of four reverse intaglio jewels estimated at £600 - £800, featuring a stock pin mounted with a reverse intaglio featuring a horse's profile looking left, another stick pin with the profile looking right, as well as two others with displaying a dog and two ladybirds respectively. There is another recommended lot in the form of a Gold and Seed Pearl Demi-Parure from the beginning of last century, which is estimated at £3,500 - £4,500. Originally by C. H. Rivaud, it is a signed jewel featuring a fringe design necklace with suspending pairs of oak leaves and acorns, brought out in style by intermittent clusters of seed pairs, as well as a delicious pair of pendant earrings similarly adorned.
Alice Montagu Douglas Scott, Specialist, Sotheby's Jewellery Department, said: "This sale presents an excellent opportunity for collectors to acquire elegant jewels with great provenance from a variety of historical periods - from the 19th century to the present day. We are delighted to offer this array of jewels of great workmanship in our London sale of fine Jewels". The auction takes place at Sotheby's London, and is comprised of 249 lots, estimated to fetch in excess of £1.3 million.
Mentioned in this article: