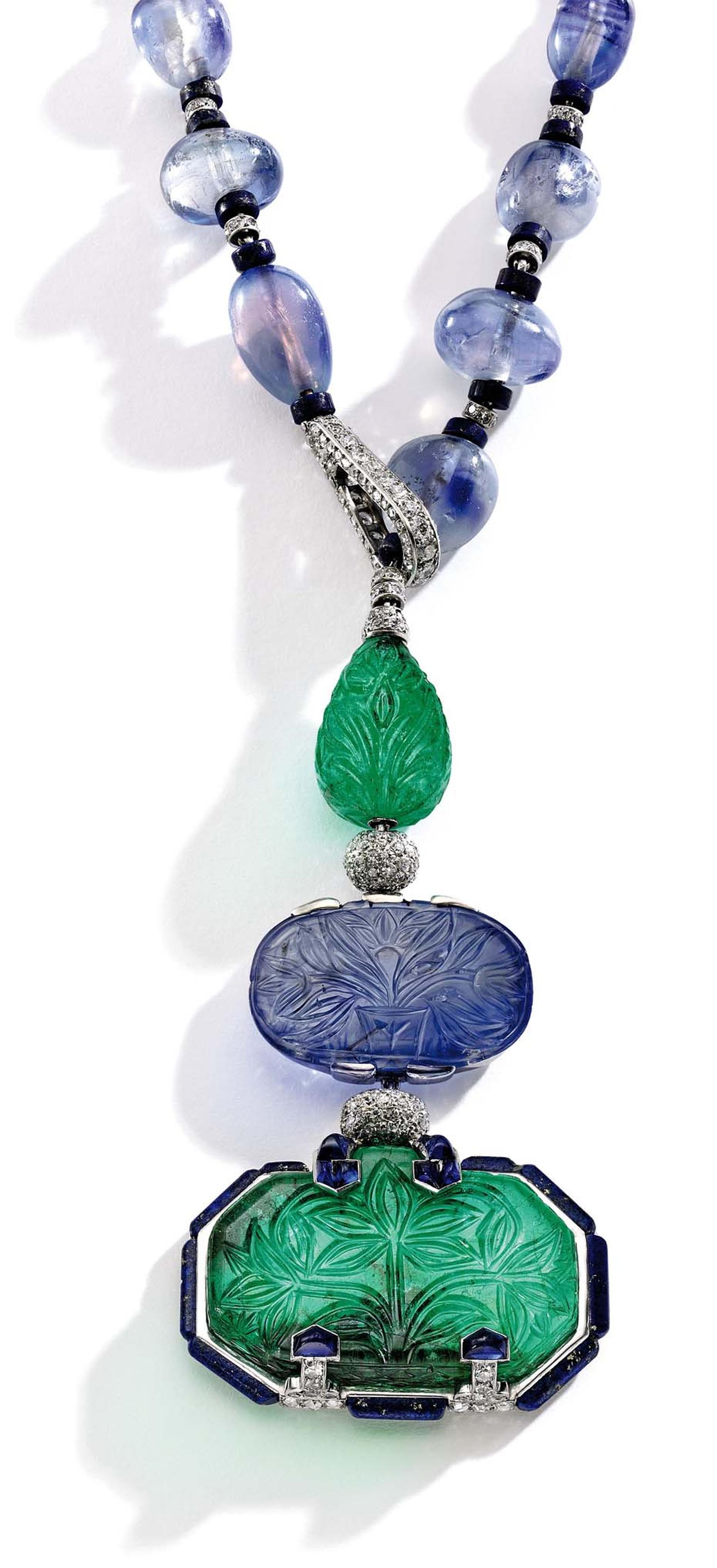 By Åse Anderson
Sotheby's jewelry auction in New York, held later this month, offers a once-in-a-lifetime opportunity to bid on an extraordinary 100ct emerald-cut diamond.
Described as "perfect", the incredibly rare gemstone will go under the hammer at the Magnificent Jewels sale, to be held on 21 April. Boasting both D color and internally flawless clarity, it is expected to fetch between $19-25 million. The current owner spent more than a year cutting and polishing the 200ct rough stone into the largest, perfect emerald-cut diamond ever to be offered at a jewelry auction.
Read more about the "perfect" 100ct emerald-cut diamond here
While the 100ct diamond will no doubt steal the limelight, several other important gems will also appear at Sotheby's jewelry auction in New York. These include a diamond ring set with a 22.30ct internally flawless stone, and a diamond necklace with a 52.26ct pear-cut pendant.
Colored gemstones are always highly sought after and the jewelry auction will feature a stunning selection of Kashmir sapphires, as well as pink and blue diamonds, rubies and emeralds.
A beautiful pear-cut pink diamond and sapphire ring is expected to sell for $2.5-3.5 million, while a diamond ring set with a 6.06ct blue diamond of VVS2 clarity and six smaller pink diamonds has a pre-sale estimate of $3.5-4.5 million.
Two Art Deco gems from Cartier are also likely to attract a lot of interest from potential bidders, including a magnificent Mughal Empire-style necklace created in the 1920s by the jewelry house's chief designer, Charles Jacqueau. Gleaming with colored gemstones including emeralds, sapphires, lapis lazuli and diamonds, the Cartier high jewelry necklace used to belong to the wife of Baron Eugene de Rothschild and was mentioned in a 1927 feature in Vogue magazine about the beautiful new jewels worn by the fashionable Paris set. The Art Deco necklace was also exhibited recently as part of the Denver Art Museum exhibition entitled "Brilliant: Cartier in the 20th Century".
Another piece of Cartier jewelry dating back to the roaring 1920s, in the form of an iconic Tutti Frutti emerald and ruby bracelet, will also go on sale at Sotheby's Magnificent Jewels auction.
With their velvety blue color, Kashmir sapphires are among the most sought-after colored gemstones in the world. Buyers at Sotheby's New York will be treated to two remarkable Kashmir sapphire rings as well as a Tiffany & Co. brooch that used to belong to the late Bunny Mellon, wife of American philanthropist Paul Mellon.
Read about the record-breaking sapphire sold by Sotheby's New York in 2014
Also among the highlights at this month's auction is an emerald and diamond high jewelry pendant, set with a 35.02ct Colombian emerald. Part of the estate of Mary Lily Kenan Flagler, wife of American industrialist Henry Flagler, it is expected to sell for $1-1.5 million.
The Spectacular Bid collection designed by Harry Winston is named after the legendary 20th century American racehorse. It includes a classic Harry Winston high jewelry necklace set with a 16.95ct deep blue Burmese sapphire that mirrors the silks worn by the jockeys who rode Spectacular Bid to victory in both the Kentucky Derby and the Preakness.
Minimalist jewelry designed by Art Moderne jewelers such as Jean Després, René Boivin, André Rivaud and Gérard Sandoz will also feature in the Magnificent Jewels sale.
Highlights from the 350 lots are on public view in Hong Kong, London and Doha this month, before returning to New York for the exhibition on 17 April.
In total, the Sotheby's jewelry auction is expected to achieve more than $50 million.
Mentioned in this article: