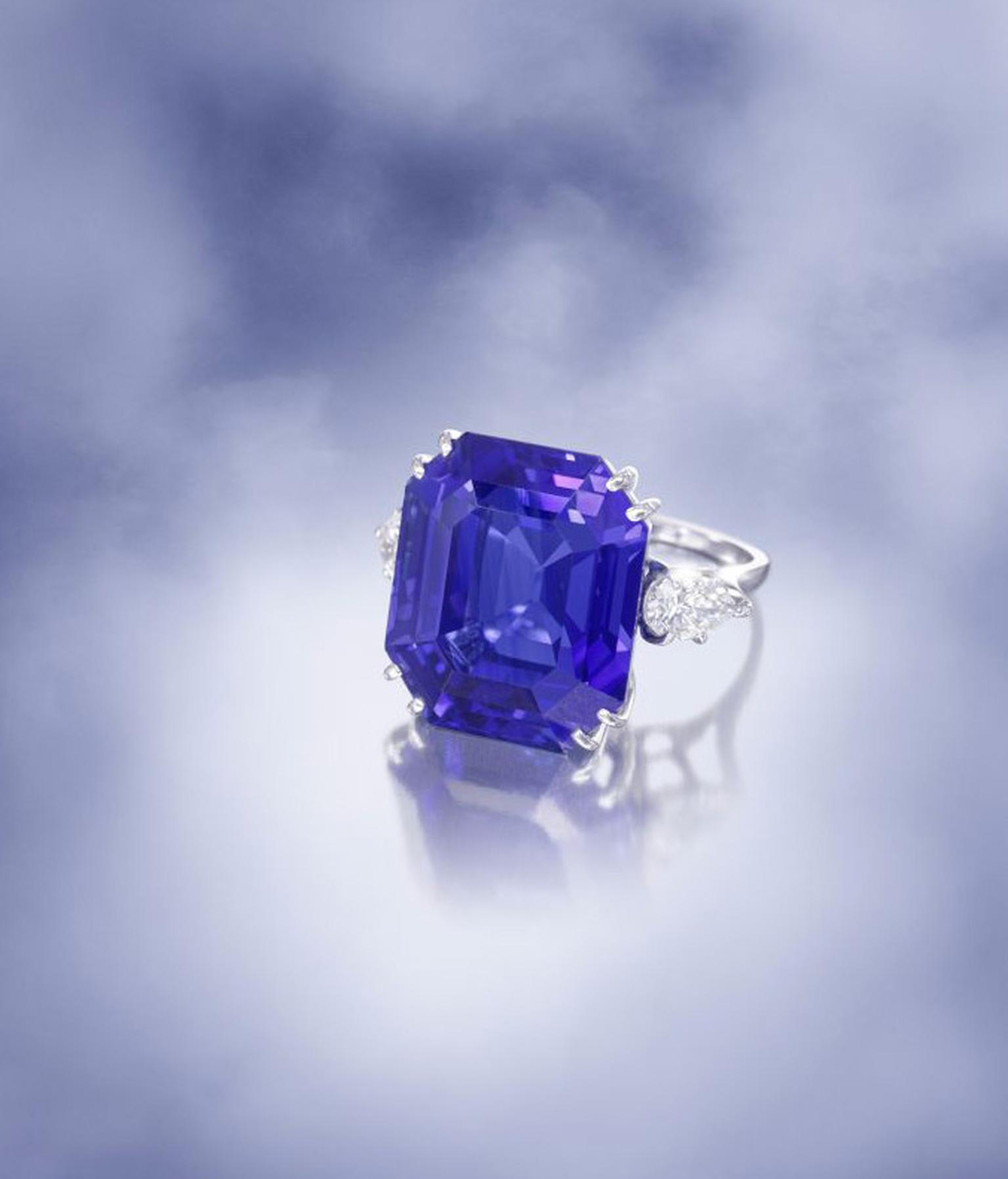 Another record was broken at auction for a precious stone when at Bonhams in Hong Kong on Friday 23 November, a 43.16 carat Ceylon sapphire ring by Van Cleef & Arpels achieved a new high of $1.5 million (est. $650,000) or US$36,000 per carat.
The rectangular-cut sapphire set a new world record selling for US$1,560,000 (HK$12,084,000; £979,000) at the sale of 'Eight Exceptional Jewels from a Private Collection'. This new to price follows hot on the heels of the sale of the record breaking Archduke Joseph diamond, that set a new record for a colourless diamond on 13th November at Christie's when the hammer came down at US$21.5 million for the Archduke Joseph diamond that has a pre-sale estimate of over $15 million. This is the world record for a price paid for a colourless diamond, as well as the world record for a Golconda diamond and the highest price ever paid per carat for a colourless diamond.Read more here
At Bonhams in Hong Kong, bidders competed fiercely for the Van Cleef & Arpels sapphire ring that went well over its pre-sale estimate of US$550,000 - 650,000 (HK$4,260,000 - 5,050,000; £350,000 - 420,000) and broke the previous record for a Sri Lankan sapphire, which was US$26,000 per carat. The total for the sale also far exceeded the pre-sale estimate realising US$4,369,000 (HK$33,856,500; £2,736,000).

This remarkable stone was sought out by Jacques Arpels who in 1969 travelled to Ceylon (Sri Lanka) in person to acquire the exceptional 43.16 carat sapphire. The perfectly crystalline, flawless stone was subsequently mounted in a ring flanked by two pear-shaped diamonds at Van Cleef & Arpels workshop.
This Place Vendôme jeweller members of the Royal family such as the Prince of Wales and celebrities such as Elizabeth Taylor and Grace Kelly amongst its cientelse. It was here that the Prince of Wales bought Wallis Simpson the sapphire-and-diamond clip and bracelet, which she wore to set off her blue satin Mainbocher wedding gown. Prince Rainier ordered the pearl-and-diamond necklace with matching bracelet and earrings on his engagement to Grace Kelly and John F. Kennedy found here the emerald-and-diamond ring he slipped on the third finger of Jacqueline Bouvier's left hand.
Another of the key highlight of the sale included an important diamond necklace/choker/ bracelet with 22 precisely matched emeralds weighing 47 carats and 412 diamonds with a total weight of more than 70 carats. Between 1959 and 1961 Van-Cleef and Arpels went in search of the gems to make this multi-functional jewel, which sold for US$1,241,000 (HK$9,620,000; £780,000).

A magnificent ruby and diamond strap bracelet, which is recorded in Van Cleef & Arpels' archive as being made in 1936 was another of the top lots, selling for US$467,000 (HK$3,620,000; £293,000). It was once in the collection of glamorous philanthropist and leader of pre-WW2 French Riviera society, Madame Hélène Beaumont. Set with 107 carats of fine-quality rubies, the bracelet is remarkable for its outstanding supple and ribbon-like craftsmanship.

Graeme Thompson, Bonhams recently recruited Head of Jewellery in Asia, said: "We offered exceptional jewels and they have made exceptional prices. We produced a fabulous single-owner catalogue for the collection of 'Eight Exceptional Jewels' and have marketed the sale around the globe. I am delighted for our vendor that we have proved we can get world-record breaking prices."

Matthew Girling, Bonhams Group Jewellery director comments: "Our new team in Hong Kong led by Graeme Thompson is already proving itself with this significant sale. However this was a worldwide team effort. We drew on consignments for the sale from across the globe. It is a testimony to that team effort that we have produced such remarkable results."

Mentioned in this article: