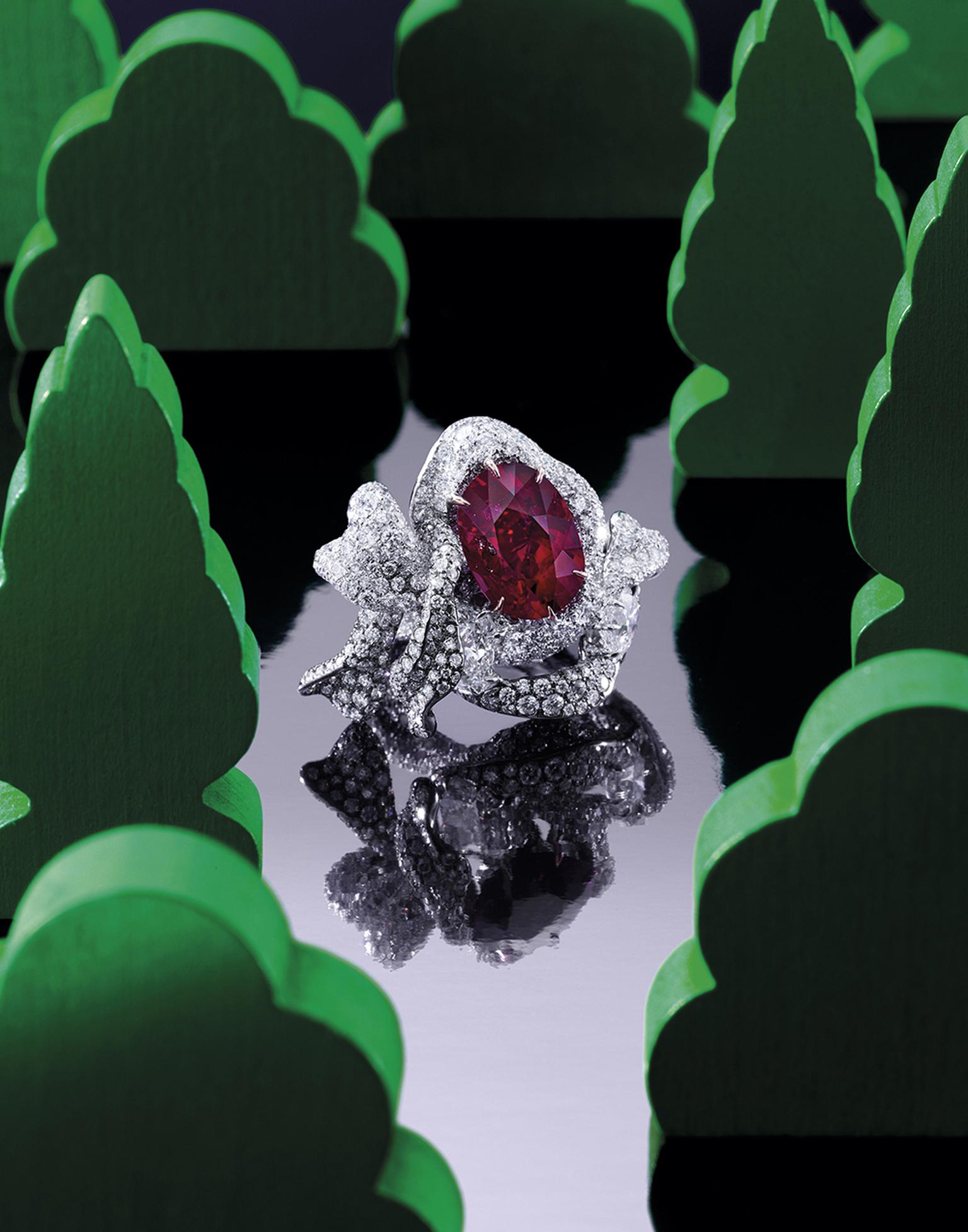 To celebrate Sotheby's 40th anniversary in Asia, some rather special pieces will be going under the gavel in its Magnificent Jewels and Jadeite Sale in Hong Kong on 7 October 2013. Some records are likely to be broken, too, with the top lots in the sale.
A 118.28ct, D Colour, Flawless, Type IIA Magnificent Oval diamond, estimated to achieve HK$220-280 million (US$28-35 million) - in excess of the current highest price ever paid for any white diamond at auction - will be the largest D colour, Flawless diamond ever to go under the hammer (read about it here). This spectacular gemstone is joined by The Premier Blue, a 7.59ct Round Brilliant Cut Internally Flawless Fancy Vivid Blue diamond - the first round brilliant-cut Fancy Vivid blue diamond of importance ever to appear at auction (read more about it here). The sale of both of these one-of-a-kind gemstones marks an auspicious milestone for Sotheby's in Asia.
It is very exciting to see a work by the celebrated Asian jewellery designer Cindy Chao in the sale. Chao has created a ring specially for the auction, incorporating a fiery 8.03ct cushion-shaped natural "pigeon's blood" Burmese ruby of an impressive size and free of inclusions to the naked eye (estimate: HK$28 - 33 million). The Mogok Valley in Burma, where the ruby originates from, was for centuries the world's main source of rubies, and it is renowned for producing some of the best rubies ever mined. The brightest and most valuable are described as "pigeon's blood" due to their rich, saturated red hue.
Sotheby's auctions in Asia regularly feature important pieces of Jadeite. The most expensive and rarest form of jade, jadeite is found almost exclusively in Burma, where the mines have been almost exhausted, which has caused the value of top-quality jadeite jewellery to rocket in recent years. A set of two emerald green jadeite bead necklaces up for auction date back to the Republican Period. Extremely rare and immensely valuable, they have a sale estimate of HK$22 - 30 million. Jadeite beads are considered the most extravagant because of the considerable amount of wastage involved in the cutting process. To put together two strands of jadeite beads - 254 in total - matching in colour, transluscency and texture would have taken many years. Over 70 years ago, someone wanted them so much that they traded an entire mansion in Shanghai for them. The Sotheby's auction will be the first time they have made a public appearance.
The autumn sale will feature more rare jadeite, including a green cabochon and diamond necklace and jadeite lavender jadeite bracelet. The necklace is set with nine oval jadeite cabochons and one large pear-shaped jadeite cabochon, each displaying the same saturated green hue so sought after by collectors (estimate: HK$18 - 23 million). The jadeite lavender bracelet is generously sized and extremely pretty (estimate: HK$6.8 - 8 million). With an even, saturated purple colour, it will be popular with the growing number of connoisseurs who are increasingly appreciating the subtle, feminine hue of lavender jade.
With Asia the largest consumer of pink diamonds in the world, the 10.94ct pear-shaped Fancy Light Pink diamond ring is set to be a top lot. Very few pink diamonds over 5ct have been seen at auction, so it will be interesting to see whether this significant coloured diamond, which displays a soft light-pink hue and is set in an extremely elegant white diamond mount, realises more than its estimate of HK$15 - 18 million.
And finally, no Sotheby's auction is complete without a significant piece by Cartier. The red peacock brooch was specially commissioned by its owner (estimate: HK$ 3.2 - 4 million). Clutched in the bird's claws is a cushion-shaped ruby weighing 48.57ct, whilts its plumage is made up of sprays of rubies and diamonds. A one-off delight for Cartier collectors.