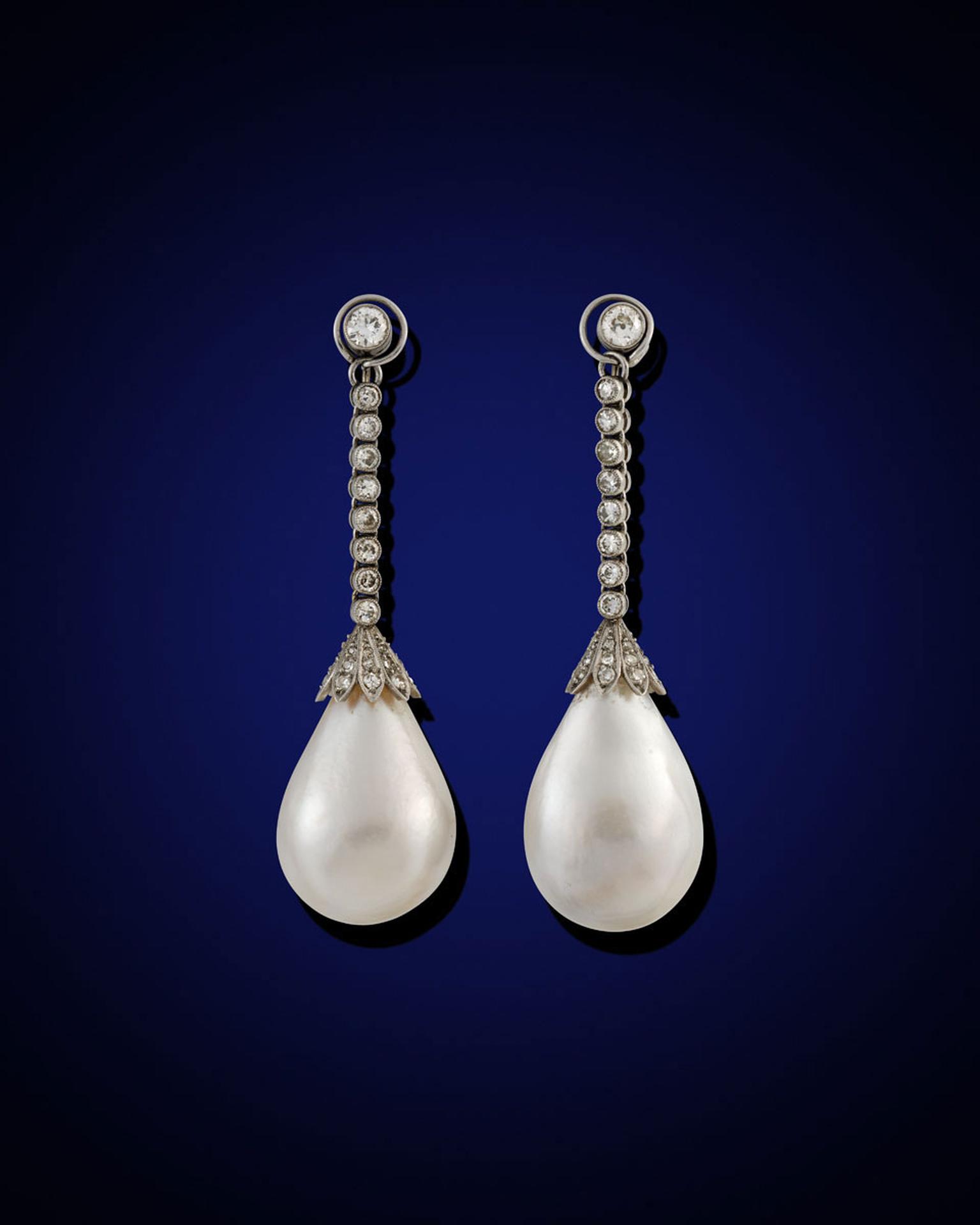 Woolley and Wallis' Salisbury sale room was the centre of attention as a pair of natural pearl earrings estimated to fetch between £80,000 - £120,000 sold for a staggering £1,6 million at auction today. They are considered amongst the biggest of their kind and quality in the world.
Prior to the sale, speculation was rife about the final price these earrings would achieve. The jewellery experts I spoke to were all unanimous in predicting a bidding frenzy. "We are all used to thinking diamonds are what it is all about, but natural pearls that are so rare, are being appreciated once again, as they were many centuries ago before the diamond became king of the jewels, " commented jewellery expert Joanna Hardy.
Woolley and Wallis describe the earrings as:
"A pair of early 20th Century natural pearl and diamond drop earrings, the drop shaped pearls suspend from an articulated line of graduated circular cut diamonds with further diamonds set to the caps. Screw fittings.
With report number 62440 and dated 1st March 2012 from SSEF (Swiss Gemmological Institute) stating that both pearls are natural saltwater and weigh 34.508cts (138.03 grains) and 33.235cts (132.94 grains)
With report number 5262 dated 21st February 2012 from the Gem and Pearl Laboratory (London) stating that both pearls are natural saltwater"
Not exactly an exciting read and it does't begin to hint at the fabulous story behind these earrings that sounds like something out of a particularly wry Roald Dahl novel. These early 20th century earrings were a gift from King Carol II of Romania to his mistress Elena Lepescu. When she dies in 1977 in turn left them to a friend in England who put them in a drawer where they lay forgotten for 35 years as she considered them too big and vulgar to wear. Her nephew took them, along with other jewellery, to be sold at auction and since their appearance in the market, the jewellery world has been watching closely. Have a good rummage through your drawers and see if you are as lucky as the vendor of these exceptional pearls.
Mentioned in this article: