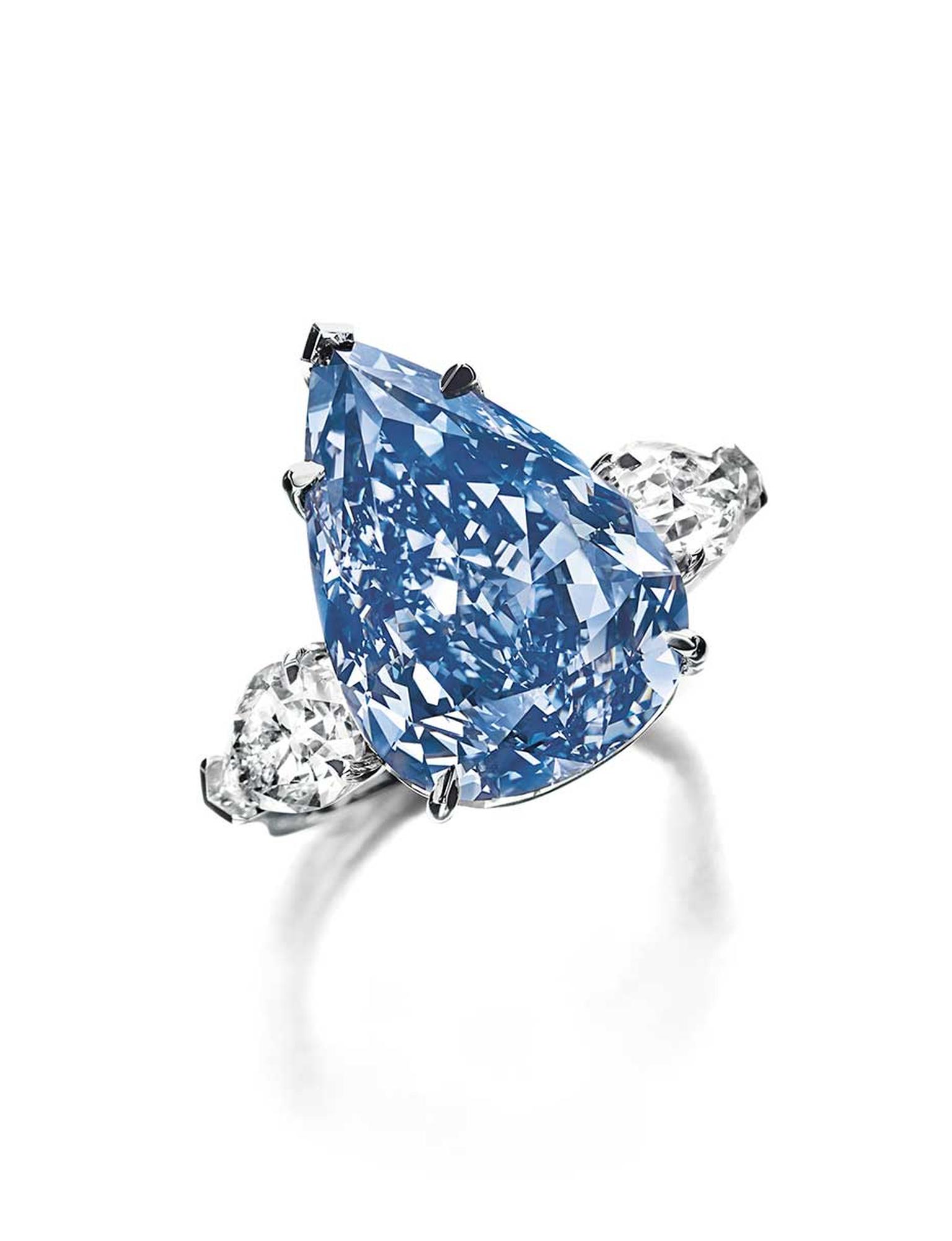 The largest flawless Vivid blue diamond in the world is known, simply, as 'The Blue'. It is up for auction next month at Christie's in Geneva and its estimated value lies somewhere between US$ 21 million and US$25 million. Despite its impressive billing, at 13.22 carats it is still just about the right size to be worn as a ring, which is how Christie's is presenting this impressive diamond, which leads its Magnificent Jewels auction in Geneva on 14 May 2014.

'The Blue' diamond is poised to break the price-per-carat world record for a flawless Vivid blue diamond. The existing record for a similar stone was set by Sotheby's in Hong Kong in 2011. At 6 carats, it was a smaller stone and sold for US$1.7 million per carat. 'The Blue' has a pre-sale estimate of US$1.79 per carat, including buyer's premium. The current world record for price paid per carat for a coloured diamond is held by 'The Orange', which achieved US$2.4 million per carat. 'The Orange' was sold by Christie's last autumn in New York for a total of $35.5 million.

So when I heard that 'The Blue' was in London, I made my way to Christie's on King's Street in Mayfair to have a look for myself. There I was fortunate enough to have some time with Christie's International Director of Jewellery, David Warren, to talk about 'The Blue' and some of the other impressive diamonds coming under the hammer next month.

With over US$40 million worth of diamonds on the table before us - and one very eagle-eyed security guard - in this video, Warren explains why blue diamonds are so rare and what makes 'The Blue' so special.

Warren talked me through the other diamond highlights of the sale, including a pear-shaped D-Colour Flawless 75.97 carat diamond worth between US$13.5 million and US$15.5 million, as well as very unusual 5.5 carat Fancy Vivid blue-green diamond - the largest of its kind in the world. Another highlight of the sale is the light pink WS1 76.51 carat diamond by Leviev, with an estimate between US$7 million and US$10 million.

Warren elaborates on the key features of each of these stones and gives his insight into why the market is currently so hot for the very finest and most rare coloured diamonds. And if I were wearing the blue diamond ring right now, I would still probably be able to type. How's that for a very wearable and enjoyable investment?