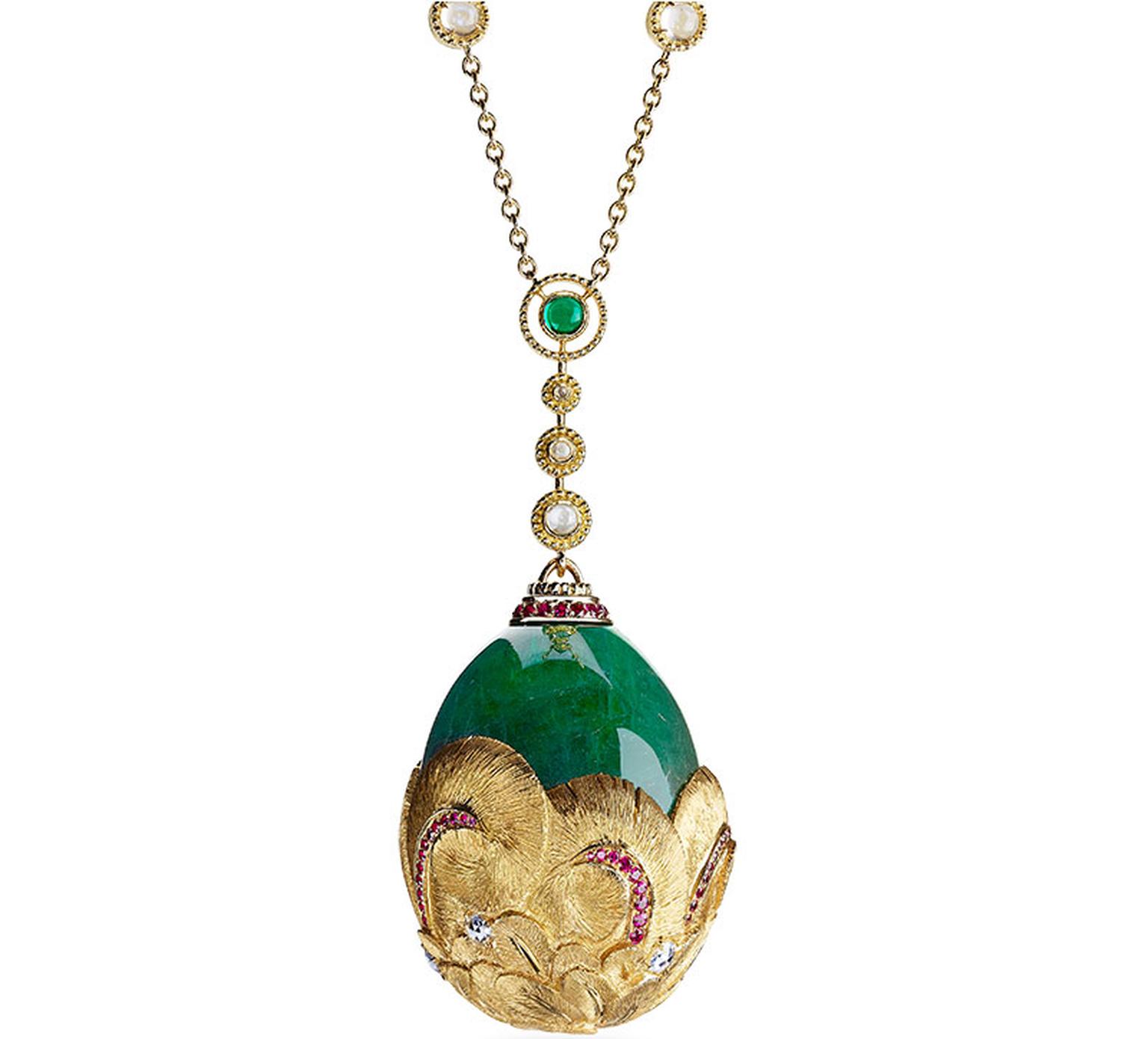 Residents and recent visitors to London will have noticed a certain proliferation of over-sized and colourfully decorated eggs in all sorts of odd and open spaces throughout the capital. It's all part of the Fabergé Big Egg Hunt, a London-based charity initiative in support of Elephant Family and Action for Children, and it will all come to a spectacular finish with the Fabergé Big Egg Banquet on the 20th March 2012, where the 30 designer eggs will be auctioned off alongside the incredible Le Collier Plume d'Or (The Golden Feather Necklace).
Fabergé's Le Collier Plume d'Or is a one-of-a-kind piece and an example of the iconic couture eggs that the name is so famous for: it consists of an emerald and gold pendant, holding a striking emerald cabochon of 127.76cts. The gemstone itself is cradled within finely-crafted golden feathers which are delicately chased and set with rubies and diamonds; the necklace itself includes rose diamonds, emeralds and moonstones. It was created by Fabergé as a tribute to the legendary Imperial Easter Eggs, in particular the textured golden hen feathers hidden inside the 1885 Hen Egg, which was the first of Peter Carl Fabergé's eggs, intended for Tsar Alexandar III as an Easter present to his wife, Tsarina Maria Federovna. Crafted in yellow gold, the egg was covered entirely in matt white enamel to simulate a plain hen's egg, opening to reveal a golden yoke, inside which were hidden surprises: the coloured gold hen containing a miniature diamond replica of the Imperial Crown, and inside that, a miniature ruby egg pendant. It was this piece of romantic and legendary couture jewellery that inspired Creative Director Katharina Flohr and her team to make this piece that stands tall both on it's own and as an homage to the brand's rich heritage.
The auction will be held on Tuesday 20th March at London's historic Royal Courts of Justice, alongside the thirty designer eggs from the Big Egg Hunt itself that include designs by Marc Quinee, Sir Peter Blake, Zaha Hadid and more. To see this delicious couture egg in person, it will be on view at Harrods Fine Jewellery Room from 21st February to 2nd April and at the Fabergé London boutique, 14A Grafton Street, Mayfair, from 2nd to 8th April.
Mentioned in this article: