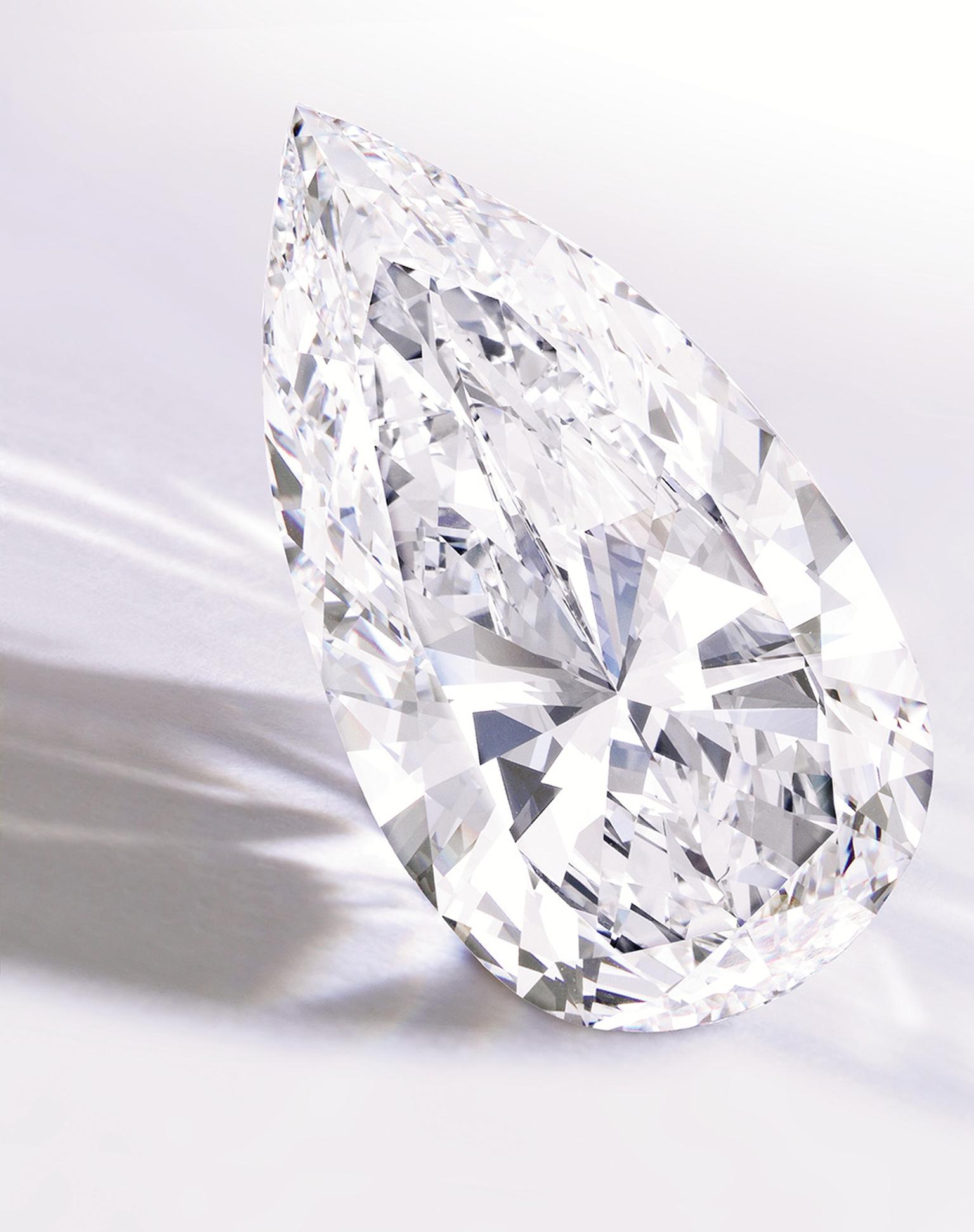 The Sotheby's annual spring auction of Magnificent Jewels took place in New York on 17 April. Jewellery expert and author Joanna Hardy picked out her favourite pieces from the sale - 400 lots that had a combined estimate of more than US$35 million but which sold for US$53.5 million - the highest-ever total for a spring sale of jewellery at Sotheby's New York.
The top lot, an exceptional 74.79ct pear-shaped white diamond - not only the purest D colour but also potentially internally flawless and the most important diamond ever to come to auction in the Americas - was "the lot to watch", and it certainly caused a stir. Five bidders were keen to secure it, which bumped the price realised up to a remarkable US$14,165,000 (estimate: US$9-12 million).
Lot 401, a Cartier "Tutti Frutti" bracelet circa 1930, was another top lot. An unusual combination of a carved emerald drop, pearl accents and sugar loaf sapphires, it is so rare to find these elements within Cartier's Tutti Frutti oeuvre that it is is possible this one-off piece was a private commission. The estimate was US$300,000-$500,000, but Jo Hardy pointed out similar pieces have realised a lot more - around US$800,000-$1 million. In fact, this unique piece was bought by a private collector from Asia for US$1.4 million, testament to the popularity of signed pieces and iconic styles at the Sotheby's spring sale.
Lot 325, a circa 1920 emerald and diamond brooch, formerly from the Estate of Sarah Cantine Shrady Gould and Thence by Descent was, amazingly, not attributed to a particular jeweller. "The diamond fringes are beautifully articulated, framing that majestic 22.48ct Colombian emerald," said Jo Hardy. "Completely free from clarity enhancement, it is an extremely rare example of an emerald of superb natural saturation and transparency." The buyer obviously agreed because they paid US$2,909,000 to secure it, nearly five times its high estimate of US$600,000.
Lot 323 - a platinum, emerald and diamond ring circa 1930 - and Lot 324 - a platinum, sapphire and diamond ring, circa 1947 - both realised more than double their high estimates. Lot 323, set with a 15.23ct emerald, sold for US$2,285,000 (estimate: US$750,000-$1 million), while Lot 324, a 31.34ct sapphire ring signed John Rubel & Co. - the workshop responsible for some of Van Cleef & Arpels' earlier pieces - realised US$785,000 (estimate: US$200,000-$300,000).
"Lots 158 and 159 are very interesting because they are by Georges Fouquet and Jean Fouquet, a father and son renowned for moving with the times," said Joanna Hardy. The highly collectable Georges Fouquet piece - a gold, turquoise, diamond and enamel brooch signed G.Fouquet, circa 1925-1930 - did particularly well, realising US$43,750 (estimate $25,000-$35,000). Lot 159, a gold interchangeable link necklace signed Jean Fouquet, circa 1955-1958 also realised its estimate, selling for US$18,750 (estimate: US$15,000-$20,000).
Joanna Hardy said that she would be watching to see how the market rated Lot 155 - a gold, demantoid garnet and diamond ring with an estimate of US$80,000- $120,000 - and it did well, realising US$100,000. Demantoid garnets are only found in the Ural Mountains in Siberia and are incredibly rare. Recognisable for their horsetail inclusions, they are an amazing, electric green, and it is even rarer to find one of this size (7.66ct).
Finally, Hardy noted that it was interesting to see four beautiful Art Nouveau jewels up for auction, Lots 149, 150, 156 and 157, only one of which - Lot 149, a gold, enamel, pink sapphire pearl and diamond pendant, circa 1900 - was by a well-known jeweller of the era, Lucien Gautrait. Surprisingly, the Gautrait was the only piece not to sell. The other three jewels comfortably realised their estimates, but perhaps their time is yet to come.
Mentioned in this article: