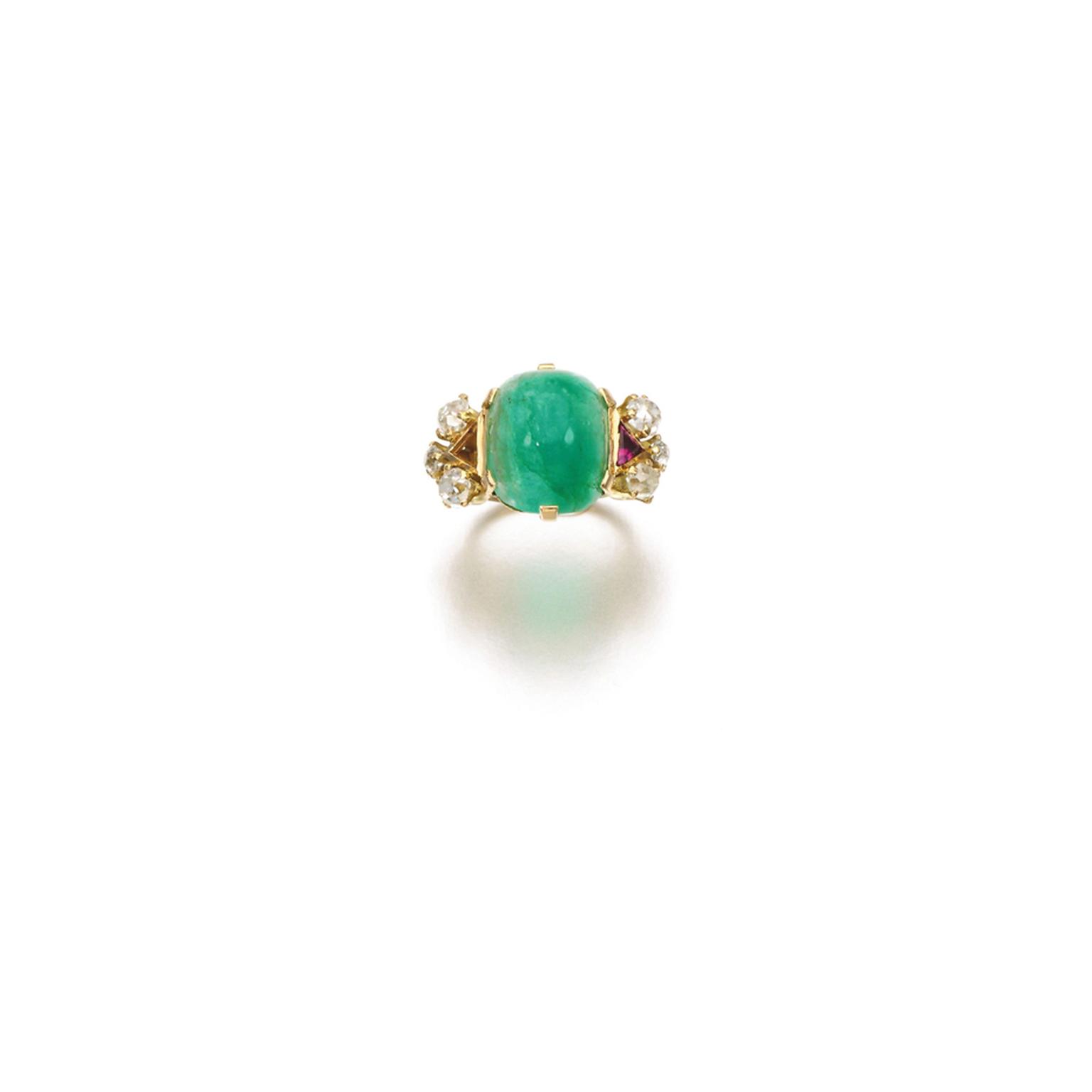 Magnificent Art Deco jewellery that previously belonged to 20th century style icon Daisy Fellowes will go under the hammer at Sotheby's London later this month.
One of the most stylish and glamorous women of her time, Daisy was the granddaughter of sewing machine magnate Isaac Singer. As well as being a great hostess and regular on the society circuit, Daisy was renowned for her love of fine jewellery - a passion that is reflected in the pieces on offer as part of Sotheby's Spring Sale of Fine Jewels.
An enamel, rock crystal and seed pearl clip, probably made in Jaipur in the early 20th century, speaks of her penchant for exotic Indian jewels, which were all the rage in the 1930s and 40s. Designed as a peacock, it is set with foiled back rock crystal and yellow gold foliage motifs from which is suspended a seed pearl fringe. The three other pieces on offer from Daisy's collection include an emerald, ruby and diamond ring, a pair of ruby, emerald and diamond earrings from the 1950s and a gold, emerald and pearl ring/bracelet.
Other highlights of Sotheby's Spring Sale include a selection of Art Deco pieces by high-profile jewellers, including a 1920s diamond bracelet by Cartier and a Van Cleef & Arpels cabochon emerald and diamond ring dating from the 1930s.
Jadeite jewellery is set to be a focal point this spring, with the most significant piece, the Hutton-Mdivani Necklace, going on sale at Sotheby's Hong Kong next month. Included in the Sotheby's London auction is an enamel and diamond vanity case, set with three carved jadeite plaques inset with cabochon sapphires and rubies. In a Chinoiserie design, this dazzling Art Deco piece was made in the 1920s by Lacloche Frères.
Among the 300 pieces to be auctioned on 26 March 2014 are a number of antique jewels from the 18th and 19th centuries. The collectable selection includes a natural pearl and diamond necklace from the late 19th century and a pair of pendant earrings from the late 18th century.
Mentioned in this article: