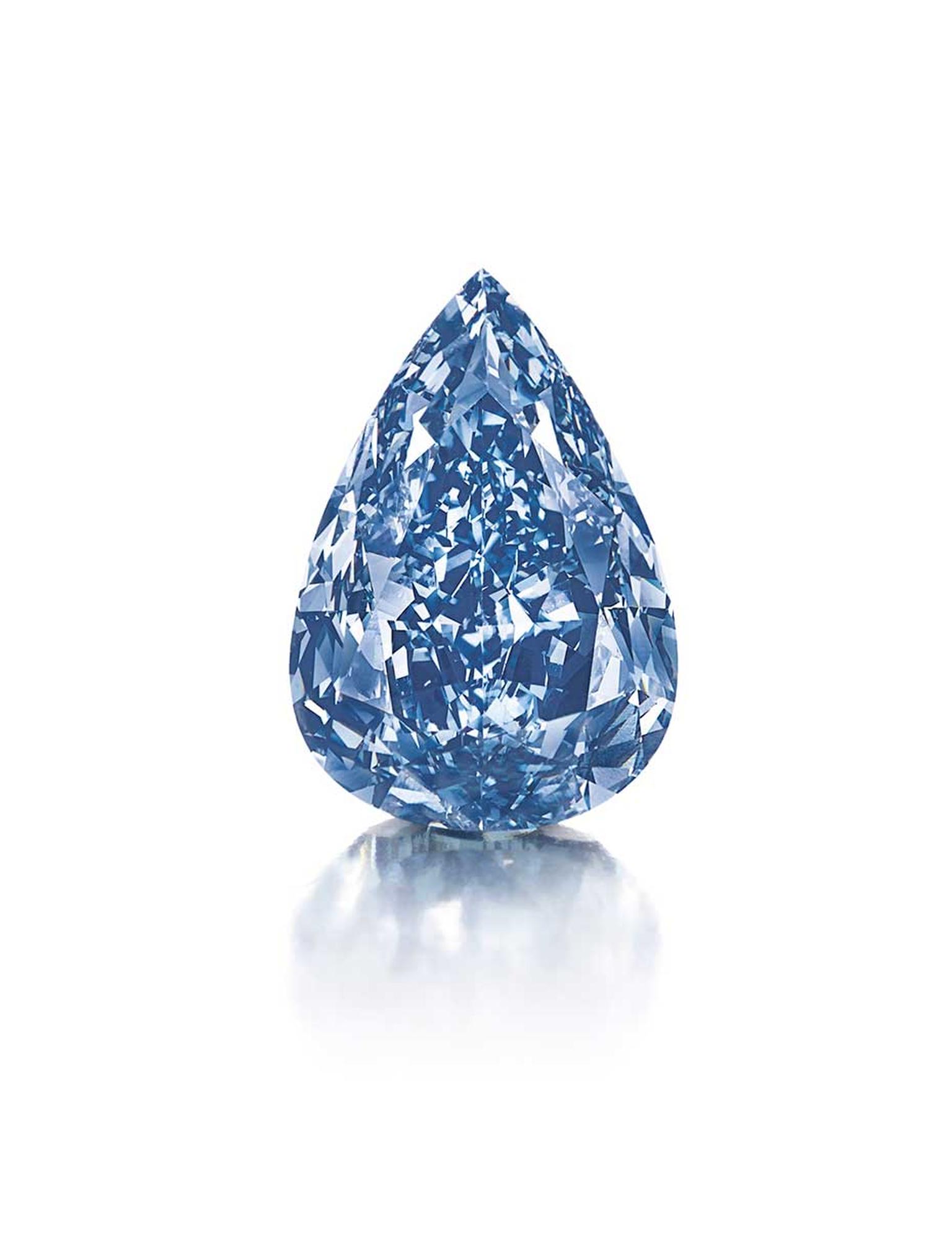 In what is shaping up to be a record-breaking week, a 13.22 carat pear-shaped Fancy Vivid blue flawless diamond has sold at Christie's Geneva for an impressive CHF 21.4 million ($24 million) - equivalent to almost $2 million per carat - setting a new world auction record for the price per carat for a blue diamond. Immediately after the sale, it was renamed 'The Winston Blue' by its new owner, Harry Winston.
The largest diamond of its kind in the world, it was named 'The Winston Blue' by Nayla Hayek, CEO of Harry Winston, who saw off competition from other bidders to acquire the gem.
12 months ago, shortly after its acquisition by the Swatch Group, Harry Winston purchased a pear-shaped, D color, flawless diamond of 101.73 carats, known as the '101', for more than $26.7 million, also at Christie's Geneva Magnificent Jewels Sale. For a short time, it held the record for the highest price ever paid for a colourless diamond at auction.
"In January 2013 we purchased Harry Winston, and since then my ambition has been to acquire the most desirable and unique gems," says Nayla Hayek. "When Christie's announced they were offering the largest flawless fancy vivid blue the GIA had ever graded, I had to buy it. Today, I am proud to own the most beautiful blue diamond in the world: The Winston Blue."
Christie's Magnificent Jewels Sale on 15 May 2014 also smashed the record, set only a day earlier at Sotheby's Geneva, for the highest total achieved for a jewellery auction, with sales at the end of the day standing at CHF 139.96 million ($154.19 million).
Four other world records were also broken, including the highest price paid for a light pink diamond, a blue-green diamond, an alexandrite and a pink sapphire. The 5.50 carat triangular-cut fancy vivid blue-green diamond was sold for CHF 7.8 million, while the cut-cornered square-cut light pink 76.51 carat VVS1 diamond necklace fetched just over CHF 9 million. Both jewels outperforming their pre-sale estimates.
A collection of 14 pieces from a private collection entitled Passion for Jewels: The Collection of a European Gentleman, also attracted many bids, with a Cartier Devant de Corsage necklace selling for CHF 15.8 million ($17.6 million), a 660% increase on its previous auction price at Christie's Geneva back in 1991.
"Geneva was in the spotlight again during the week of 12 May 2014, when a record sale of jewellery and a strong auction of watches far exceeded expectations. Buyers from all over the world competed fiercely in the jewellery sale, which became the most valuable sale ever organised by any auction house anywhere in the world, and a watch collector from the Middle East acquired a 1949 Rolex, which fetched over CHF 1 million, establishing a world-record price for a watch of this brand. In this global world, Geneva remains a leading centre for the sale of precious objects," says Franc¸ois Curiel, President of Christie's Switzerland.