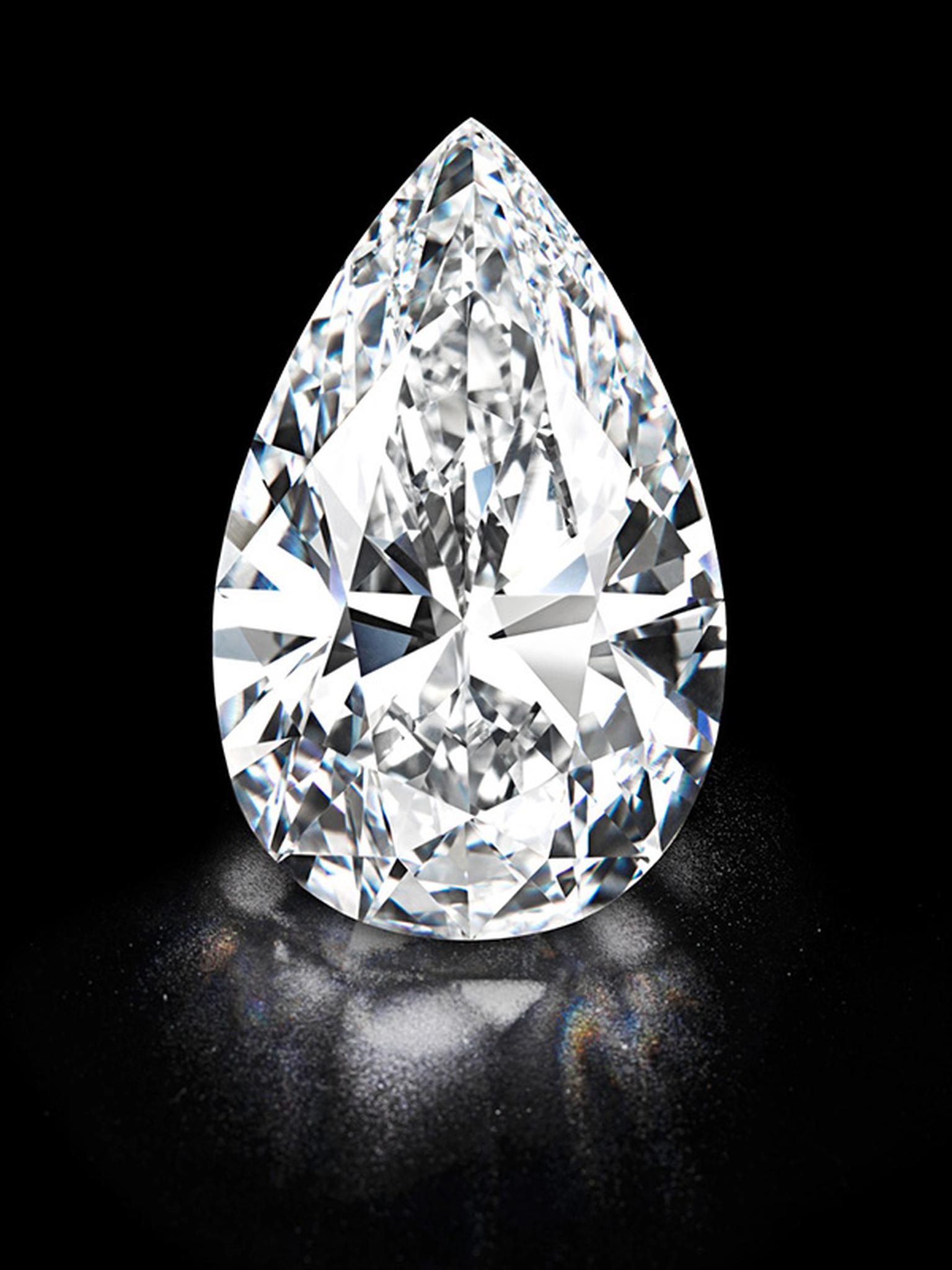 All eyes are on Christie's Geneva as the auction house is poised to sell the largest D colour diamond ever to be offered for auction on the 15 May 2013. Excitement is in the air as this exceptional pear-shaped diamond weighs 101.73ct, making it comparable in size and quality to the famous Cullinan III, which is in the Queen's personal collection of jewels. Christie's are expecting in the region of US$20-30 million for the diamond and, for the moment, until it is named by its new owner, it is known as, simply, 'the 101'.
In the spotlight is David Warren, International Director of Jewellery at Christie's. Warren tells us: "For a diamond of this size to come onto the market is a remarkable event in the diamond world. And it's not just that it is 101.73ct. It is also a D colour and 'Flawless', which means it has no marks inside or outside the stone. There are stones that are 'Internally Flawless', but this is 'Flawless' so even more rare. Not only that, it is also a Type IIA - only 2% of diamonds to come out of the earth are Type IIA. They are the most pure of all diamonds. It's remarkable to have a stone that is a Type IIA Flawless over 10ct, but to have one that is over 100ct is really a remarkable event in the diamond world. This is the most important white diamond that we have ever sold while I have been here."
The stone was found in the Jwaneng diamond mine in Botswana a few years ago and the task of cutting and polishing it took 21 months of painstaking work. The result is a stone of perfect symmetry and natural perfection. Warren thinks that the diamond, given its size, will likely be worn as a pendant or in a tiara. Whoever buys it will have the honour of naming it. "We will have to wait and see whether it is named after a country or more romantically named after someone's wife," says Warren. "That is the interesting part of the next bit of the story."
There has been a strong interest in exceptional diamonds in the past year as their investment potential lures in big spenders. Most recently, the historic 34.65ct 'Princie' pink diamond sold for a record US$39.3 million at Christie's sale of Magnificent Jewels and the Princie Diamond in New York on 16 April 2013. The sale broke records for the highest price ever paid for a diamond from the famed Indian Golconda mines as well as the most valuable diamond ever sold at Christie's and in the United States. Like the 101.73ct white, the 'Princie' is also a Type IIA diamond and was purchased by an anonymous phone bidder who paid US$1,135,000 for each pink-hued carat.
In November last year, Christie's made history when the hammer came down at US$21.5 million for the Archduke Joseph diamond, which had a pre-sale estimate of over US$15 million. This is the world record for a price paid for a colourless diamond, as well as the world record for a Golconda diamond, and the highest price ever paid per carat for a colourless diamond.
Other recent Christie's auction records for white diamonds include a perfectly symmetrical 56ct heart-shaped diamond, sold for more than US$10.9 million in May 2011, making it the most valuable heart-shaped diamond ever sold at auction. And, of course, in December 2011, Christie's New York sold the spectacular D colour, 33.19ct Elizabeth Taylor Diamond ring - a gift from Richard Burton in 1968 - which the star wore virtually every day. This extraordinary jewel fetched US$8.8 million (read more here).
The world will be watching next week when Lot 283 comes up at the spring sale of Magnificent Jewels in Christie's Geneva and bidding starts for this 101.73ct diamond.
Mentioned in this article: