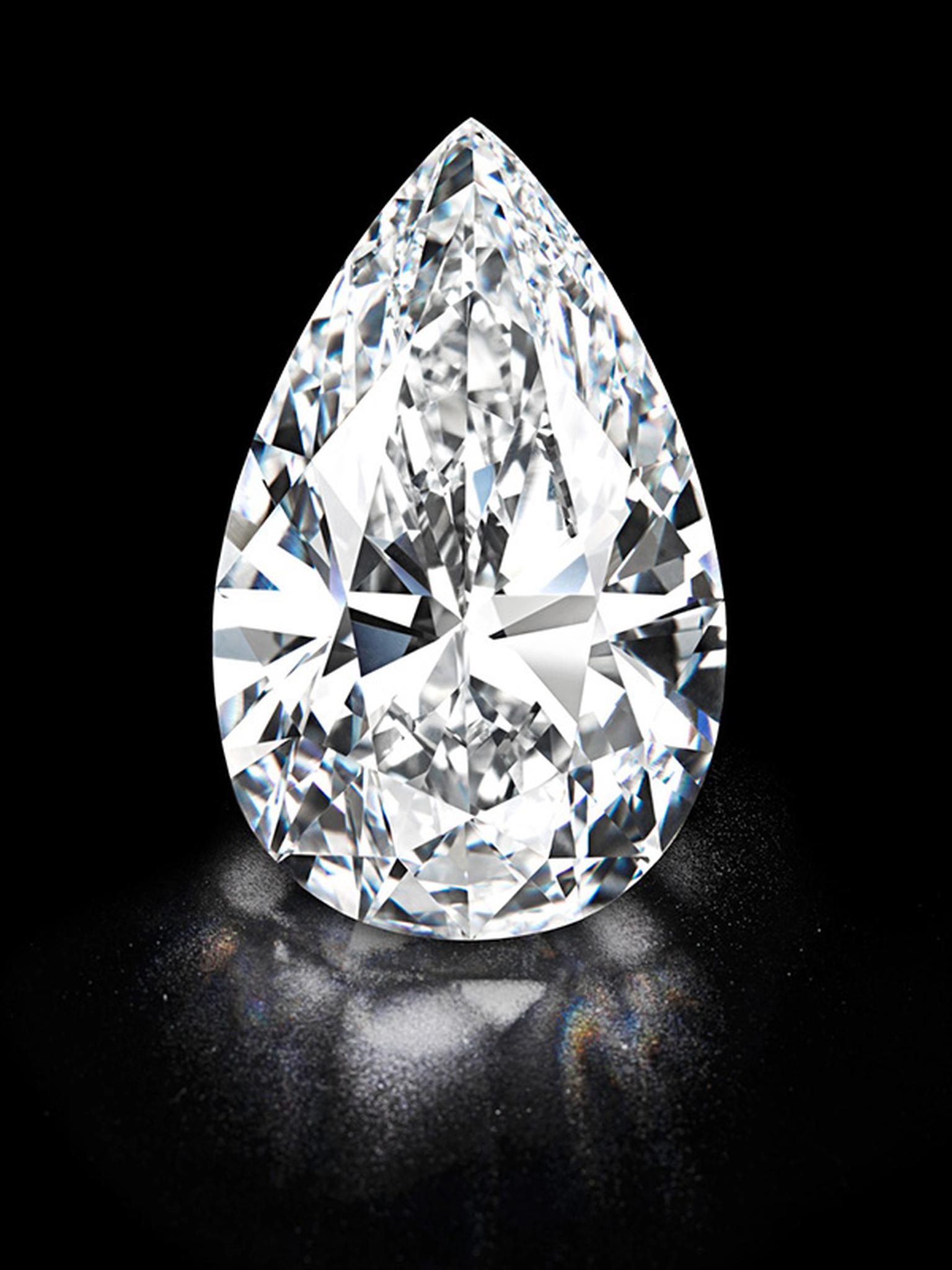 News has just arrived that the auction house Christie's is to sell the largest D colour diamond ever to be offered for auction in Geneva on the 15 May 2013. The pear-shaped diamond weighs 101.73ct, and it is the first time it has been offered for sale. Currently on show in London, estimate is on request.
This whopper of a diamond is not only one of the largest pear-shaped diamonds ever seen but it is also one of the world's most perfect diamonds, with the winning combination of a D colour (the top grading of colourless) as well as Flawless - which means it has no visible inclusions - and also a Type IIA. This last qualifier refers to the purity of the diamond. Only 1-2% of all diamonds are Type IIA, including the famous Cullinan and the Koh-I-Noor. The limpid qualities of Type IIA diamonds make them even more desirable.
The stone was found in the Jwaneng diamond mine in Botswana, and the task of cutting and polishing it took almost two years of painstaking work. The result is a stone of perfect symmetry and natural perfection, making it a very rare stone indeed.
In the past few months, large white diamonds have been setting auction records and achieving strong prices. On 13 November 2012, Christie's made history when the hammer came down at US$21.5 million for the Archduke Joseph diamond, which had a pre-sale estimate of over US$15 million. This is the world record for a price paid for a colourless diamond, as well as the world record for a Golconda diamond, and the highest price ever paid per carat for a colourless diamond. Meanwhile, in February 2012 in Geneva, Sotheby's sold the Beau Sancy diamond, which had a pre-sale estimate of between US$2-4 milllion, for just under US$10 million.
Other recent Christie's auction records for white diamonds include a perfectly symmetrical 56ct heart-shaped diamond, sold for more than US$10.9 million in May 2011, making it the most valuable heart-shaped diamond ever sold at auction. And, of course, in December 2011, Christie's New York sold the spectacular D colour, 33.19ct Elizabeth Taylor Diamond ring - a gift from Richard Burton in 1968 - which the star wore virtually every day. This extraordinary jewel fetched US$8.8 million. Read more here.
If you are interested the dates of the viewing tour are here:
Geneva
Four Seasons Hotel des Bergues, 33 quai des Bergues -
Friday 10 May Saturday 11 May Sunday 12 May Monday 13 May Tuesday 14 May Wednesday 15 May
New York
10am - 6pm 10am - 6pm 10am - 7pm 10am - 6pm 10am - 6pm 10am - 1pm
Christie's New York, 20 Rockefeller Plaza - New York, NY 10020
Saturday 13 April Sunday 14 April Monday 16 April
Hong Kong
10am - 6pm 10am - 6pm 10am - 5pm
Christie's Hong Kong, 22nd Floor, Alexandra House, 18 Chater Road - Hong Kong
Friday 26 April 10am - 6pm Saturday 27 April 10am - 5.30pm
Mentioned in this article: