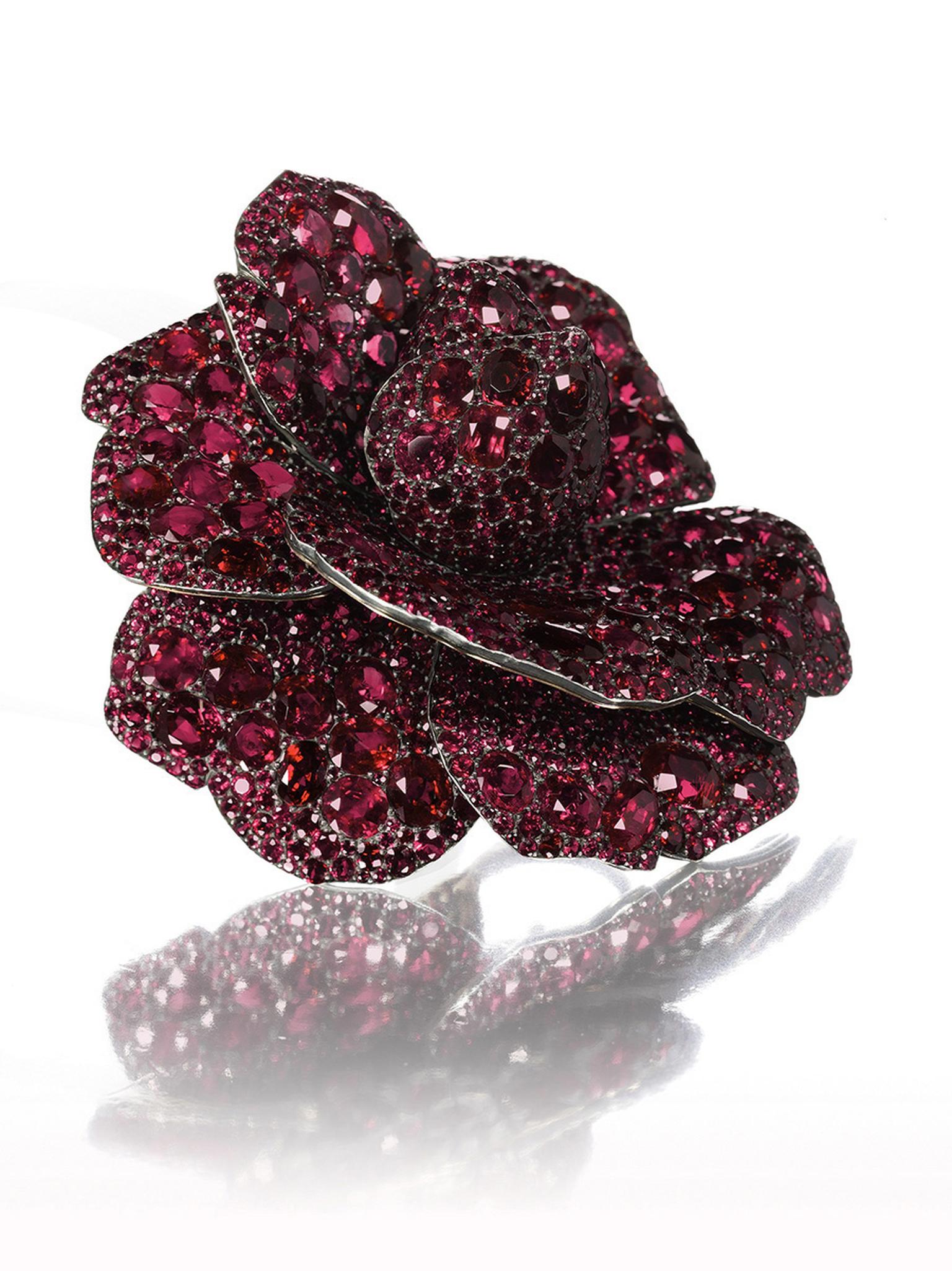 Christie's much anticipated 'Jewels for Hope' auction on the 14 May in Geneva has sold the collection of Lily Safra's jewels in Geneva that includes the largest collection of single-owner JAR (Joel Arthur Rosenthal) jewels ever to appear at auction. The sale raised a total of $37.9 million all of which will go charities chosen by The Lily Safra Foundation. In a magnificent gesture, because of the success of the sale the number of charities to benefit has been increased from 20 to 32. The charities range from a Rwandan orphanage to medical research will benefit from this sale and a full list is included at the end of this text.
Eighteen jewels by JAR sold for far above their pre sale estimates for a total of $11.5 million making this the most valuable single owner collection of JAR jewels ever sold at auction.
The top lot of the sale was a 32.08 carat cushion shaped Burmese ruby and diamond ring by Chaumet that sold for $6,742,440 against an estimate of $3,000,000 to $5,000,000. This price has set a new record for a ruby jewel by JAR. Formerly in the collection of Luz Mila Patiño, Countess du Boisrouvray, it has been renamed the "Hope Ruby".
Lily Safra, born in Brazil and wife of the late banker Edmond Safra, is a major philanthropist was also a lover of jewels. Featuring 70 lots, the collection of Mrs Lily Safra is estimated to realise in excess of $20 million and includes important diamonds, rubies and sapphires, as well as an outstanding array of fine antique and period jewellery.
Mrs Lily Safra declared "From the bottom of my heart, I want to thank everyone who participated in this evening's success. I am overjoyed, knowing that so many people in need around the world will benefit. Like the jewels sold tonight, these extraordinary organizations make the world a more beautiful place, and it is a great privilege to be able to support them. I am also delighted to announce that due to the success of the auction, 12 additional organizations will each receive $1 million in support for their work."
A special section of the sale was dedicated to jewels by JAR, the majority of which were created specifically for Mrs Safra by the renowned jeweller between the 1980s and 2000s. Showcasing 18 pieces, this is the largest private collection of creations by JAR ever to be offered at auction.
François Curiel, International Head of the Jewellery Department at Christies remarks of the sale: "A sublime collection of 70 rare jewels, comprising the very best in all styles, periods and makers, from the late 18th Century all the way to modern times, is enough to attract the attention of jewellery amateurs and professionals worldwide. When it includes also the largest group of creations by JAR ever to be offered at auction, it is bound to create a sensation. And when the entire proceeds of the sale are to be shared between 20 hand-picked charitable institutions in the four corners of the world, this landmark sale rises to a whole new level. Only a connoisseur with an eye as refined as that of Mrs Lily Safra could have collected such an ensemble of jewels, and only someone with her philanthropic conviction could have expressed such powerful support to worthwhile causes in all charitable fields. We are proud to be associated with such a commendable endeavour".
All the proceeds from the sale of the collection of Mrs Lily Safra will benefit 20 charitable institutions from youth villages in Rwanda to Elton John's AIDS Foundation and medical research covering a wide variety of work around the world.
Lot 4
A Belle Epoque Diamond and Emerald 'Eglantines' necklace by Cartier 1906
The Eglantine rose is a sweet smelling beauty in the wild. A native to Europe and western Asia the rose is known for its apple-like fragrance and hooked prickles which has been transformed into the most spectacular platinum and diamond creation by Cartier, who are known to take on any form of nature and turn them into the highest examples of craftmanship. This necklace lies closely and beautifully on the skin due to the finesse of the platinum.
This necklace is an exquisite example of how platinum transformed the jewellery industry. Rarely seen or used before the early nineteenth century, platinum was used is abundance during and after this period. Platinum is the purest form of all the precious metals and does not tarnish like silver and is harder than gold. The Eglantine necklace would have been an example of the new technique when Cartier opened his shops in 1902 and 1909 in London and New York where pieces using this strong and yielding metal would have been seen for many for the first time. As platinum is stronger and more rigid than gold and silver, less of it is needed to make very fine detailed work like this magnificent necklace for which the Belle Epoque is so synonymous with. The intricate settings would never have been possible without the introduction of platinum to the work benches.
Lot 21
A tourmaline and diamond poppy brooch by JAR 1982
A beautiful old-cut pear shape diamond is held in between a twisting vine of calibrated green tourmalines and is the centrepiece of this delicious looking poppy brooch. The pinkish red tourmaline petals are sensually carved into bulbous forms which spread outwards, giving the brooch a very tactile edge.
Lot 28
A Ruby flower Brooch by JAR
So alive looking, I am sure this ruby camellia had its own heartbeat when I held it in my palm. The bright red rubies are all individually claw-set in silver and gold, they make up a vibrant ruby red tapestry that only elite craftsmanship can create. The rubies are all slightly off rounded and are so intricately placed, with the smaller stones on the outside and the larger stones in the middle producing a voluptuous three dimensional brooch which in my opinion captures the passion and heart of the creator into a tangible and touchable form. The back of the brooch is worth looking at as much as the front as it is a perfect example of hand work as each individual setting was hand pierced for each ruby so that the light travels through it and reflects the best of the stones' life. The victorious bidder of this brooch will have in his possession one of the most beautiful examples of craftsmanship and technique with a spirit created by JAR.