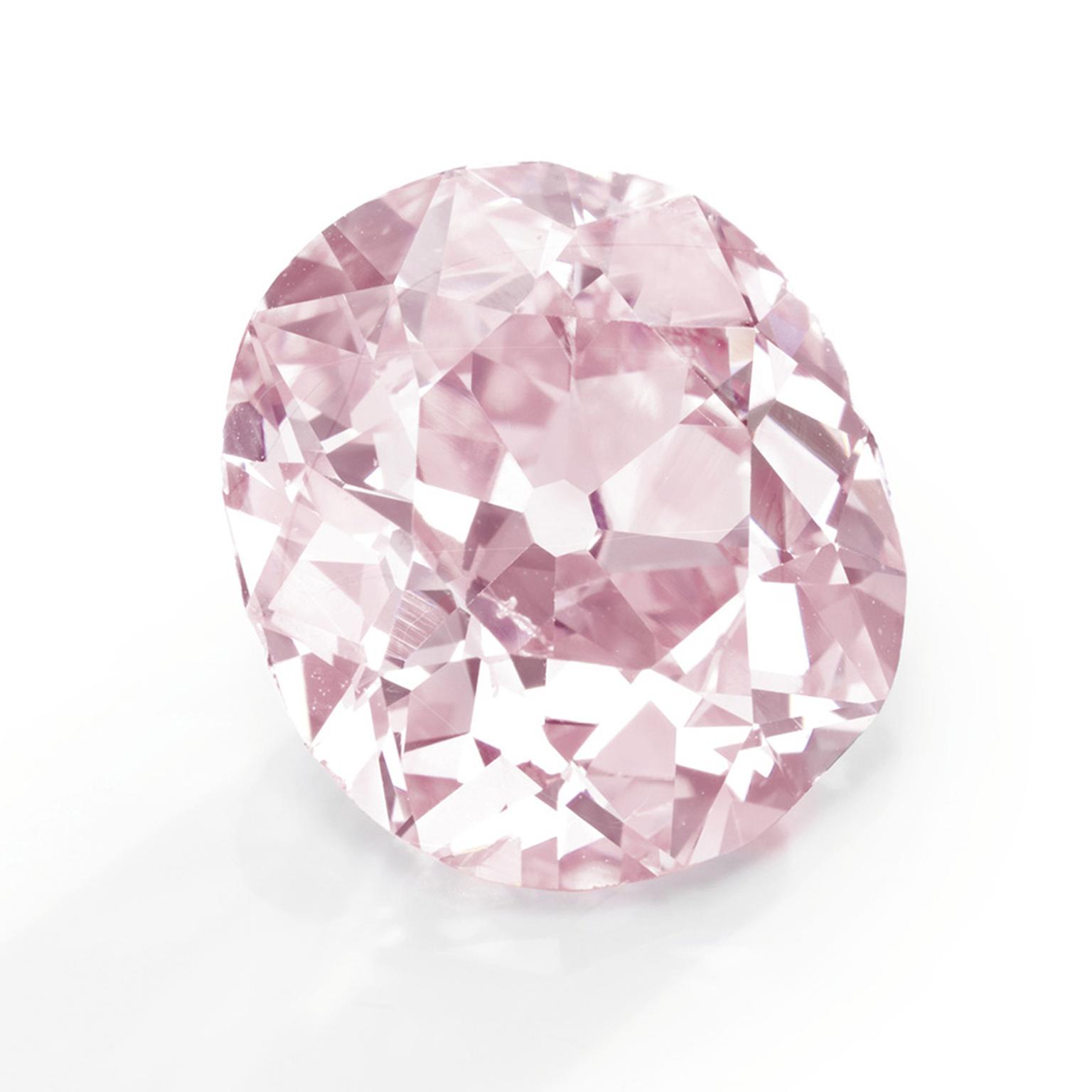 Results of the Christie's New York sale of fine jewels show robust prices for rarities such as the pink diamond that sold for $15.8 million and a strand of natural pearls that sold for almost 10 times its presale estimate.
Christie's sale of Magnificent Jewels on Tuesday, April 17 realized US$ 70,726,650 (£44,557,790 /€53,752,254) with strong sell-through rates of 95% by lot and 97% by value.

The top lot of the sale was The Clark Pink, a cushion-cut fancy vivid purplish-pink diamond ring of 9.0 carats by Dreicer & Co., circa 1910 from the Estate of Huguette M. Clark, which sold for US$15,762,500, setting a new auction record for the most valuable pink diamond sold in the United States. The successful bidder was Brett Stettner of Stettner Investment Diamonds.

Rahul Kadakia, Head of Jewelry, Christie's Americas, commented: "The collection of jewels from the Estate of Huguette M. Clark sparkled in the saleroom with the $15.7 million Clark Pink becoming the most valuable pink diamond ever sold at auction in America. The entire collection, which has fascinated collectors and press worldwide, achieved a total of $20.8 million against a presale estimate of $9 million. This is the second most valuable private collection sold in the United States in the last decade, just behind the legendary jewels of Elizabeth Taylor. We now look forward to Jewels For Hope: The Collection of Mrs. Lily Safra Sold to Benefit 20 Charitable Institutions, to be offered in Geneva on May 14."

Please find the top ten sale results attached.
The complete sale results are available online at http://www.christies.com/NEW-YORK-MAGNIFICENT-JEWELS-23526.aspx
Read what Joanna Hardy, jewellery expert, thought about her top picks that she previewed. Here is her knowlegeable, and always entertaining, verdict on what in her view, stands out. Jewels from the estate of Huguette M Clark lead the day-long auction of 300 jewels.
Lot 109 The cushion-cut Ceylon sapphire has an immediately light and happy air to it, which is a wonderful attribute to something weighing approximately 47.08 carats. The stone is stated to be a 'Classic Ceylon' with no evidence of heat treatment which, for Sri Lankan Sapphires, is a pre-requisite. The colour and size of this stone is truly beautiful and the simple yet be-jewelled platinum circular-cut diamond surround frames the natural elements without over stepping the mark. The term 'Classic Ceylon' is not a gemological term but it does make reference to the characteristic features normally attributed to Ceylon Sapphires, it is also a name given to stones that have come from the original source in Sri Lanka. Pre-sale estimate:$180,000 - 250,000
Lot 259 -Bringing a beautiful new attitude to the 'diamond ring' this modified fancy-grey cushion-cut diamond has an understated elegance to it. People are becoming more accepting of diamonds being colours other than white or the esteemed Type IIa diamonds, so diamonds of this colour are coming onto the market more and more. Through its fancy natural grey colour the light consumes and reflects slightly different tones of grey and brownish colouring, in fluctuating light. The diamond weighs approximately 10.00 carats. Pre-sale estimate: $200,000 - 300,000
Lot 296 The Tiffany bracelet - which is one of the lots from the estate of Huguette M Clark -is enchanting in its movement and delicacy that only great craftsmanship can create. The mixture of playful ruby, sapphire and emerald cabochons is electric. This round cabochon cut was very popular in the nineteenth century as they were sourced from cheaper stones but by the early twentieth century a greater amount of good coloured stones were being used for the cabochon cut and the use of cabochons became a design feature. Each juicy stone is held within a textured gold setting joined together by hand crafted chain links seen on the reverse. They make up the three rows of the bracelet which is as wearable today as it was in 1915. Pre-sale estimate:$30,000 - 50,000
Lot 302 This Tiffany and Co single-strand natural pearl necklace with an oval-cut diamond clasp will unquestionably make headlines. The lustre and, elegantly rounded shapes of these seventy-three saltwater natural pearls are so remarkable they look cultured! The pink tones throughout the strand mean this pearl necklace has a high estimate. We are sure to see very strong competitive bidding for this single strand pearl necklace. Pres-sale estimate:$20,000- 30,000
Mentioned in this article: