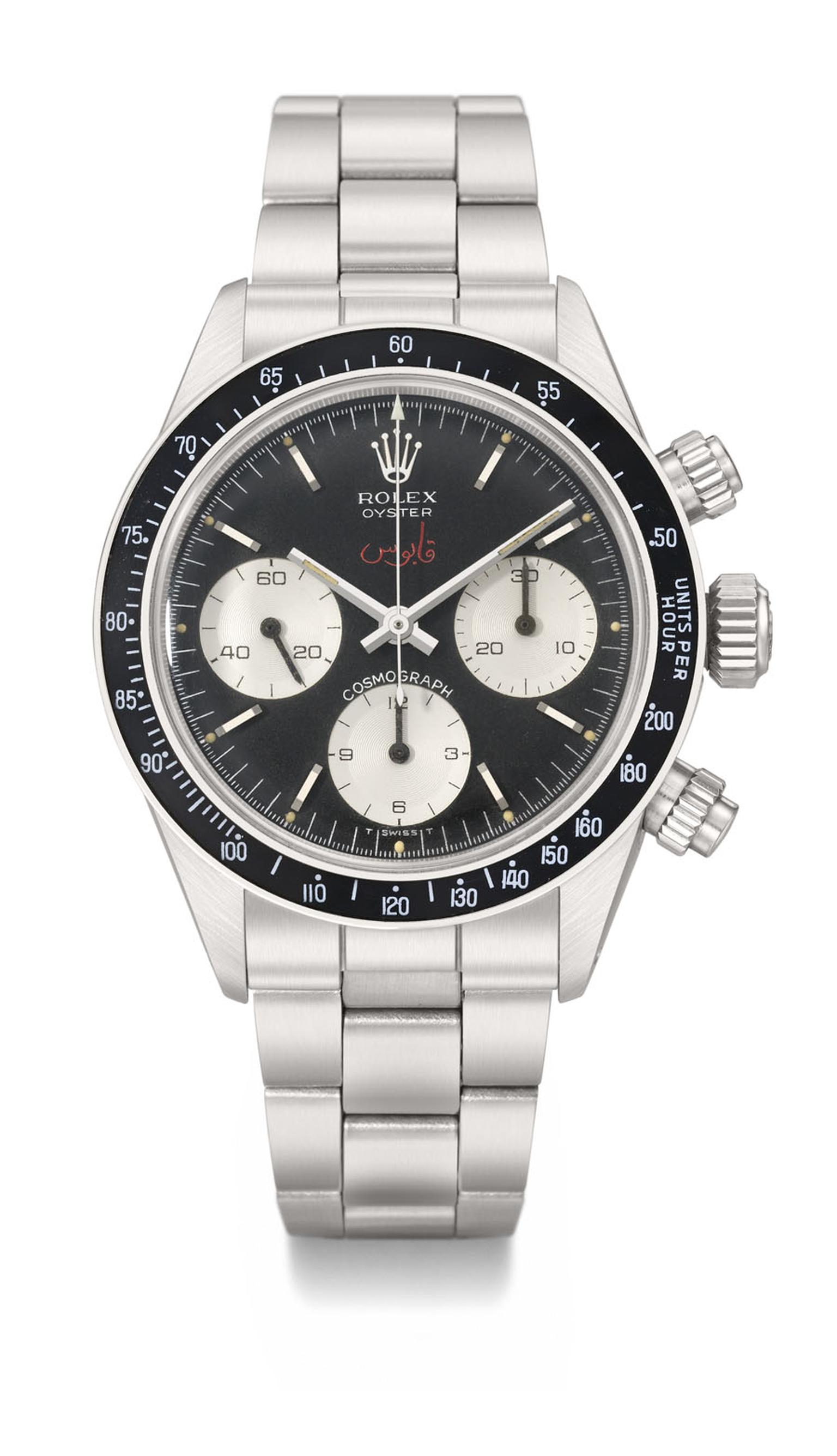 Christie'sRolex Daytona | Lesson ONE auction of 50 meticulously selected Daytonas marks 50 years of this very famous chronograph. Held on 10 November 2013 in Geneva, estimates range from US$10,000 to $300,000, and many of the 50 watches gathered together have never been seen at auction before. In short: expect Rolex nuts to go mad for these ultimate collectors' pieces.
The Daytona has developed a following verging on a fetish due to its scarcity and macho good looks. It has been worn by some of the most memorable men of our times, including Paul Newman, who casually wore one while at the wheel of the Daytona Car Race in 1995, as well as Jean-Paul Belmondo and Eric Clapton.
The fact that Rolex made small batches of personalised Daytonas for armed forces around the world, corporations and individuals adds another facet for collectors. It's hard enough finding a new stainless steel Daytona, never mind a vintage piece in perfect condition with an exciting provenance - and swagger and sex appeal to boot. You can't say that about an enamel pocket watch.
Amongst the highlights is none other than the very first 1963 Daytona (when it was known as a 'Cosmograph'), valued at between US$40,000 - $80,000, but I have a hunch it will go for much, much more. I will be watching how the 10 'Paul Newman' models perform and, in particular, the 'John Player Special', which as you may have guessed is all gold with a black dial - so 1969. Exotic case decorations and rare variants will also be up for sale, including the 'White Rainbow', set with a bright array of different coloured sapphires.
Personalised Daytonas are the rarest, so it's no surprise that the top lot is 'The Arabian Night', which was made for Sultan Qaboos Bin Said Al Said of Oman in 1974, with his very own signature in red on the dial. The watch is in mint condition and has a suitably majestic estimate of US$300,000 - $500,000. But does it have the cool appeal of Jean-Paul Belmondo's 1971 black dial Daytona with an estimate of US$60,000 - $120,000?
This collection of watches, in mint or near-mint condition, is quite simply unique, and Christie's watch team, led by Aurel Bacs and guided by Pucci Papaleo - a leading Rolex Daytona scholar and collector - travelled the world to hunt down these elusive species. Pucci Papaleo, who has published many books on Rolex, and the Daytona in particular, says: "If we have a single doubt on a watch, we prefer losing the piece altogether, even if this means losing at a financial cost. On one hand, this has made the phase of selecting the lots extremely difficult, but on the hand, this has allowed us to remain in agreement when finding pieces of absolute originality and quality. This resulted in this stunning selection of 50 of the indisputably highest level of Rolex Daytona watches ever to be presented at auction."
Mentioned in this article: