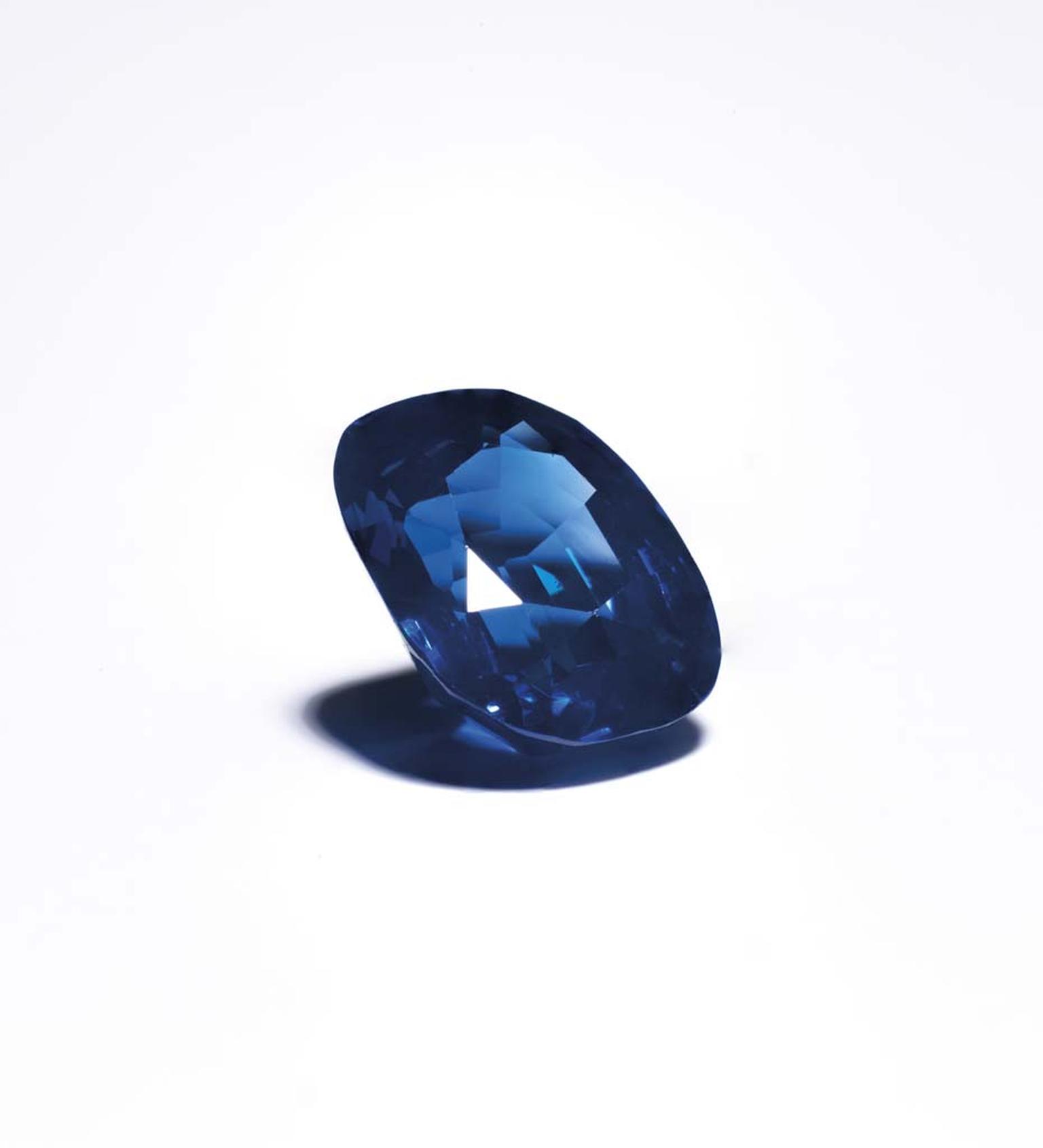 By Maria Doulton in London
This morning I took a closer look at some of the top lots from Christie's Important Jewels sale, which is taking place on 26 November 2014 at King's Street in London. I also had the chance to talk to Keith Penton of the jewellery department about some of the lots that show the breadth and quality of the forthcoming sale.
Star of the show is The Royal Blue, an untreated 14.66 carat Kashmir sapphire. Formerly the property of The Hon. Evelina Rothschild, it is set into a late 19th century cluster-style brooch. Its owner brought the brooch to the London showroom, unaware that the sapphire was a much-coveted untreated Kashmir. "It is a nice story and a pleasant surprise. The seller was expecting several thousands, not hundreds of thousands," explains Penton.
On a hunch, the Christie's jewellery team removed the sapphire from its mount and sent it to be tested to Switzerland. "If we see a sapphire that comes from an estate in a good Victorian mounting, we are already getting excited because it is likely not to have been treated as it wasn't widespread practise in those days," explains Penton.
The Royal Blue sapphire has two certificates confirming the rarity and quality of this stone, which has a pre-sale estimate of between £400,000 - 500,000. "This sapphire displays the classic velvety look associated with Kashmir sapphires and has a good internal life," explains Penton. "There are no more sapphires coming from this mine so they are increasingly sought after."
With a new auction record of $17.2 million set for the price of a 392.52 carat sapphire at Christie's sale in Geneva on 11 November 2014, sapphires are having their moment in the limelight. "Sapphires have done very well in the last few years," explains Penton. "Five years ago the prices of sapphires were fairly stable, with minor fluctuations, but since then prices have really shot up."
"I think people are more aware of the rarity and value of untreated stones as about 95% of all sapphires are treated," he continues. "We send larger stones to a laboratory to be tested and to identify their origin. It could add noughts to the end of a figure so it's worth it. It wasn't this way 30 years ago." Two other impressive sapphires complete the trio: a 41.00 carat Burmese sapphire (estimate £200,000-300,000) and a 23.00 carat Ceylon sapphire ring £140,000 -180,000.
A 1.54 carat Fancy Deep Blue diamond and 1.78 carat Fancy Intense Pink diamond ring is another highlight of the sale, estimated at £300,000 - £500,000, and another jewel that Penton singled out for our meeting was an Art Deco citrine and diamond Cartier London bracelet, circa 1935. With an estimate between £25,000 - £35,000 it is a beautiful example of the era, with characteristic features such as a train track of brandy-coloured baguette and circular citrines and lighter-coloured citrines forming a cruciform buckle. "It is clever to use a material of less-high value and make something so beautiful out of it," says Penton. "And it still appeals to modern tastes. There was a vogue for citrines during the 1930s and this is very typical of the style."
A charming late 19th century garnet and enamel pendant by Tiffany & Co. is of much lower value but it shows the variety of jewels on offer. "It is a nice example of plique-à-jourenamel for people who already have diamonds and pearls and are looking for something different," says Penton. "The enamel technique is something that you really associate with Tiffany. The colour combination really works and so much work has gone into this piece. The estimate is a modest £2,000 - £3,000 yet I have never seen one like this."
Another curiosity is a late 19th century natural pearl and conch pearl necklace (£3,000 - £5,000). The pearls were all X-rayed and the few that are cultured are marked with a black dot. "Conch pearls were popular in Edwardian times alongside grey and pink pearls," explains Penton.
"Earrings always sell well. I have never met a collector who doesn't want more earrings," says Penton, referring to the 1990s Van Cleef & Arpels emerald drop and diamond ear pendants (£60,000 - £80,000). Looking through his loupe at the emeralds, Penton thinks that they are perhaps "old material", which means that they may have been taken from a piece of antique jewellery as emerald briolettes just don't turn up at auction. "Van Cleef & Arpels sources top-quality stones and they are so well matched in colour that I imagine these may be from another jewel."
So what is it that collectors are looking for? "It's anything that collectors feel they can't acquire elsewhere and, of course, trophy stones, which are all about one of a kind and rarity."
But this is only one side of the auction process. Remember that if you have any jewels that you aren't wearing, Christie's is always taking on consignments either at its London offices or at different locations throughout the world. "We are looking for unusual, fine and signed jewels as well as coloured or old-cut stones. You can bring in your jewels and we will value them," says Penton. "You never know, sometimes a piece you think is worth no more than a few thousand pounds can sell for a lot more if the right people want it. A 1960s gold Cartier squirrel brooch comes to mind. A few years ago we valued it at £3,000 and it sold for £20,000. That's how we can really help our sellers - we are happy to check anything."
Find out more by browsing Christie's Important Jewels Look Book.