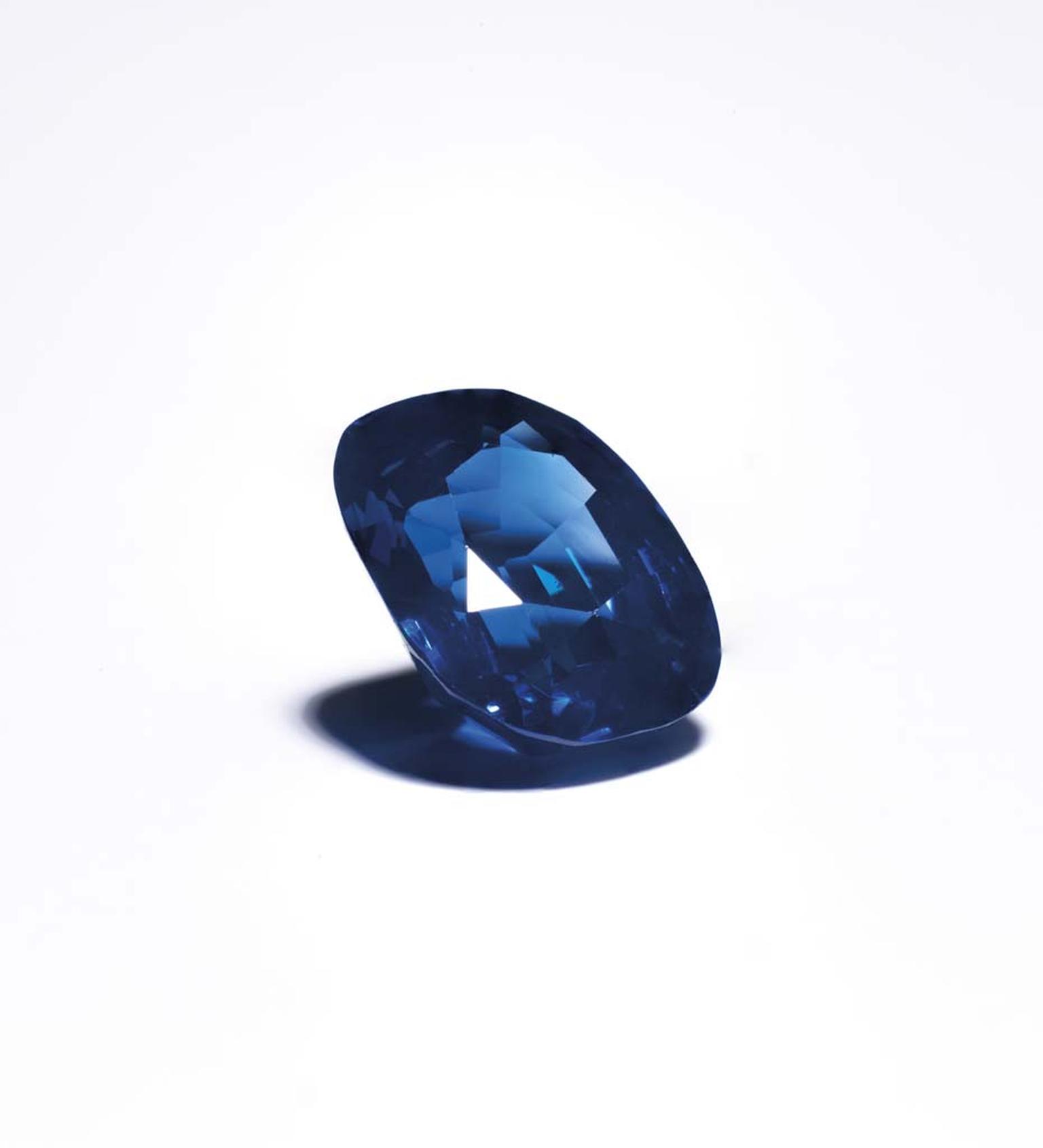 Sapphires are the stone of the season judging by the spectacular results just in from Christie's Sale of Important Jewels in London. Two amazing sapphire jewels, both hailing from the 19th century, more than doubled their pre-sale estimates to sell for over £1 million each.
The star attraction at the auction was a 14.66 carat untreated sapphire known as The Royal Blue, which fetched £1,398,500 against a pre-sale estimate of £400,000-500,000. The velvety stone hails from the now-depleted Kashmir mine and was accompanied by two certificates confirming its rarity and quality. Set into a cluster-style brooch with diamonds, it was once the property of the Hon. Evelina Rothschild.
The second sapphire, a 41.54 carat Burmese gem set into a pendant, more than tripled its estimate to sell for £1,034,500. Another highlight at the sale was a 1.54 carat Fancy Deep Blue diamond and 1.78 carat Fancy Intense Pink diamond ring, which sold for £752,500.
A pair of 1990 ruby and diamond earrings by Van Cleef & Arpels also sold for more than double their estimate, fetching £242,500. They are remarkable both for their beauty and for the technical skill required to mystery-set the rubies into the ear pendants.
Other signed jewels from private collectors included an oval-cut diamond ring by Graff, which sold for £230,500, and an emerald and diamond parure by Jahan, which tripled its estimate to sell for £458,500. Cartier was also heavily represented in the auction with a number of jewels including a striking Art Deco diamond and citrine bracelet, which sold for £80,500.
Natural pearls are consistently achieving record prices at auction, and three pearl jewels caught the eye of buyers at Christie's London this week. A five-strand natural pearl necklace with a central diamond-set pendant that can be removed and worn as a brooch sold for £182,500. And a pair of elegant ear pendants with natural pearls and diamonds, dating from the late 19th century, more than doubled their pre-sale estimate of £30,000-40,000 to sell for £104,500.
Finally, the unusual style of a 19th century conch pearl necklace helped escalate its final price to £11,875 from a pre-sale estimate of £3,000-5,000.
"The London sale of Important Jewels showed that quality, rarity and provenance continue to be the key factors sought by collectors worldwide," said Keith Penton, head of the London Jewellery Department at Christie's London, after the auction. "This was demonstrated by two late 19th century sapphire brooches, one of Kashmir origin, which realised £1,398,500, the other of Burmese origin, which fetched £1,034,500, and a Fancy Deep Blue and Fancy Intense Pink diamond ring, all of which far exceeded their pre-sale estimates. Three private collections, which included signed jewels by Cartier, Graff, Jahan and mystery-set jewels by Van Cleef & Arpels, saw fierce competition amongst international buyers. We look forward to the sale of Magnificent Jewels at Christie's New York on Wednesday, 10 December."