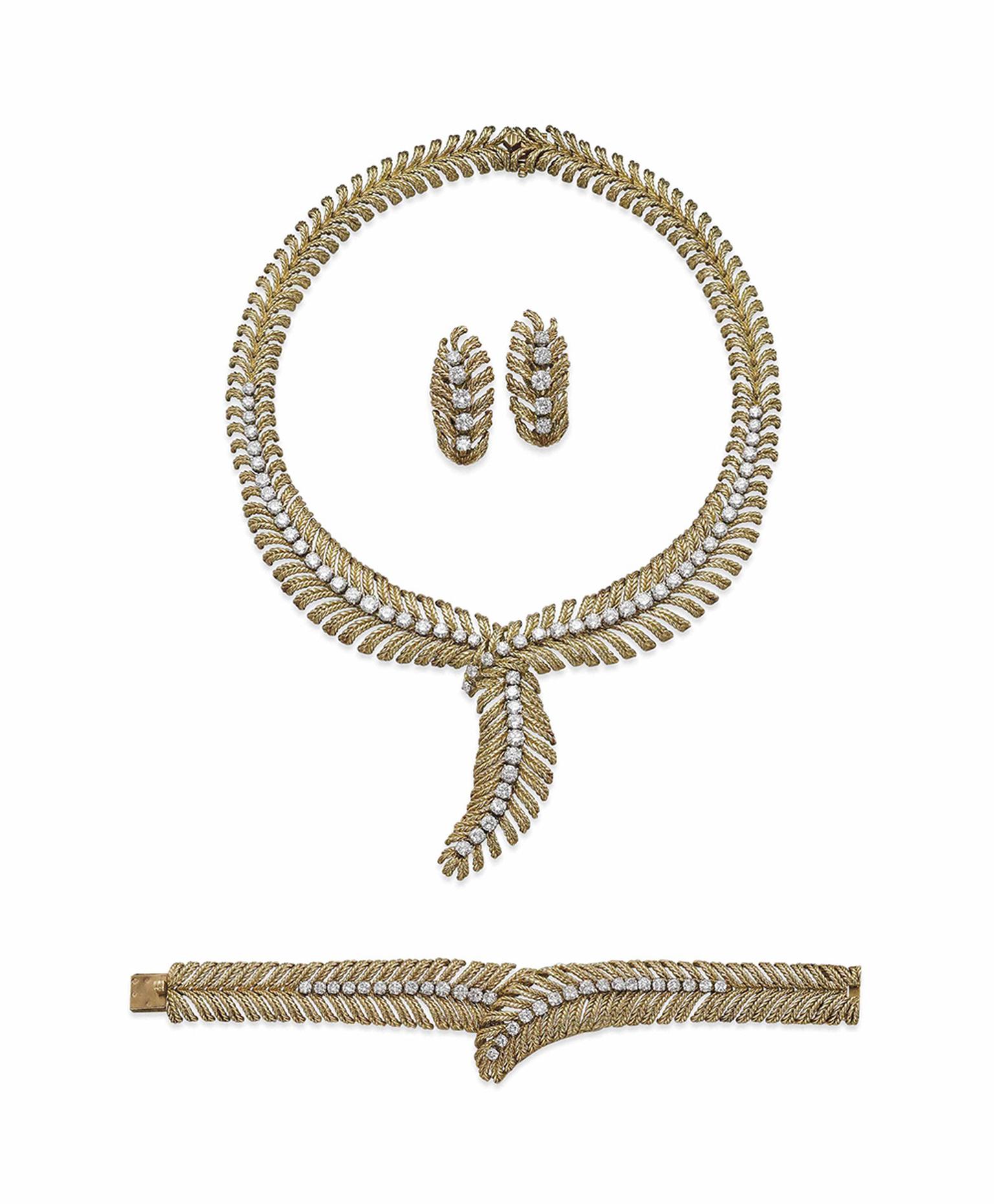 Our auction specialist Joanna Hardy tells us what has caught her attention at the upcoming Christie's Sale of Magnificent Jewels in Geneva on 15 May and what makes each one, in her view, so very special.
Christie's spring auction of Magnificent Jewels is one of the best Christie's Geneva sales I have seen in a long time. There is such a huge demand for rare and unique stones at the moment that it is very much a reflection of the market. Buyers are keen to put their money into exceptional gemstones and natural pearls, which is why we are seeing so many coming up for auction. For the best stones, sellers are getting good prices, and this sale reflects that.
The star of the sale is, of course, Lot 283 - the largest D colour flawless diamond ever to come to auction (estimate on request). This 101.73ct pear-shaped diamond - referred to as, simply, "the 101" - is a jewel fit for a queen and would make a worthy addition to any royal collection. Extracted from the Jwaneng mine in Botswana weighing 236ct in the rough, it took 21 months to cut. Like carving a sculpture, - it takes incredible artistry to cut a stone of this size, and there is absolutely no room for error. Comparable in size to the Cullinan III, a 94.4ct pear-shaped diamond that is among the Queen's personal collection of jewels, you don't get much better than this.
Lot 288 is another exceptional cushion-cut white diamond of 76.91ct (estimate: US$6,500,000 - $8,500,000). I love the cushion cut - it gives it such a sumptuous, sophisticated look and really compliments diamonds of this size.
Lots 258 and 301 are both set with delightful coloured diamonds. The fancy deep brown-yellow cushion-shaped diamond in Lot 258 (estimate: US$1,000,000-$1,200,000) is a type IIA and has a lovely watery appearance - very indicative of these type of stones - which gives it a softer vibe. The cushion cut is also very interesting. The 1.92ct rectangular-cut fancy red diamond in Lot 301 (estimate: US$2,000,000-$3,000,000) comes from the Argyle mine in western Australia, the only mine of modern extraction where you see stones of this colour and quality coming out of the ground. Red diamonds are the rarest of all coloured stones, and to find a fancy red of this size is even rarer still. Pink and red diamonds are thought to be the result of stress in the stone's crystal lattice, which means there is a real danger they will split or shatter when they are cut. It would have taken the skill of a highly experienced cutter to ensure that didn't happen to this stone.
There is no other sapphire that compares to a Kashmir sapphire, which is why Lot 247 (estimate: US$2,500,000-$3,000,000) is so extraordinary. The ring is set with a 19.88ct cushion-shaped Kashmir sapphire, called the Star of Kashmir, of the most incredible blue. At 4,500m above sea level and covered in snow for much of the year, the now depleted Kashmir sapphire mine from which this stone was extracted was so inhospitable that for the earth to have produced such a beautiful stone in such extreme conditions makes it all the more remarkable. Looking through a Kashmir sapphire is like looking at the Himalayan sky as the inclusions in the stone can sometimes resemble whispy clouds. The rich, velvety blue, unenhanced by man, is without peer.
The Colombian emerald in Lot 263 (estimate: US$1,300,000-$1,800,000) is huge: 23.28t and with no clarity enhancement. The market is recognising Colombian emeralds for their rarity, and this is an exceptional example. Whereas diamonds are generally graded according to the Four Cs, with coloured stones I use a fifth C - character - and this emerald has heaps of it.
I'm certain Lot 287, a pair of extremely rare natural pearl and diamond pendants (estimate: US$1,300,000-$2,500,000), will generate lots of interest. The largest recorded natural pearls ever to come to auction, the estimate is, I think, very conservative - I'm sure they will go for a lot more. The slight irregularity of the pearls confirms their authenticity, and they exhibit a lovely white colour and great lustre. Pearls are traditionally a symbol of purity, and these pretty earrings are the perfect example of why.
There are more rare natural pearls in Lot 282 (estimate: US$2,000,000-$3,000,000), ranging in size from 13.7mm to 10.4mm. Once upon a time they probably formed part of a much longer sautoir necklace, and they all share the same wonderful white colour and lustre - it would have taken years and years to match these up. Lot 305, an antique devant-de-corsage brooch (estimate: US$580,000-$790,000), also features the king and queen of gems - diamonds and natural pearls. Originally it would have come from a much larger jewel, and what I love is how the bow looks so natural. A skilled goldsmith has made it look so realistic that you feel you could tug the ends of the velvet ribbon and untie it.
I absolutely love Lot 241, an antique diamond tiara dating from the mid-19thcentury (estimate: US$250,000-$350,000). The tiara represents the crowning of love and loss of innocence, and to find one from this period that hasn't been broken up and refashioned into other pieces of jewellery is very rare. The naturalistic design is absolutely stunning, incorporating diamond-set reeds of corn - a symbol of plenty and wealth.
Lots 253 and 256 are both signed by Cartier, and both feature big cats. Lot 256 is a rare Cartier tiger bangle dating from 1967 (estimate: US$72,000-$90,000), a design popularised by the famous philanthropist Barbara Hutton, who commissioned a suite of Cartier tiger jewels in the late 50s. Lot 253 (estimate: US$86,000-$105,000) is contemporary Cartier and features another iconic Cartier cat, the panther, resting his paw on a beautiful kite-shaped yellow diamond.
Lot 211, a diamond 'belt' bracelet by Van Cleef & Arpels, is typical of the maison's style in the late 1940s - the new post-war era when diamonds were back in vogue and women were free to wear beautiful jewellery once more (estimate: US$160,000-$260,000). The craftsmanship and articulation are superb. In the 1950s, women were looking for versatile jewellery like Lot 76, a set of diamond and gold 'Fougeres' jewellery by Boucheron (estimate: US$27,000-$37,000). Appropriate for the office but also smart enough to go out in, the stylized gold fern leaves have so much movement.
The legendary 20th century French jewellery designer Suzanne Belperron ingeniously used a fluted, carved emerald bead for the body of a scarab beetle in Lot 167 (estimate: US$22,000-$29,000). There is a total of 34 Belperron pieces in Christie's Geneva sale, which were all designed for her close friend Cécyle Simon. The emerald, ruby and diamond 'Scarabée' brooch is a perfect example of her creative use of gemstones.
Finally, there are two pieces that I think are real hidden gems in this sale. Lot 303, a sapphire and diamond ring (estimate: US$40,000-$50,000) is set with an extremely rare 27.49ct sugarloaf cabochon colour-change sapphire. These unique sapphires are from Ceylon and exhibit different colours in different light. And I love Lot 166, an antique set of sapphire and diamond jewellery (estimate: US$43,000-$63,000). The pale blue sapphires, set in yellow gold for extra warmth, also originate from Ceylon, while the diamonds are set in silver. Stunning.
Mentioned in this article: