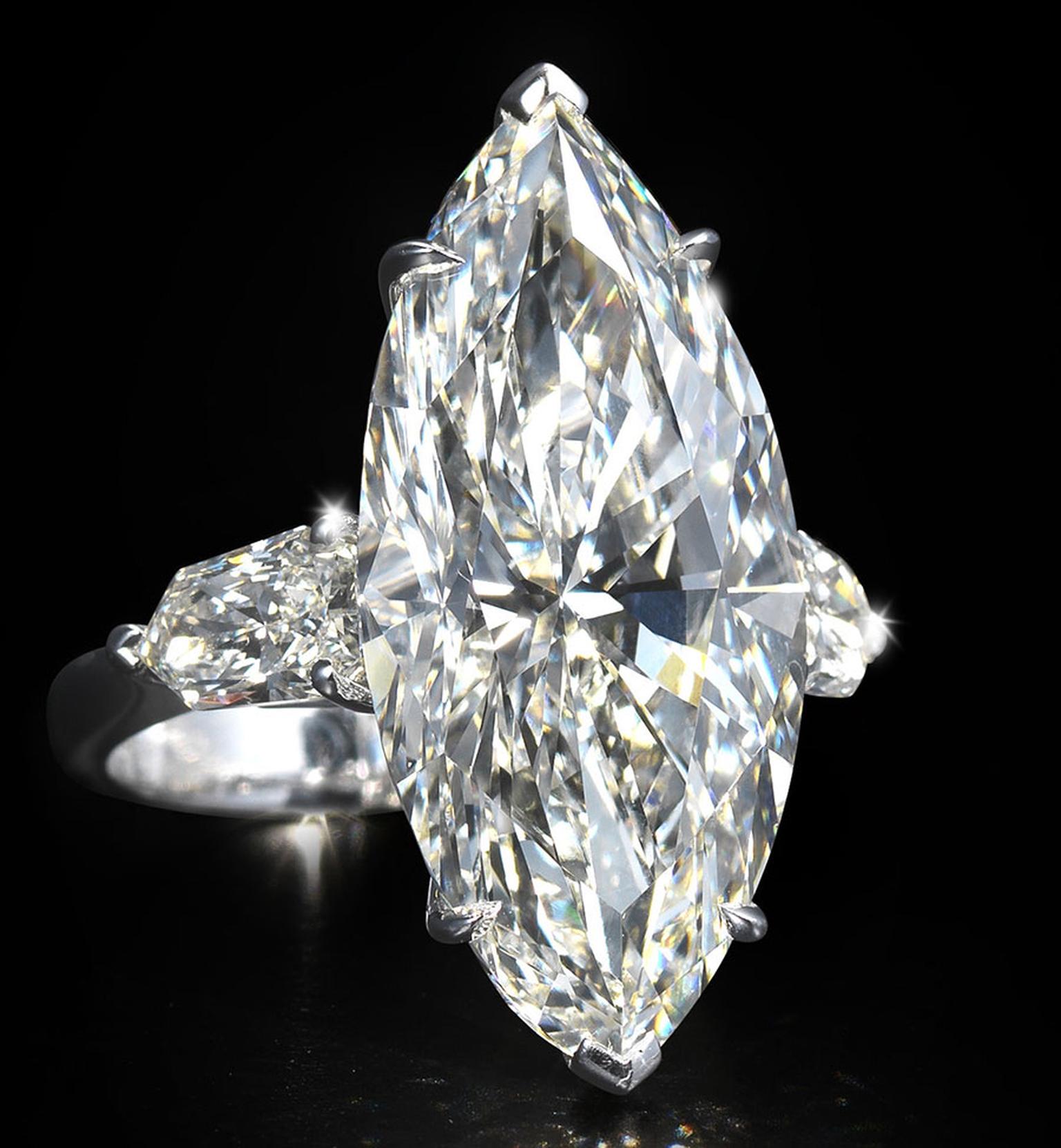 April 25th saw Bonhams showcasing a dazzling selection of diamonds, sapphires, rare pieces with unusual settings, and items of royal provenance on offer in their Fine Jewellery Sale in London. Clients paid top prices for rare pieces, sapphires, diamonds and pearls with a sale realising £3.8million.
Among the nearly 200 lots were some truly terrific pieces of jewellery, each with their own individual character and story to tell. Lot 178 saw a diamond single-stone ring, proudly bearing a marquise-cut 13.41ct diamond within a six claw setting, between 1.25ct of diamonds, selling at £265,250 from an original estimate of £250,000 - £300,000. Then there was a delicious splash of colour and a prime example of their mystery setting with Lot 179, a 1987 sapphire and diamond 'Fuschia' brooch by Van Cleef and Arpels, sold for £181,250 from an estimate of £120,000 - 150,000. The beautifully coloured petals consist of mystery-set sapphires, with pear-shaped diamonds as the stamen, a pavé-set brilliant-cut diamond trumpet and graduated calibré-cut diamond stem. Bonhams' own Jean Ghika sees it as "a fantastic example of the ground-breaking technique in which the setting or claws are concealed beneath the gemstones".
An ideal accompaniment to the Fuschia brooch was apiece by Belgian jeweller Philippe Wolfers circa 1902, a nouveau enamel, peridot and diamond brooch with an opal drop, sold for £23,750 from an estimate of £12,000 - 18,000 (Lot 176). The piece is one of a series of unique jewels created by Wolfers as part of his Ex (exemplaire) Unique range, in which each jewel was given a name and was seen as the ultra modern pinnacle of art nouveau jewellery. Cartier too were quite the presence in the sale, though one piece of note for its difference was a laque burgauté and coral box form 1925. Owned by the Romanian Princess Marthe Bibesco, it's notable for it's art deco design, with shaped iridescent mother-of-pearl and engraved silver sections, selling for nearly four times it's estimate at £23,750. Inherited by its present owner, the box has never been publicly seen before, making a highlight of the lot for more than just it's artistry.
Finally there was the superb sale of Lot 21, notable not just for the craftsmanship evident throughout, but for the history placed upon it also; selling for nine times it's estimate at £51,650, it is a late 18th/ early 19th century hardstone cameo brooch designed by Nicolo Morelli. A patron of the Bonaparte family, it was given to a relative of the vendor by Caroline Bonaparte, younger sister of Napoleon I who was married to the King of Naples.
Mentioned in this article: