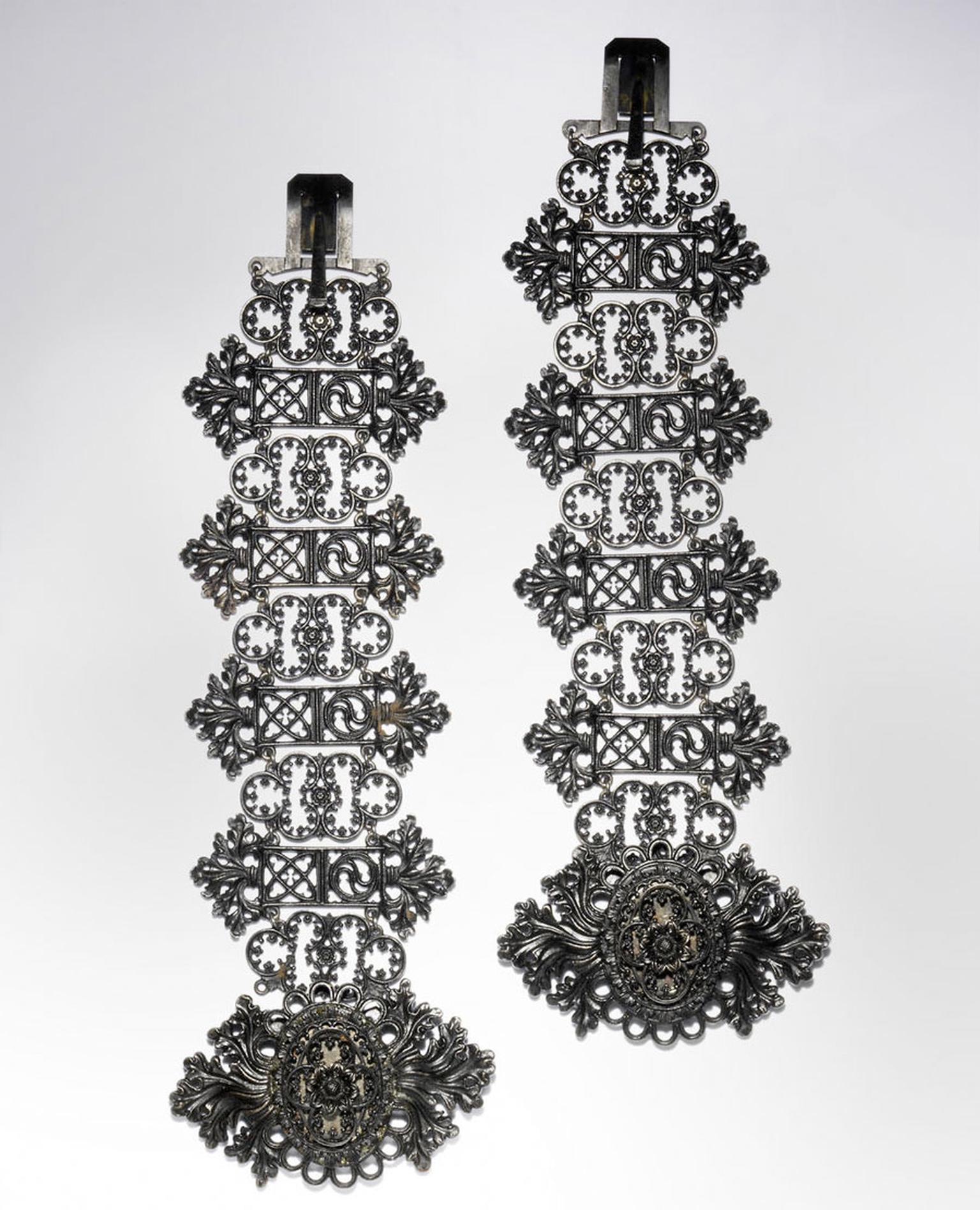 Bonhams Fine Jewellery Sale in Knightsbridge on 13 March saw some impressive sales, including a diamond solitaire ring that sold for £12,500, nearly twice its estimate. The final figure achieved for the sale was £637,463, and of the five top lots, four were single-stone diamond rings, each of which sold for more than £10,000. The fifth, Lot 250 - the diamond fringe necklace - also sold for just over £10,000.
Jewellery expert and author Joanna Hardy picked out three of her favourite items from the sale, two of which, the Berlin Ironwork bracelets by Geiss and the early Grima brooch sold for £4,250 and £5,000 respectively - considerably above their estimates.
Lot 140
This is a sweet example of a Shakudo brooch - tiny (2.8cm) and detailed - with a fascinating history. Previously, the Japanese had virtually no tradition of jewellery making, but their metalsmiths were highly skilled and used to working on a small and intricate scale, creating Samurai sword fittings. Following the ban of Samurai sword wearing in 1876, armourers began to make jewellery, which was exported to Europe. The circular plaque on the brooch is inlaid with copper and gold Shakudo-work, depicting three Japanese figures travelling on a bark, amid birds and vegetation, and is typical of the Shakudo style of using dark alloys unknown in the West, inlaid with contrasting gold. Sold for £687 (estimate: £500-£700).
Lot 141
This pair of Berlin Ironwork bracelets is by Geiss, circa 1820. Berlin Ironwork is a specialised collectors' market with a very unusual story behind it. Between 1813 and 1815, when money was urgently needed to fund the uprising against Napoleon during the War of Liberation, patriotic women were persuaded to give up their gold jewellery and precious ornaments to the state. In return they were given iron jewels, often inscribed with the world 'Gold gab ich fur Eisen 1813' ('I gave gold for iron 1813'). Berlin Ironwork is traditionally very light and very dramatic. Designed to be worn on both wrists, the bracelets feature openwork panels incorporating an ornate foliate design. Sold for £4,250 (estimate: £2,000-£3,000).
Lot 171
This early Grima (1969) tourmaline and gold brooch is very typical of the late 1960s and a real collector's piece. The jagged, textured gold mount and rough, uncut crystals are classic Grima - he loved using gemstones in their raw format. The crystals are called watermelon tourmalines, which are green at one end and pink at the other. Grima never used diamonds as the main stone, only as accents, and on this brooch he has added brilliant-cut diamond highlights on two of the tourmalines. Signed Grima, the brooch also bears the mark HJCo, which was his father-in-law's workshop, where the piece was made. Sold for £5,000 (estimate £2,000-£3,000).