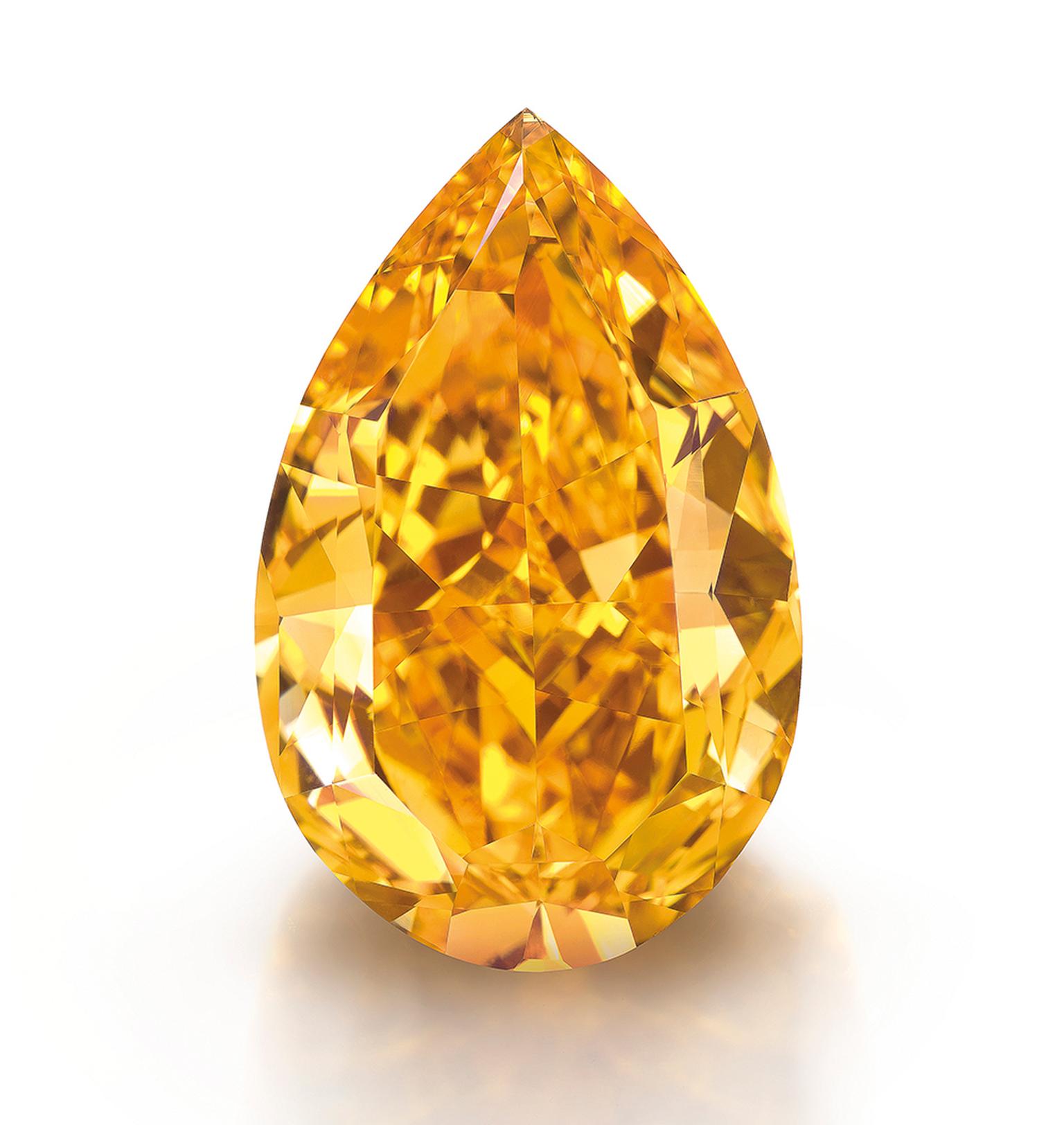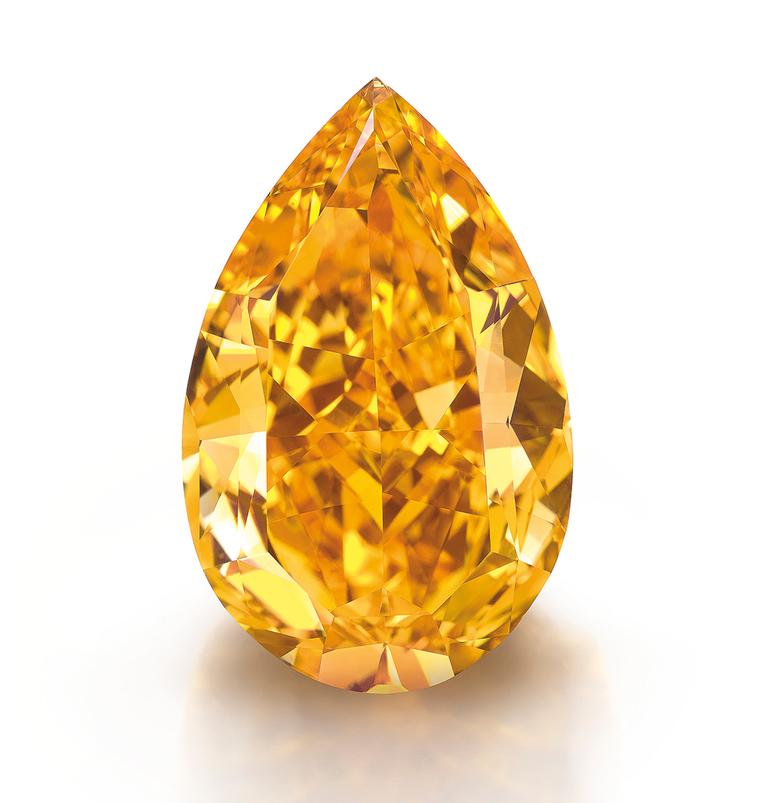 With auction season in full swing, we've already written about many unique jewels that are due to go under the hammer this autumn. And with its Geneva auction of Magnificent Jewels set for just one month away, Christie's has announced that one more incredible gemstone has been added to its lineup of impressive lots, which includes pieces from the collections of two famous mid-20th century society figures, the Bolivian mining tycoon Simón Itturi Patiño and Parisian socialite Madame Hélène Rochas (read more here).
The Orange, the largest Fancy Vivid orange diamond ever to appear at auction at an extraordinary 14.82ct, will lead Christie's sale in Geneva on 12 November 2013. To put that into perspective, the largest 'fire diamond' sold to date weighed less than 6ct, making this an incredibly rare event. This showstopper is expected to fetch sfR. 16,000,00-19,000,000 / US$17 -20 million.
Alongside this colourful one-of-a-kind diamond are more than 280 lots, including rare gems, impressive period pieces and royal treasures. Rubies and sapphires originating from Mogok in Burma are among the top lots, including an impressive 5.09ct Burmese 'pigeon's blood' ruby - which refers to the vivid, saturated red colour of the finest rubies from Mogok - set into a ruby and coloured diamond ring (SFr.1,500,000-2,500,000 / US$1.6 - 2.7 million). Burma is famous for both its rubies and its sapphires, which are regarded as among the very best in the world. Another top lot is an impressive 23.49ct oval-shaped Burmese sapphire and diamond ring by Van Cleef & Arpels (estimate: SFr 610,000-710,000 / US$650,000 - 750,000).
A number of Cartier treasures will also appear in the auction, including one of the greatest necklaces created by Cartier in the Art Deco period: an emerald and diamond sautoir featuring 14 Columbian emeralds (est SFr 2,650,000,000-3,580,000 / US$2.8 - 3.8 million). Christie's is also auctioning a 'Tutti-Frutti' bracelet of rubies, emeralds, sapphires, diamonds and enamel from the 1930s, an iconic design inspired by Jacques Cartier's travels to India in the early 20th century. One of a very few Art Deco 'Tutti Frutti' jewels that have survived to the present day, its estimate reflects its rarity (estimate: SFr 750,000-1,150,000 / US$800,000 - $1.2 million).
Another outstanding jewel is an Art Deco emerald and diamond Van Cleef & Arpels necklace. Formerly from the collection of Princess Faiza of Egypt, daughter of King Fouad I of Egypt, the imposing Art Deco necklace was worn by Princess Faiza as a Court jewel, with nine cabochon emeralds set in such a way that they they move with the rhythm of the wearer. This rare jewel, which dates from pre-revolutionary Egypt in the late 1940s, is estimated to achieve an impressive SFr 2,500,000 - 3,500,000 / US$2.7 - 3.7 million.
Finally, a clutch of contemporary jewels also feature in the top lots, including three unique creations by JAR, aka Joel Arthur Rosenthal. Famously reclusive, he is considered to be one of the greatest contemporary jewellers alive today. All eyes will also be on a remarkable 'Cote D'Azur' brooch by Anna Hu. Hu set the global record for the highest auction sales price for a Chinese contemporary jewellery artist this spring when her 'l'Orpheus' ring sold for US$2.59 million at Christie's in Hong Kong - more than five times its estimate. Will her brooch, set with a 58.29ct sapphire, lavishly mounted in an ornate multi-gem design, break her existing record? It's highly likely, with an estimate of SFr. 2,350,000 - 3,300,000 / US$2.5 - 3.5 million.
Mentioned in this article: