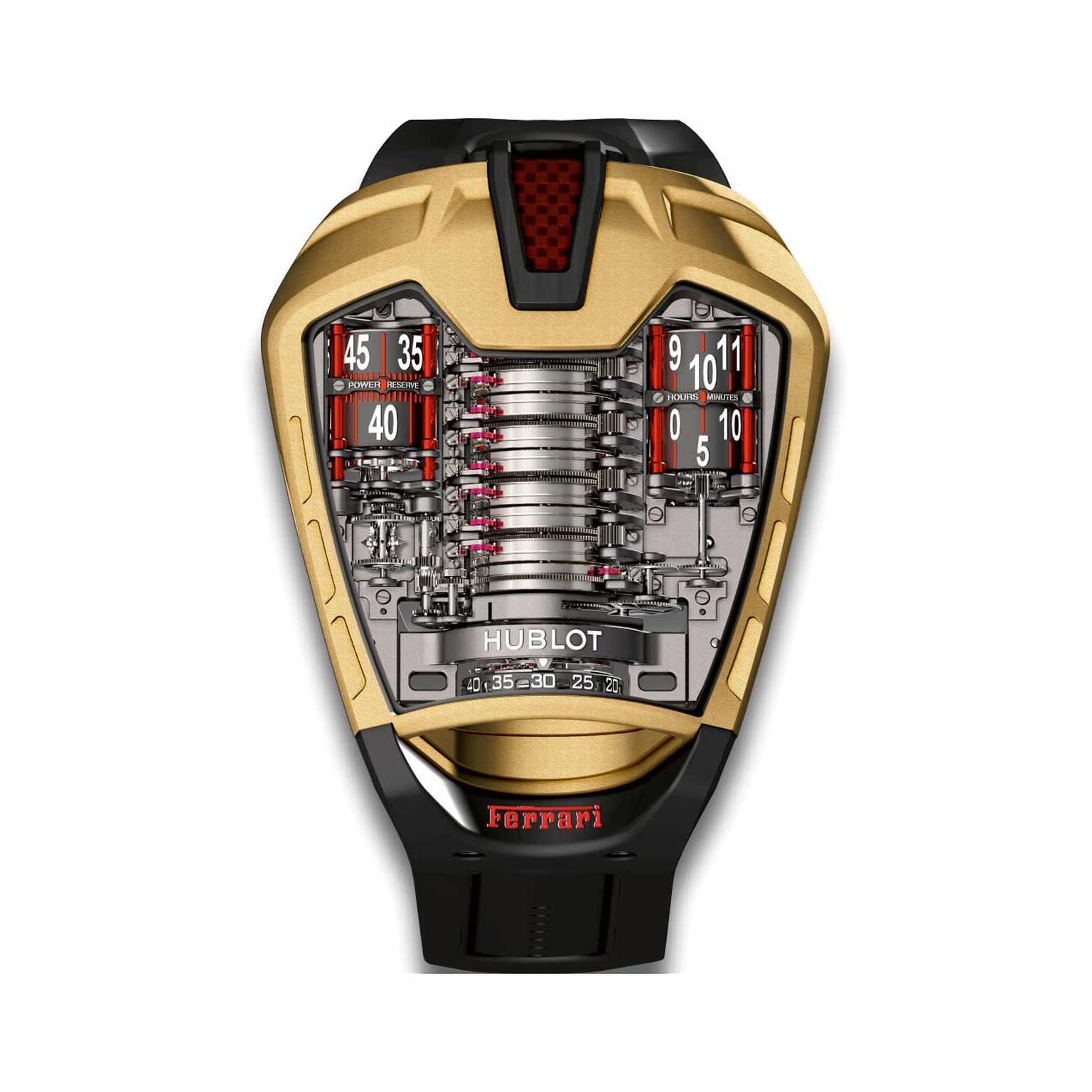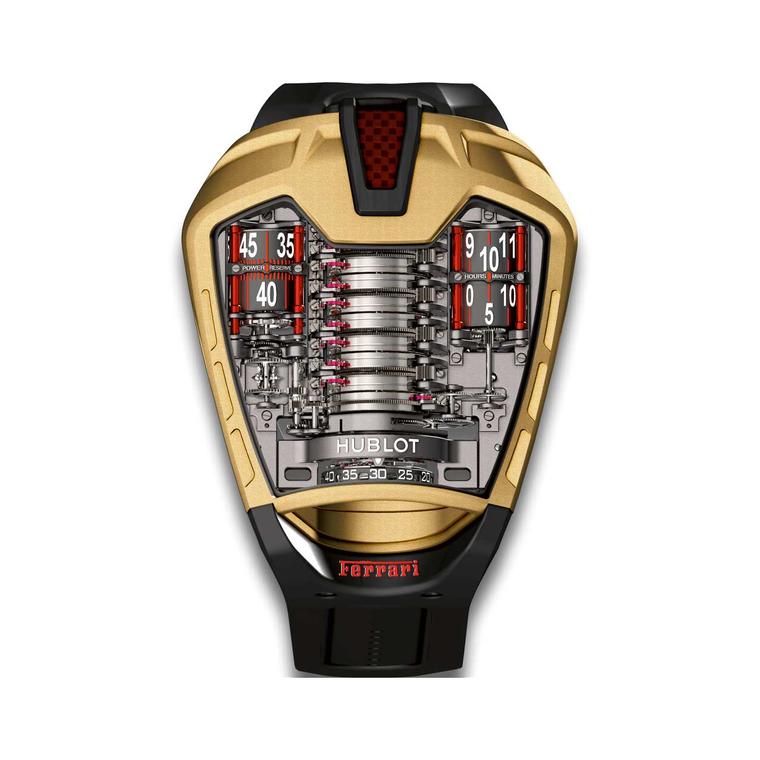 By Rebecca Doulton
Say the words "Swiss watchmaker" and what is the first image that comes to mind? An elderly man bent over his workbench mending a cuckoo clock as the snow piles up around his Alpine workshop? Well, think again. That pure mountain air must be stimulating because there is a legion of avant-garde black sheep Swiss watchmakers producing out-of-this-world men's luxury watches that would not look amiss in a sci-fi movie.
In the first of this two-part series, we have rounded up our top contenders for the most outlandish wacky-watch prize.
View other outlandish watches here
The world of watches and motor sports enjoy a symbiotic relationship, but when Hublot watches partnered with Ferrari, pistonheads really had something to get their motors revving. Hublot's MP-05 LaFerrari recreates the cobra-headed shape of the real 2013 LaFerrari engine, complete with cylinders that indicate the hours and minutes on the right and, on the left, the fuel consumption. Powered by a manual winding movement, you'll only need to top her up after 50-hours of racing performance.
If you'd caught Cristiano Ronaldo admiring the LaFerrari at one of the car shows, you might have spotted him wearing this Ghost timepiece from Jacob & Co. watches - a pentagonal, black 47mm model with five separate windows to display the time in 20 selected cities. With or without diamonds on the detachable cobweb bezel and time dividers, you can select the colour of the LCD display thanks to the sophisticated Swiss digital technology packed into this formidable timepiece.
Harry Winston is renowned for its diamonds and, with its Opus series of limited horological prodigies, also wanted its watchmaking division to sparkle with light by showcasing the talent of some of the world's finest and most eccentric watchmakers. Created by Denis Giguet, the Opus Eleven is one of the world's most complex jumping hour watches - the hours and minutes literally fall apart and come together again like a jigsaw puzzle. Even after five years and immense respect for its mind-boggling 500-part mechanical movement, the curious anatomy, with two protruding sapphire crystal Mickey Mouse ears on these Harry Winston watches, never ceases to amaze.
View more contemporary and eccentric watches here
The Opera masterpiece by Manufacture Royale watches is ostensibly a very large and extravagant 50mm pink and grey gold minute repeater and tourbillon, until the hinge is unlatched and the two-tone gold caseback fans out like an accordion, creating a Sydney Opera House-style concert hall to better enjoy the chimes.
Hautlence watches have a solid track record when it comes to unconventional rectangular-shaped watches and have recently released the new Vortex concept timepiece. With its "mind-blowing, three-dimensional case" that lets you enjoy the movement from any angle, it is a bit like peering into a small suitcase as it goes under an X-ray machine. The dial changes on an hourly basis as the cage of the regulating organ rotates 60 degrees every 60 minutes. 
The Opus Eleven from Harry Winston watches is one of the most complex jumping hour watches with a mechanical movement composed of 500 parts.

Footballer Cristiano Ronaldo is the official ambassador of the Jacob & Co. Ghost watch brand, which displays the time in 20 cities in the five LED windows and can be customised with a diamond bezel. 

The Jacob & Co. Ghost watch can display the time in 20 selected cities and comes in a 47mm pentagonal case with a detachable carbon bezel. 

Limited to 88 pieces, the futuristic Vortex from Hautlence watches features trailing hours, retrograde minutes and a regulating organ that rotates 60º every 60 minutes. 

This Hautlence Vortex watch is inspired by post-modern architecture. Its rectangular case is crafted from titanium, with six sapphire windows to view the movement from every angle. 

The Opera watch by Manufacture Royale features an unusual accordion-like gold caseback, which can be deployed to amplify the chimes of the minute repeater.

Hublot MP 05 LaFerrari was designed in tandem with the 2013 LaFerrari sports car, complete with cylinders and a petrol gauge.