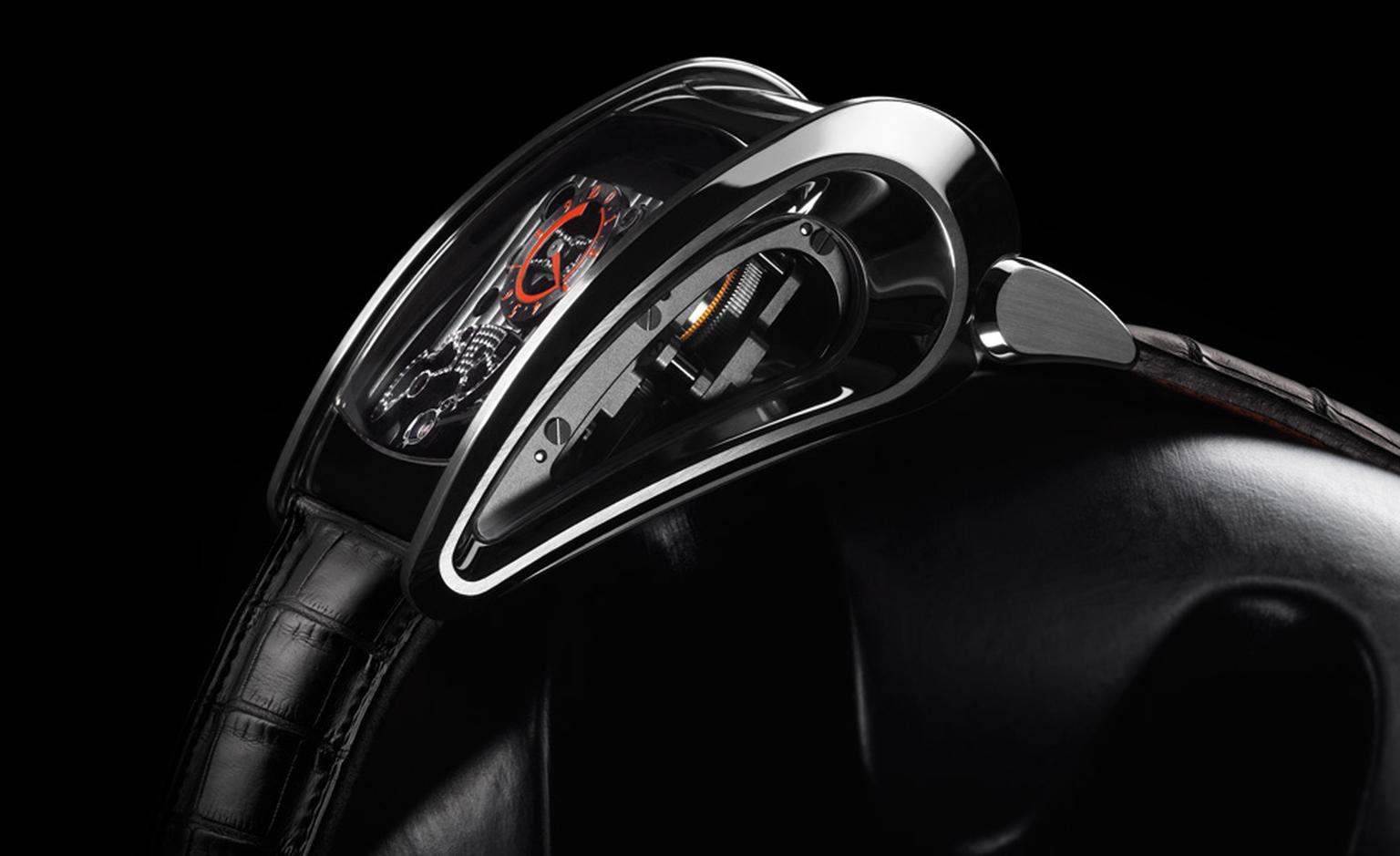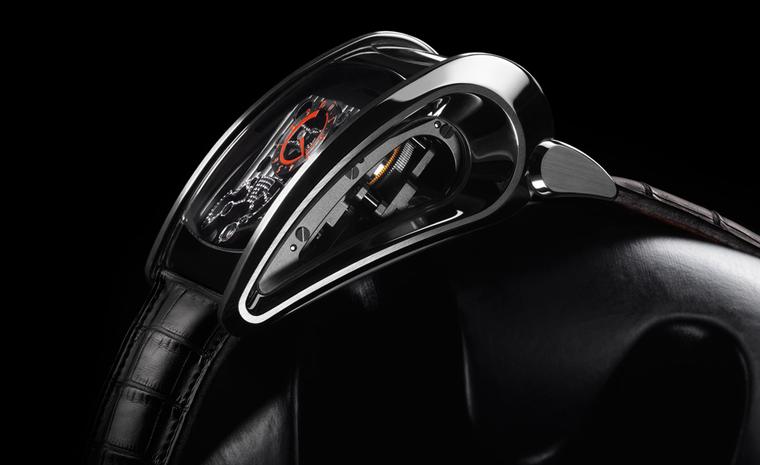 I am no petrol head but the Parmigiani Bugatti Super Sport does set my pulse racing. The story here is that Bugatti test driver Pierre-Henri Raphanel wore the watch while travelling in the Bugatti Veyron at the record breaking speed of 431 km/h. Those with long memories will remember that the Parmigiani Bugatti, when it launched in 2004, was a sensation. Parmigiani had dared to completely rethink the watch movement and aligned the components on a transverse axis like a racing engine motor. The entire pillar-shaped movement was visible through a glass dome that straddled the wrist and time was read off a dial at one end of the tube. The Parmigiani Bugatti was one of the first mad machines for the wrist that intrigued us with its daring design combined with the intricacies of its components on view to all. The contrast between the beast of the machine and its delicate, beautiful innards was captivating. The revolutionary idea was one of the first examples of a new approach to watchmaking, bringing the excitement of roaring car engines and futuristic designs to this centuries old craft. Never one to stand still, in 2010 those clever watchmakers at Parmigiani flipped all the mechanical components onto a vertical axis. The Parmigiani Bugatti  continues to race ahead and this year the new Super Sport model now has a 90º time setting system and an easy to use crown. Enough said, the pictures speak for themselves. And for those of you who like racing cars and things that go fast I have included some pictures of the Bugatti Veyron 16.4 Super Sport that made history last June by setting the land speed record for a production sports car.
The smooth curves of the Bugatti Veyron Super Sport

Test driver Pierre-Henri Raphanel at the wheel of the Bugatti Veryon Super Sport

Time is read off the side of the case on the Parmigiani Fleurier Bugatti Super Sport, so no need to take your hands off the wheel to glance at the time

Movement of the Parmigiani Fleurier Bugatti Super Sport visible through the top of the watch.

Parmigiani Fleurier's sketch of the Bugatti Super Sport - so like the car you can almost hear it roar.

Sketch of the Bugatti Veyron Super Sport car. Both the case shape and components of the watch are clearly inspired by the car.

Profile of the Parmigiani Fleurier Bugatti Super Sport watch that is all stealth curves and made for speed.