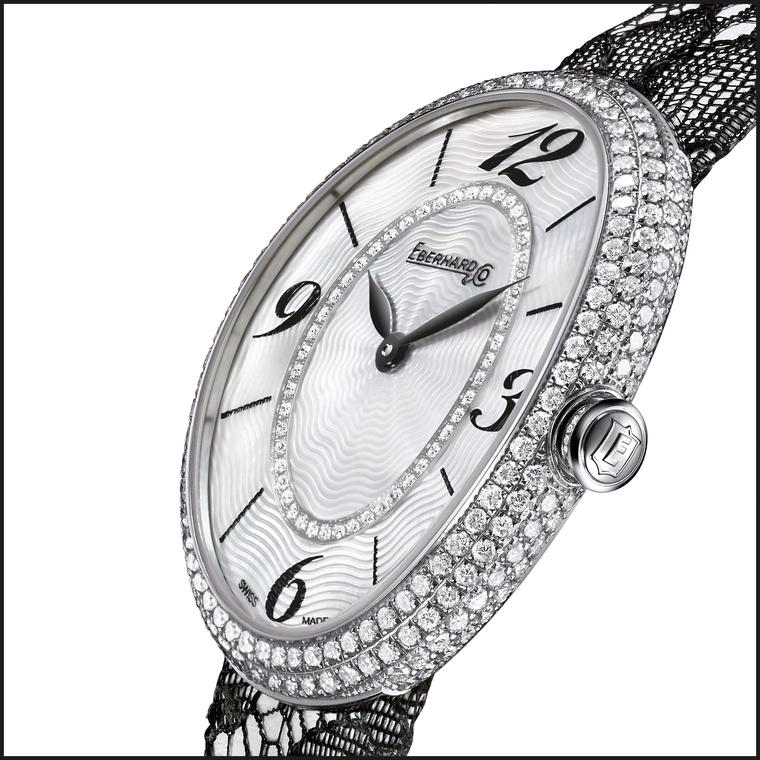 By Rebecca Doulton
There are many adjectives used to describe ladies' watches, but sexy is not really one that gets a lot of mileage. However, there are a couple of brands determined to let their models come out of the boudoir clad in lace, fishnet stockings and corsets, to show the world that, yes, ladies' watches can mix glamour and sex appeal just as well as Dita von Teese.
Roger Dubuis watches is not by any stretch of the imagination a demure, classical brand. The glamorous Velvet collection of women's watches, described by the brand as "haute horlogerie divas" was presented in three high jewellery versions with provocative haute couture straps. The Velvet Mink Fur watch features a dazzling pavé-set dial and case (496 brilliant-cut diamonds in total) attached to the wrist with a mink fur bracelet. The contrast between the icy white diamonds and the sumptuous rich furry black bracelet is dramatic, to say the least.
The Velvet Passementerie Roger Dubuis watch looks as though the beige satin bracelet has been decked out in fishnet stockings, thanks to the delicate silk embroidery that has been attached to the nude legs of the bracelet. The Velvet Corsetry model features a black satin strap with a pink calfskin corset pulled tightly across with crisscross stitching. All three ladies' watches are presented in 36mm white or rose gold cases and are equipped with an in-house Roger Dubuis automatic movement stamped with the Hallmark of Geneva - a prestigious seal that not only certifies the quality of the movement, but the watch as a whole.
Another seductive lady on the scene is the Gilda Grand Pavé from Eberhard & Co. watches. This attractive oval-shaped watch is curved to match the contours of your wrist and has been enhanced with diamonds on the case and mother-of-pearl dial, which in turn has been engraved with delicate wave motifs. The pearly white alligator strap, seductively veiled with black lace, adds a beguiling touch of mystery and glamour.
Embroidery is also appearing on watch dials as we have recently seen with the sophisticated Mademoiselle Privé Brodé from Chanel, with hand-embroidered motifs executed by the famous atelier Le Maison Lesage, which works closely with Chanel on its haute couture creations.
http://www.thejewelleryeditor.com/watches/baselworld-2014-the-new-chanel-mademoiselle-prive-watches-for-women/
Hublot has also been seduced by the feminine art of embroidery, attested by the Big Bang Broderie collection we saw earlier this year. Bold, rebellious and decidedly contemporary, practically the entire watch has been embroidered. Bischoff, the leading Swiss embroidery firm from St. Gallen, which supplies the biggest names in haute couture and luxury lingerie, was enlisted to embroider the skull pattern that decorates the dial and the arabesques on the bezel and strap. In addition to the embroidery, the dial and 41mm case on this Big Bang Hublot watch is set with diamonds and powered by an HUB1110 automatic movement. A seriously sexy watch.  
Read about sexy designer watch straps here
The most striking feature of the Gilda Grand Pavé from Eberhard & Co. watches is the black lace that veils the white alligator strap.

Hublot watches Big Bang Broderie ladies' model with silver embroidery and a 41mm stainless steel case decorated with 198 diamonds. If you look closely, the embroidery on the dial recreates a skull.

Hublot watches Big Bang Broderie features a combination of delicate embroidery, 198 diamonds, and a powerful 41mm yellow gold case fitted with an in-house automatic movement.

Hublot watches Big Bang Broderie black-on-black ladies' timepiece with black embroidery, 198 black diamonds and a black PVD stainless steel case.  

Roger Dubuis Corsetry watch from the Velvet collection of ladies' watches features a black satin strap, with a pink calfskin corset pulled tightly across the strap with crisscross stitching. The 36mm rose gold case, folding clasp and dial are all set with diamonds.

Roger Dubuis Velvet Passementerie watch in rose gold and diamonds comes with a beige satin strap and black silk embroidery, made to look like fishnet stockings. 

Roger Dubuis Velvet Mink Fur watch in white gold is fully pavéd with diamonds and is presented on a genuine black Mink fur strap. All three Roger Dubuis watches are equipped with an automatic, in-house movement. 

Eberhard & Co. Gilda Grand Pavé ladies' watch is presented in an oval-shaped case studded with diamonds. The mother-of-pearl dial has been engraved with delicate wave motifs and features four large Roman numerals.