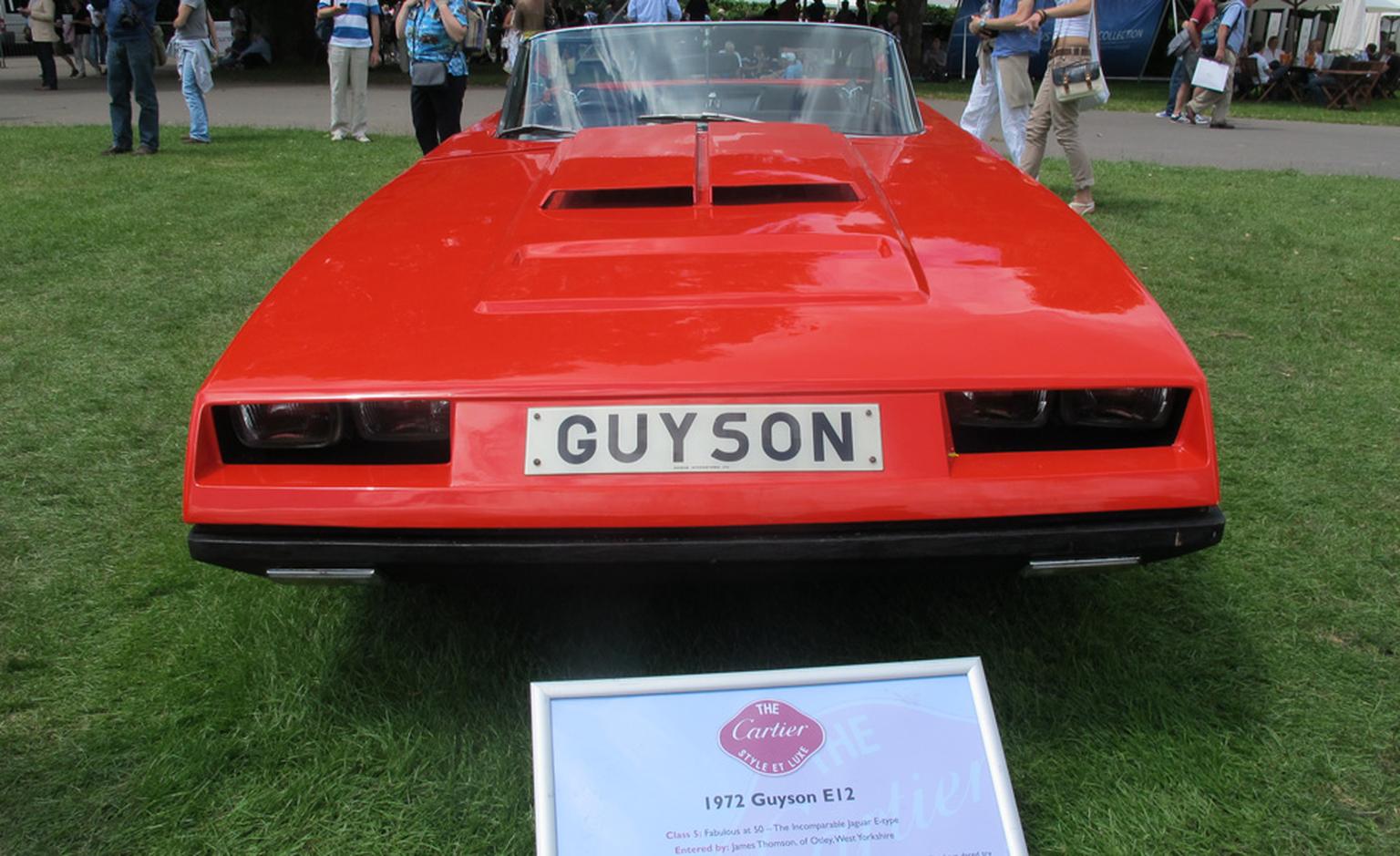 "And that was a meaty get away," said the plum Wimbledon-esque voice over the tannoy system. I am at the Goodwood Festival of Speed hosted by Lord March on his front lawn and the feeling is of a genteel 1950's garden party with the scent of petrol fumes and the whine of motors in the air. Standing behind a bale of hay, flags fluttering along the track side and the roar of engines in the background, it is a perfect strawberries and cream English summer morning. 
Which is a good start as I have set myself the task of deciding if the Goodwood Festival of Speed is an event for the likes of me whose criteria of a good car is if the passenger vanity mirror has a light (and the Aston Martin DB9 does not for the record) and if I can dock my iPod. To complete the challenge I am wearing clothes I associate with a good day out: high-heel wedge sandals and a flippy summer skirt.
"Look out for some show boating in this motor gymkhana as the racers manhandle the tarmac," continued the commentator. Put off by this baffling burble I turned to Stuart, who has raced cars and now works on sponsorship for motoring events. He smiles calmly and starts to make sense of it. He tells me that Goodwood is the best motoring show of its kind in the world and this year the theme is Indie cars as we are celebrating (not personally) 100 years of this motor sport.
"This is the Hill Race," he explains, pointing to the flat stretch of track in front of us. But it's not really a hill and it's not a race. Stuart explains that it makes for a better spectator experience if speed is not the only aim of the 'race' so only 10% of the cars are timed making it a more gentle spectator sport which explains the term "show boating" and why I saw a car do the entire track on two wheels, a cheeky Mini Minor burn rubber doing 'doughnuts' and an exceptionally agile man dancing on his motorbike.
Taking a stroll around, I talk to the long-haired, tattooed men at Crazy Horse customised-motorbikes who assure me that their exotic machines are all "a comfortable ride." A living room complete with leopard print settee, coffee table, potted plant and fringed shade standard lamp was driven down on the motorway. The wheels of the converted Mini are covered by the settee's upholstery. I assume you have to wear a helmet when at the pizza driving wheel and watch your speed on the mantelpiece clock.
After seeing an awful lots of cars, I award my first prize to the red 1972 Guyson at the Cartier "Style et Luxe" because it looks like it is made out of cardboard and held together with UHU and the sort of car that Mr Jetson would have aspired to. I pop into the TAG Heuer stand where they are selling watches and some very zippy helmets and try one the new Monza watch launched at Goodwood.
The girls lolling against an eco-sports car, the Tesla, tell me that their dresses are not too uncomfortably short and were very popular when they wore them at the Monaco show. I venture into the hinterland of smaller booths and discover a display of men's perspiration-wicking underpants that are perfect for motor sports. I decide it is time to go mainstream and visit some of the big car brand pavilions and note: 1) Audi should make nail polish as that red paint is to die for 2) The Alfa Romeo C4 concept car is quite beautiful, but that might be because I like the glowing brake lights that look like the back of the BatMobile as it tears up Gotham's tarmac 3) The motor industry could do with a stern sub-editor to eliminate the guff such as "new innovations" and "passionate design" from its promotional material.
It's time for lunch and a chilled flute of Ruinart champagne with my name all over it awaits. I am still wearing my high-heels, smiling and quite interested in this new world of chrome and wheels: proof that the Goodwood Festival of Speed is pretty good. Let me qualify that: it is girl-friendly on a perfect English summer day with a cool glass of champagne at the end. Read more about TAG Heuer at Goodwood by clicking here.
Here you are, at last, a picture of a complete car. This red roarer was outside the entrance to The Kennels golf club and I believe it is a Pagani.

Morris Minor-esqued golf buggy.

Lord March has an eye for detail and even the golf buggies have been gentrified with wicker steering wheel embellishments, granny print upholstery and Morris Minor style radiator grills. Sort of works.

Young petrol-head in the making.

I like the Cartier 'Style et Luxe' exhibition of posh old bangers.

The Veuve Clicquot refreshment stand.

I do wonder what Mrs March made of this giant Jaguar sculpture that landed on her front lawn.

These two came well prepared: let the boys wander while we settle down and read The Telegraph. Cup of tea anyone?

Now this mobile has to be my favourite. A Mini has been converted into a mobile sofa. The pizza is a steering wheel, a can of Guinness the gear shift and it was driven down the motorway to Goodwood with the fern firmly attached. That's what I call real motoring innovation.

The typical pose of most men at Goodwood: heads down, eyes on chrome and lots of 'phwoooaarrr' sounds.

Crazy Horse Motorcycles show us how the bikers do Goodwood.

The sleek lines and matte red of this Alfa Romeo 4C caught my eye. I like how the rear lights look like the are glowing hot, like the Bat Mobile.