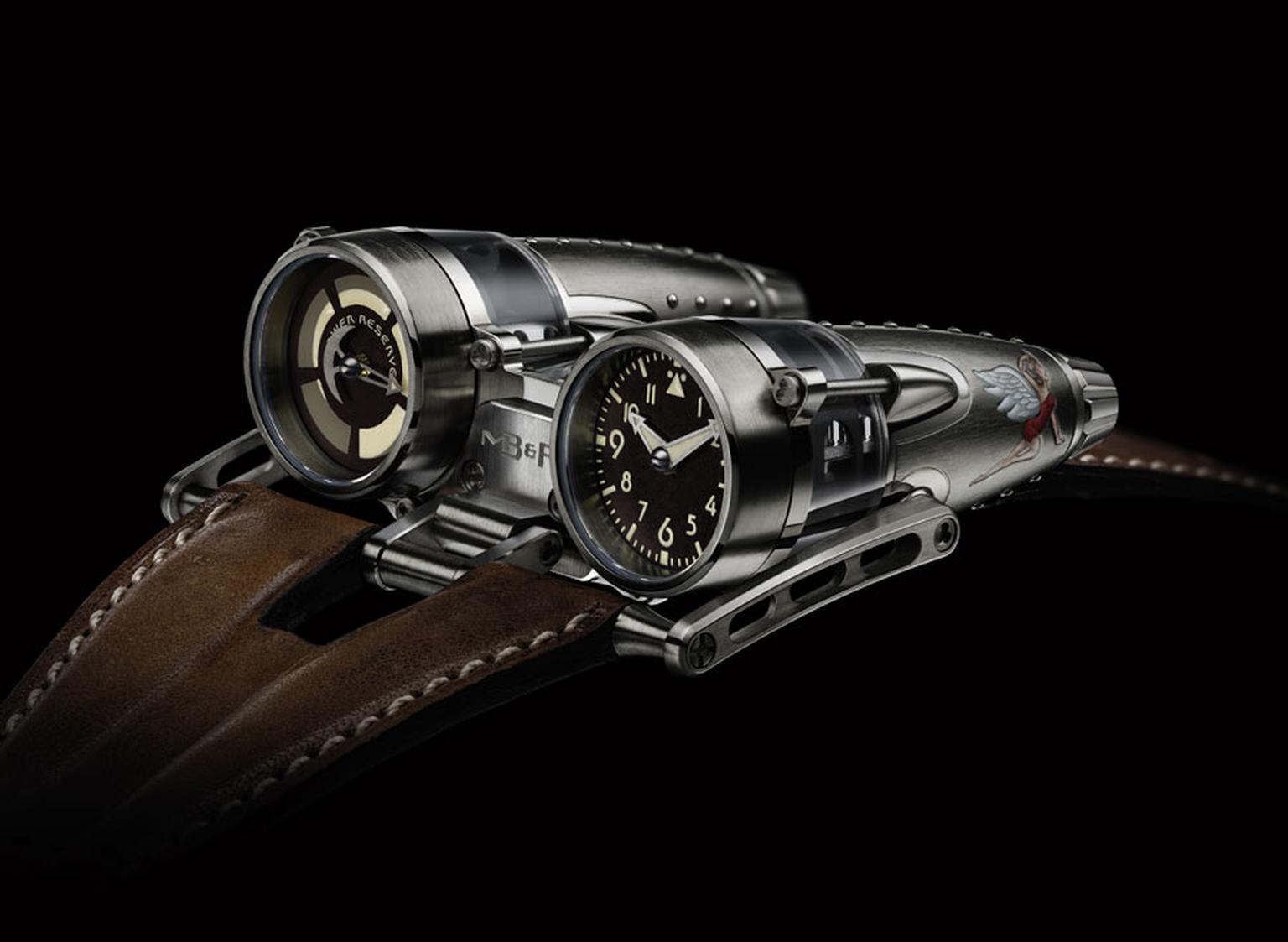 Amongst the vast halls of this year's BaselWorld there were plenty of classical timepieces and shimmering jewels to catch the eye of visitors, but there was also a mighty haul of watches that are not only hi-tech Haute Horlogerie but also very much about high design. These are the pieces were everything about them is a marvel to look at, be it the movements, the construction, the design, it's very much about the sheer 'wow' factor that the creators have proudly imbued them with for such events as this. Here is a selection of some of the ones that really caught our eye.
It's easy to see where the primary inspiration for MB&F's Horological Machine No.4 (HM4) collection comes from - the flying machines of the Second World War, and the painted vedettes on the fuselage that pitted glamorous pin-ups amongst industrious rivets. The HM4 Thunderbolt's dual watch faces tell both the time and power reserve, with Horizontally configured dual mainspring barrels driving two vertical gear trains, transferring power to the twin pods indicating hours/minutes and power. The HM4 is available in Titanium and Sapphire, but on display here are the Razzle Dazzle and Double Trouble limited edition timepieces, with just eight made of each and straps crafted from vintage Swiss army leather, you can really appreciate that inspiration with the hand-painted vedettes now on the watches too.
Having grabbed headlines on the first day with the unveiling of their Link Lady and Cameron Diaz as ambassador, here was where to find that classic masculinity that TAG Heuer bring every year, with their latest Microgirder, that this year came with a 1/2000th of a second timing from the new concept that TAG Heuer were more than proud to have at this year's BaselWorld, beating at 7.2 milltion beats every hour. One of the more classically designed also standouts included in this selection was De Bethune's DB 28 ST, what they themselves dubbed "A contemporary expression of traditional mechanical horology"; though that's sort of thing oft-repeated at BaselWorld, this really is a timepiece to admire: the silicon/titanium De Bethune tourbillion one of the fastest available, the carefully considered curves and shapes of throughout, as well as the jumping seconds mechanism on display at it's heart.
Veering off in a completely different aesthetic direction are the organically symmetrical delights of IKEPOD's Horizon timepiece as envisioned by KAWS, a street artist who has recently been making inroads into the contemporary Art world, and where better to see this than with these wonderful works. Inside there's much to appreciate too, with the self-winding movement, titanium case 44mm KAWS dial and KAWS rubber band.
Christophe Claret's X-TREM-1 is another watch that has a little feature that has to be seen to be believed, with it's 'floating' sphere display system the X-TREM-1 uses magnetic fields to create the illusion of hour and minute indicators floating through the air. It has a flying tourbillon at a 30° angle, mounted on a three-dimensional curvex titanium mainplate, with a retrograde hours and minutes display system that is quite different from the others on show here: two tiny hollowed steel spheres, isolated within sapphire tubes on the left and right sides of the caseband magically move with no mechanical connection thanks to magnetic fields. It's no wonder it's name stands for Experimental Time Research Engineering Mechanism.
Finally, there's a watch that seems to be the exact mix of both a high-minded technical approach to horology as well as forward thinking design imbued with a masculinity that is both brash and proud. The HYT H-1 takes hydro mechanics and engineers an encounter between fine watchmaking and fluid mechanics: here the time is indicated with liquid, with retrograde hours, minutes, and seconds. Sébastien Perret's design takes this new approach to heart: every microlitre counts, and the total volume in the closed circuit is extremely precise, as the system had to have a nanotechnology-worthy level of water resistance. Due to the unusual link between the crown and the liquid, a special time-setting system was designed in order to avoid the liquid moving around too fast and damaging the meniscus.
These timepieces are the perfect example of why BaselWorld is the biggest jewellery and watch show in the world - with these mechanical marvels there really is no other platform from which to launch them, and it's easy to see why these watches deserve such a global audience.
De Bethune DB 28 ST Tourbillon with 30 second indication

HYT H1 in Black, mechanical hand-wound, exclusive HYT calibre; 28,800 vph, 4 Hz, 35 jewels, bridges hand-chamfered and adorned with Côtes de Genève, rhodiumed bellows, and 65 hour power reserve

HYT H1 in Titanium (back)

H1 HYT Titanium

A breakdown of the Ikepod KAWS movement

Ikepod KAWS with red dial.

Ikepod KAWS with grey dial

Ikepod KAWS with white dial

Ikepod KAWS with black dial

Christophe Claret X-Trem-1. The tourbillon movement and the time indication gear trains each have their own independent energy supply to optimize power distribution and duration

The straps are made from vintage Swiss-army leather bags.

It is available with differing vedettes, though only 8 pieces of each version have ever been made.