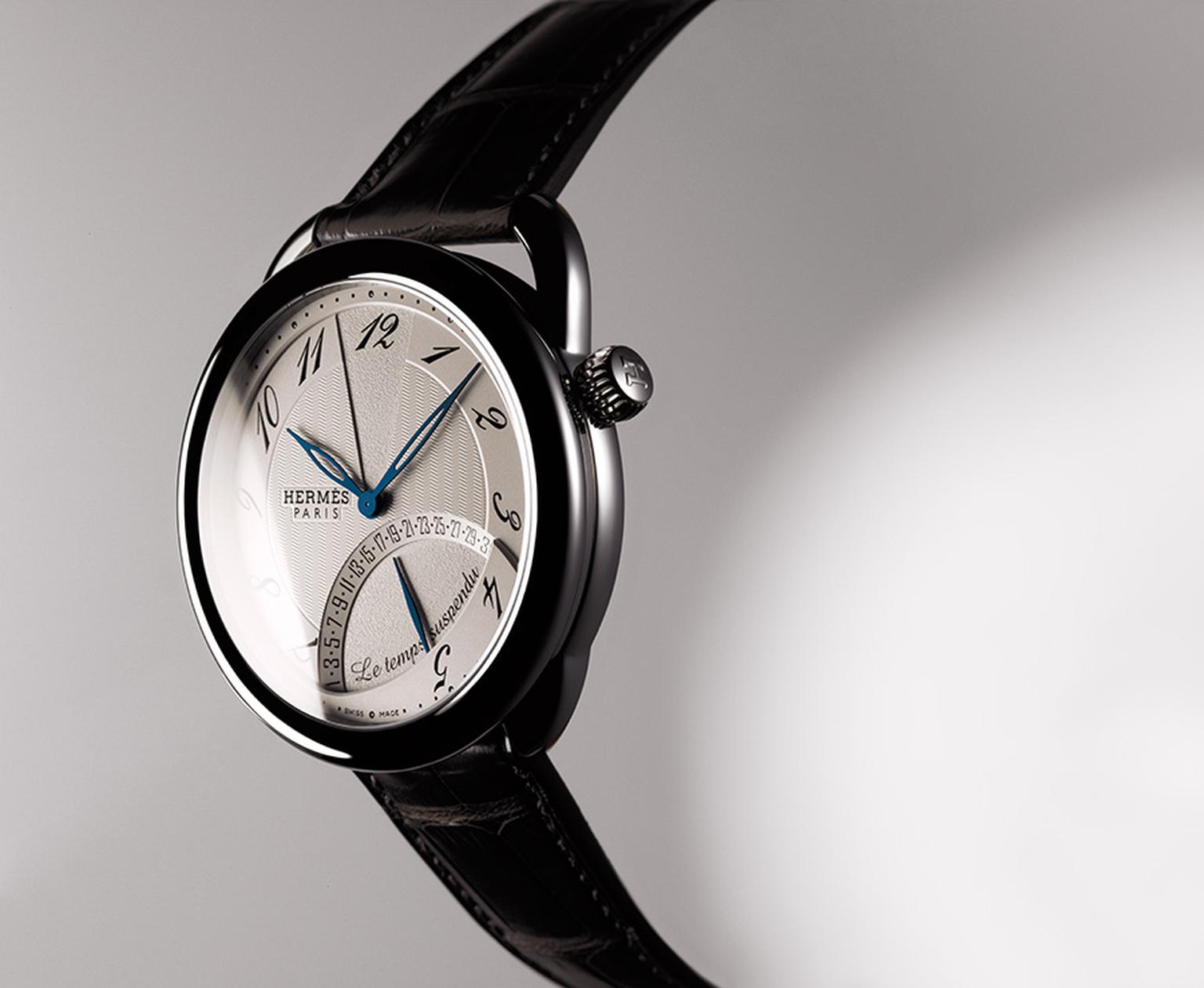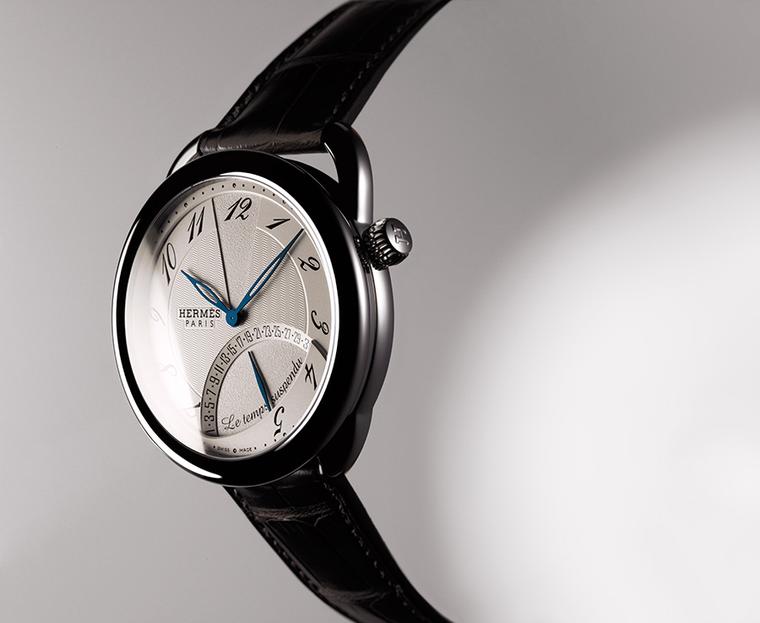 Having recently been awarded the 'Prix de la Montre de l'Année" and the 'Grand Prix d'Horlogerie de Geneve', it will come as no surprise to note that just as Hermès has brought a unique and single-minded elegance to their designs be it a Kelly bag or a saddle, they have continued to do the same with their newest watch,  the Arceau 'Le Temps suspendu'.
A perfect combination of simplicity and sophistication, this playful design is a world first, mixing haute horlogerie with a fresh look at the philosophy of time. As much as it has been conceived to give the most accurate reading possible, the 'Le Temps suspendu' also emphasises the importance of taking respite from the ceaseless march of time, by literally stopping it in it's tracks. Push the button on the side of the case and you can "freeze the moment" by sending the hands flying back to the 12 o'clock position and keeping them captive until they are summoned back to action when they are allowed to resume their time keeping function: all this without loss of precision.
"The 'Temps suspendu' is a very simple idea with a very complex execution," explains Luc Perramond, CEO of Hermes watches. " Innovative complications like this one is the way Hermes wants to go". The 'Temps suspendu' features 24 jewels and two 360° retrograde hour and minute components, with every millimetre of the watch bearing the refined trademarks of Hermès' approach to watchmaking; their hallmark adorns the herringbone guilloche dial motif, with an asymmetrical design mirroring the watch's playfully particular approach to timekeeping.
Having come a long way from their first flirtation with watches in 1912, when a pig skin strap was designed to keep a nine year old Jacqueline Hermès' pocket watch from falling out of her pocket, the company still seeks to make waves in watchmaking not so much for their technical innovations, but for their philosophical approach to time. The 'Temps suspendu' itself took four years to develop.
The mechanism was only possible thanks to new technology that allowed the teeth of the cogs to be precise to within 1 micron. The watch itself continues to show why Hermès have managed to so beautifully bring together haute couture and haute horlogerie, by combining both their exquisite craftsmanship and the concentrated creativity that ensures an increased involvement in production. The spirit of this watch that plays with our notions of time is captured in the photographs of Geoff Kern commissioned by Hermès.
Available in three incarnations, one is a limited to 174 pieces and has been crafted in 750 rose gold with a silvered dial and Matt Havana alligator strap and there are two stainless steel versions, one with a white and another with a black dial. Le 'Temps suspendu' will tell you the time but also let you exercise your will over it - to dream, to consider, to suspend a moment and prolong it as long as you wish. There literally is no other timepiece quite like it.
Hermes Geof Kerns Matsuda Melons

Hermes Geof Kerns Matsuda Hedge

Hermes Geof Kerns Matsuda Peacock on Leash

Hermes Temps Suspendu 2

Hermes Temps Suspendu

Hermes Temps Suspendu

Hermes Temps Suspendu stops time and restarts it in a heartbeat.