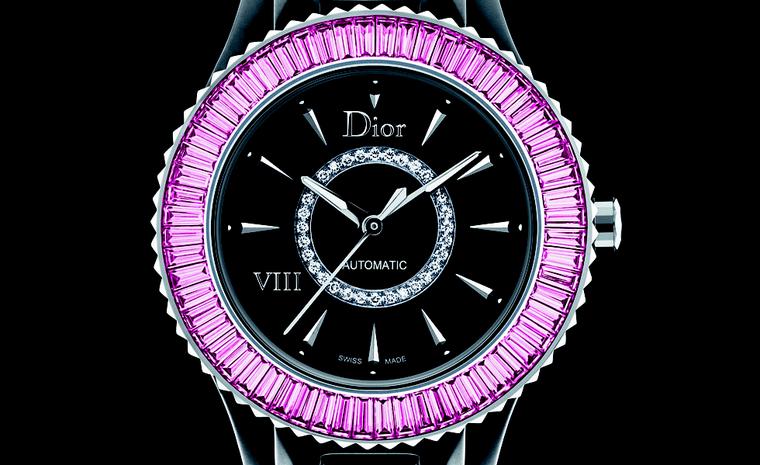 Can you tell I was really excited by Dior's couture inspired watches? Well, here are some more. This time it is the Dior VIII, named for Mr Dior's lucky number 8. The Dior VIII or 'huit' - that if pronounced correctly should sound something like a New Look skirt sashaying past - is a brand new watch family inspired by the good old days of the maison when Mr Christian Dior's  elegance and bon ton presided over the atelier. The all-black watch family made of glossy high-tech ceramic picks up on several of Mr Dior's loves: the first being Mr Dior's fixation with his lucky number 8. Secondly Dior, who confessed to a missed vocation in architecture, played with volumes and structures. The shape of his famous 'Bar" jacket with its nipped-in waist and exaggerated shoulders, is just one example of how Dior brought volume to couture.  The pyramid 'cannage' pattern that his seamstresses meticulously picked out with invisible stitching is echoed in the origami-like pattern appears on the bracelet of the watch and around the bezel. The watches, like a couture creation, are as lovely from the outside as inside. Details such as the flash of neon on the rotor in the automatic movement visible through the glass case back reflect Mr Dior's quest for perfection. Choose from a simple all black model that is the equivalent of the Little Black Dress, another of Mr Dior's creations, that will take you anywhere in style or go glam with one of the brightly hued coloured stone set watches.
Dior VIII 6 - Close up. POA.

Dior VIII 20. POA.

Dior VIII 33mm. POA.

Dior VIII Baguettes with pink sapphires. POA.

Dior VIII Grand Bal Broderie with diamonds in lace patterns. POA.

Dior VIII Grand Bal Plumetis. POA.

Dior VIII grande bal dentelle. POA.

Dior VIII Grand Bal Plisse with mother of pearl and diamonds. POA.

Dior VIII 18, close up. POA.