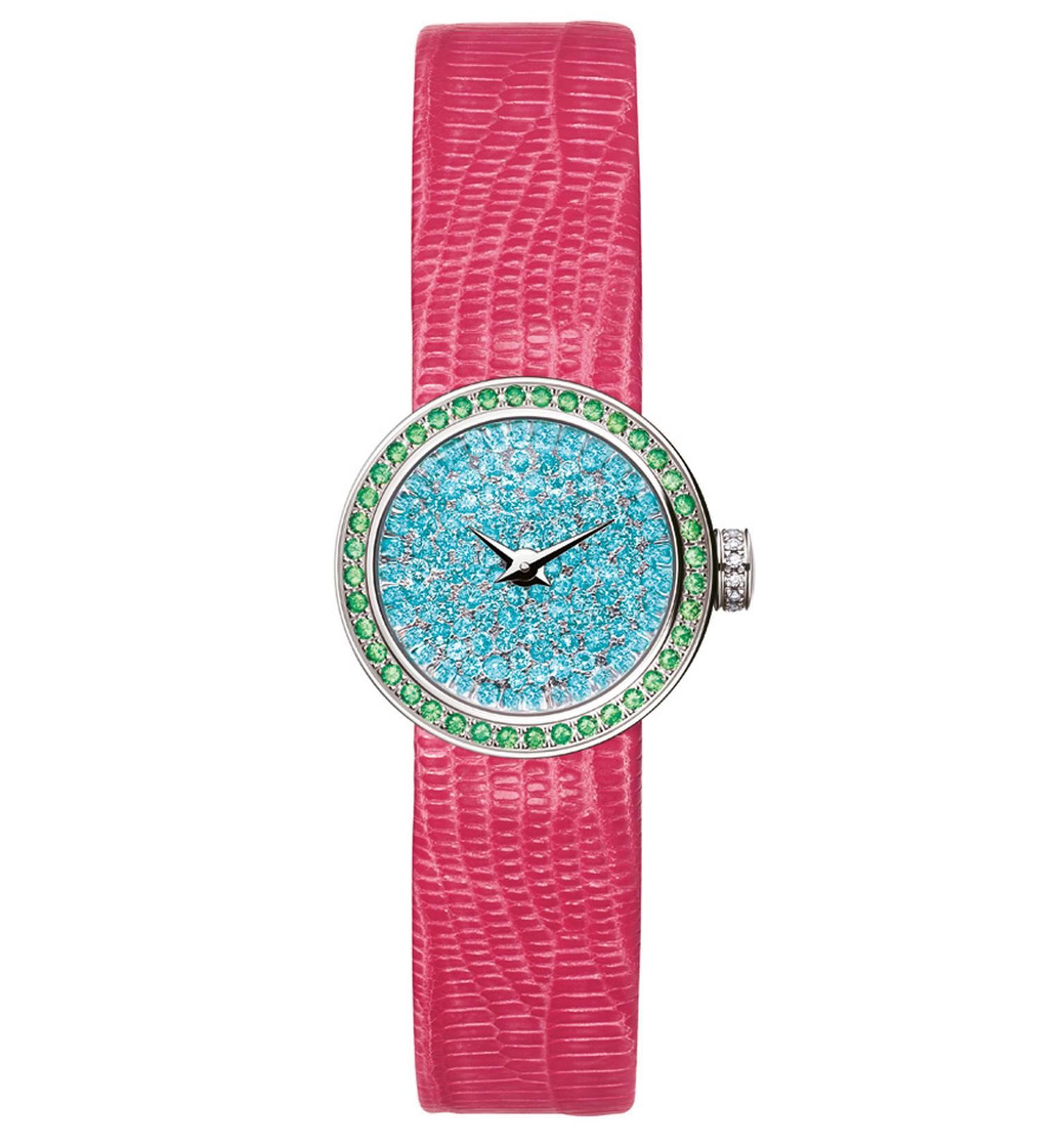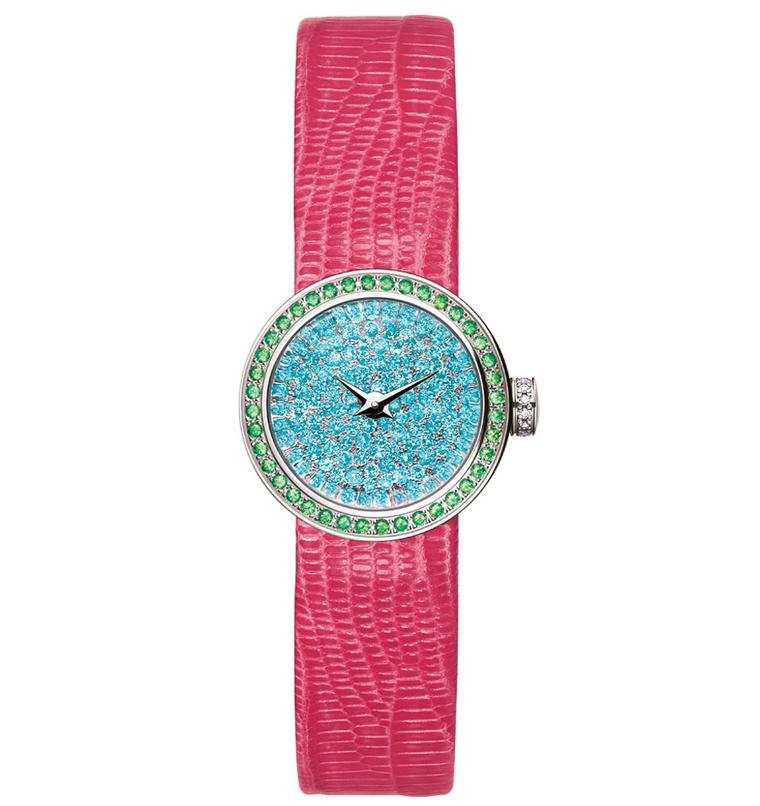 Dior is one of the absolute powerhouses of luxury in the world today and it shows in these playful watches that with a cheeky wink add a splash of colour to the wrist. With nearly seven decades of experience in producing the most glamorous and desirable goods, the newest Lady D de Dior watches combine electrifyingly bright gems with rigorous craftsmanship and impeccable design credentials.
The Mini Lady D de Dior watches reflect design director Victoire de Castellane's playful and poetic approach, confidently combining sensational tsavorite garnets and luscious pink sapphires with swimming pool blue Paraiba tourmalines. Even the crowns are set with diamonds and turn the watch over and in an almost fetish for perfection, the white gold prong buckles are also gem set to match the dial. As if the coloured stones alone were not enough to catch the eye, the neon bright lizard straps make sure that these watches do not go by unnoticed.
Slightly larger at 25mm, but with just as verve as its little sister, the La D de Dior with precious stones sports a black satin strap that contrasts beautifully with the subtler features of these watches. Be it the jade or turquoise dials, the white gold bezel and crown are set with diamonds, as is the white gold prong buckle, giving you all the fizz of the mini La D de Dior yet with an altogether more delicate palette.
Alluding to the Dior Fine Jewellery collections, both versions of the La D de Dior watches shown here are a very indulgent way to wear this season's trend for neon bright colours. Trés mignon is the verdict.
Read more about Dior watches at Baselworld
La Mini D De Dior in white gold by Victoire de Castellane. Measuring 19mm and with a quartz movement, it features snow-set pink sapphires, diamonds and Paraiba tourmalines. £22,000.

La Mini D Dior Snow-Set Travorite Garnets 19mm quartz - White gold, diamonds, tsavorite garnets and pink sapphires at £17,700.

La D De Dior Jade 25mm quartz - White gold, diamonds and jade at £16,800

La D De Dior Turquoise 25mm quartz - Yellow gold, diamonds and turquoise at £14,200

La Mini D De Dior by Victoire de Castellane with snow-set Paraiba Tourmalines 19mm quartz - White gold, diamonds, Paraiba tourmalines and tsavorite garnets at £25,700